Things I love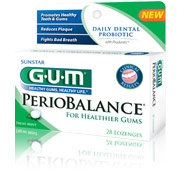 Travel (especially through Europe)
Sitting on the beach with my feet in the ocean – it's where I TOTALLY relax
Things I absolutely HATE
Cleaning the house
When hubby asks me to clip his nails for him (UGH)
Going to the dentist – dentist=discomfort+$$$ (sorry Dr. V)
My brother just said to me this week "The nice thing about being an adult is that you don't have to do anything that you don't want to." While that's very true, sometimes it's not SMART, and since I'm not one for aversion therapy (a la Clockwork Orange), I instead do things to make it EASIER on myself. Like hiring Urbanspoon for cleaning the mansion and taking PerioBalance to make going to the dentist a little easier.
Just this week I started my 28 day PerioBalance challenge to see if it REALLY makes a difference in the amount of plaque buildup on my teeth and to make my breath fresher more naturally (instead of downing breath mints).  I'm a HUGE proponent of using probiotics. Not only do ALL family members use them, but even Clem the Bull Terrier takes a probiotic to help balance his "system" (nice way of saying that my dog has digestive issues). What I didn't know is that ALL PROBIOTICS ARE NOT ALIKE and PerioBalance contains Prodentis which was created SPECIFICALLY for oral health.
The proper balance of bacteria is critical to oral health.  Sometimes this balance can change due to stress, illness, poor diets or inadequate oral hygiene.  An imbalance in the oral environment can lead to poor gum health, plaque buildup and bad breath.  Adding GUM® PerioBalance® to your daily oral care routine helps to bring this balance back to its natural state, providing a natural defense against oral health problems.

I'm putting PerioBalance to the 28 day test to see what kind of difference it makes in my oral health – along with Jerri Ann Reason from Mom-E-Centric;  Niri Jaganath of  Mommy Niri, Lisa Samples from Life With Lisa ,  Jacqueline Renner of  Blessings Abound, and Melissa Chapman of The Staten Island Family. We're being led by actress Nia Vardalos who has been telling us HER personal experiences with PerioBalance.

I learned a lot in a VERY short time about using this product. Some of the questions that I had (along with what I learned) are:
What are probiotics?
Probiotics enhance your well being by restoring the balance of the "good" with the "bad" bacteria already in your body.  GUM PerioBalance contains ProdentisTM, a patented, unique blend of naturally-occurring probiotics, which fight bacteria responsible for poor oral health.
How does GUM PerioBalance work?
When taken daily, GUM PerioBalance helps to keep the oral environment balanced, providing a natural defense against oral health problems.  An imbalance in the oral environment can lead to poor gum health, plaque buildup and bad breath.  Clinical results show improvement in gum health in 28 days when you use GUM PerioBalance daily as instructed.
What is the proper way to take GUM PerioBalance?
For best results, take one GUM PerioBalance lozenge daily after brushing and flossing your teeth. Let it dissolve in your mouth at least 10 minutes, allowing the active ingredients to be ingested and perform their beneficial actions.  Do not brush your teeth or rinse with an antibacterial mouthwash immediately after using GUM PerioBalance.  This will prevent the beneficial ingredients in the lozenge from achieving their optimal oral health benefits.
What if I miss a day of PerioBalance?
If you miss a day, there's no need to take two lozenges in one day to make up for the missed one.  Just start again the next day to stay on track for a healthy mouth.
What should I expect when taking GUM PerioBalance?
In clinical research, positive changes in gum and overall oral health were evident during the first 28 days of use.  GUM PerioBalance will help to maintain a strong defense against unhealthy teeth and gums, plaque and bad breath.  You can also use pH strips daily to monitor changes in the acidity of your mouth.
Can I take GUM PerioBalance with supplements, food and medications?
Yes, there are no known interactions with GUM PerioBalance and medications, food or dietary supplements.
While all of this is very exciting, the bottom line is…will it make my dental appointments better? Nia told us that HER dentist noticed a difference only 3 weeks into using the product, so I'm actually looking forward to my next appointment (well, maybe not LOOKING FORWARD – but I'm interested in hearing if he sees an improvement).

For more information and to see what the PerioBalance bloggers and Nia Vardalos are saying about the product

Follow
I was provided a free sample of PerioBalance and paid by Sunstar GUM for my time in taking the PerioBalance Challenge, but all opinions are mine all mine.