There's nothing more I LOVE than getting pampered. Of course getting pampered by some of the BEST in the business is the icing on the cake.
Luckily if you live in or near Boca Raton, FL – you can get the amazing treatment like I did last night at the Jody Jack & Co. event. There was food, drink, and the most charming people, but most of all – there were the women and men who make you feel beautiful on EVERY visit to their salon.
The doctor is in! – Jody Jack IS the doctor of  hair. She's is a celebrity stylist who can singlehandedly take your color from ow to WOW in one sitting. GORGEOUS, trim and a whole lot of fun she's also a master of her craft. Does her name sound familiar to you? It should. She was on the show Split Ends (I thought she looked familiar when I was talking to her).
The eyebrow queen – Last night I had my brows TOTALLY reshaped by the woman who is the ULTIMATE queen of brows. It's ALL that she does (and she's been at it in South Florida for over 17 years). The right shape can open up your whole face and make you look younger.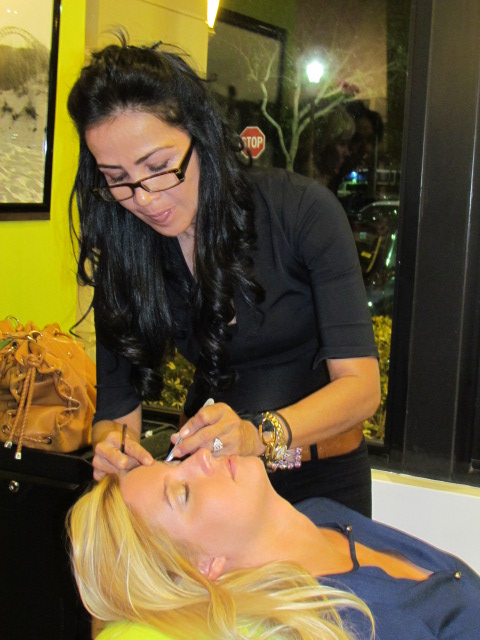 Make me up –Jennifer Bradley had her AMAZING line of makeup with her last night and PROVED that it doesn't take a LOT to look like a million bucks. With just a touch of her fabulous foundation, she evened my skin out and I never even felt like I was wearing makeup. I'm going back for MORE (ordering some for myself).
Stylists, stylists, stylists – Getting your hair done should not only be a pampering experience, but fun as well. The stylists at Jody Jack & Co know how to choose the perfect cut/color/treatments for YOU.  Plus, they make you feel INSTANTLY at ease, like you're a part of their family. Gotta say that Michelle (who's recently arrived at Jody Jack from a New York salon) is adorable, fun & talented.
If you're in Boca Raton, or even just down for vacation – take an afternoon and put yourself in the hands of the BEST and visit Jody Jack, Kelly Scalone and the rest of the team .
Jody Jack & Co. is located in St. Andrews Plaza – 21090 St. Andrews Blvd., Boca Raton, FL   561-213-9150
I was an invited guest at the Jody Jack & Co. media event. All opinions and observations are strictly my own.