Fast, Loud, and tons of metal.
If you're a Nascar fan you know the power in each of those words. Ford Social took these words and made them a lifetime memory! I've always been the type to love adventure. Shoot me down a zip line through a mountain or put me in the front row of a roller coaster, I will love the thrill. I never thought it was possible for me to sit in a Pace car and tear up the Nascar track doing a buck twenty or more, hang with a couple drivers, or better yet…… actually drive one of them in my dream truck. All of this happened and more!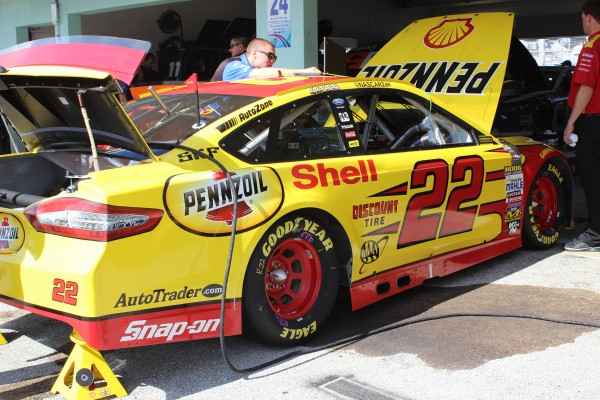 Let's start with tearing up the track.
For starters I had stand next to Pit Road to get into the Pace Car. It pulled up, I sat in the passenger seat, strapped up and off Neil went, tires screeching, burning rubber…. Just the way I like it! As we rounded turn one (There's a total of four on the 1.5 mile Homestead Miami Speedway) we climbed to the top almost brushing the wall. I was whooting and of course talking to Neil asking questions…… what else would you do while your driver was hitting 100mph in 3.4 seconds? I could have stayed on the track all day. This also answered my question, "Why would a Nascar driver want to drive around a track for three hours!" …. Because the adrenaline is insane and you really can't go fast enough!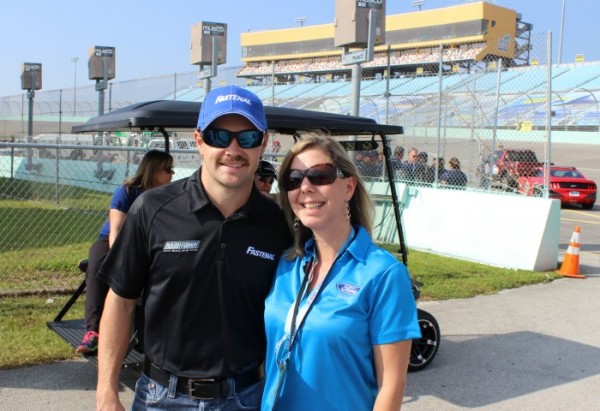 Chris Buescher and Ricky Stenhouse Jr. came over to hang out a bit. They weren't rushing us and took the time to answer all our questions and to take pictures. Chris was actually racing in the Ford Ecoboost 300 that day and said he was a little nervous since he never drove that track before. You wouldn't know it, he came in fifth and did a great job racing! Matt Kenseth placed first, Kyle Busch second, and Kyle Larson third. Ricky will be racing in the Ford Ecoboost 400 on Sunday and we'll be rooting for him and of course Joey Logano! This is one of Ricky's favorite tracks so let's hope that's in his favor.
Now it was my turn to become a NASCAR driver.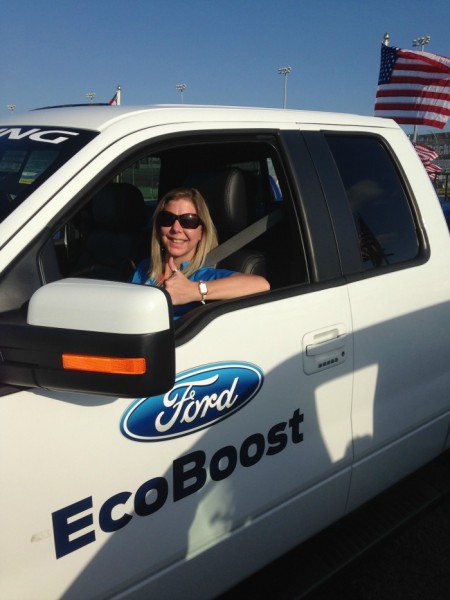 I hopped in my brand spanking new 2015 F 150 Ford extra cab and headed toward Pit Road to pick up my driver. We were instructed of our route, how fast we should go, where to make the drop, and to listen for instructions from our crew chief via the walkie talkie radio that was given to us. You can say I was definitely nervous but the excitement was incredible. We got our thumbs to start our convoy and off we went. I followed the truck in front of me and picked up my driver. I wish I could tell you who it was but with all the shiny gadgets in the truck, the roaring of the thousands of fans, and the shear panic that I was now responsible for the Nascar driver standing in the back of my truck, I never looked nor said a word to him.
The truck in front of me was not in my site so it was me in my new F-150, the driver and a winning fan standing in the back of my truck and nothing but open track in front of me. I coasted along the track and was amazed that the two people standing in the bed of the truck were able to stay standing with the incline of the truck on the track. It felt like we were going to tip over. I saw a place in front where I could drive on flat ground and took the truck there. I got to the drivers pit and stopped to let him and the fan off and drove off. Of course I did wave a couple times to the crowd and pretended as if I was fourteen that I was the driver and they were my fans. I thought I heard some kind of voice coming from the radio earlier but couldn't hear what they were saying. I later found out the voice was our crew chief saying, "Truck 64- GET OFF THE TRACK!" whoops! Yes I was truck 64 and evidently I drove the driver on the track and I wasn't supposed to be up ON the track but I was supposed to be on the flat part the whole time……. Who knew??? I made it back and all was well. I got the driver to his crew safe and sound!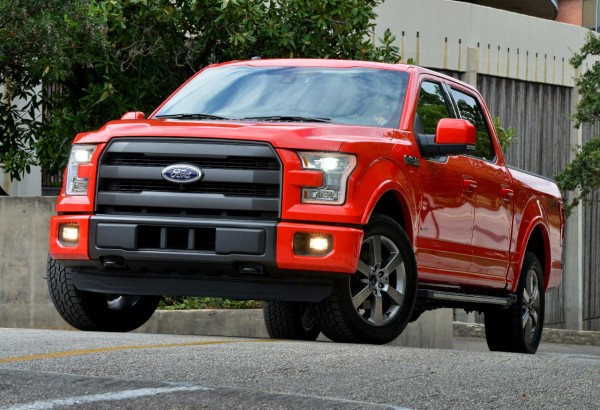 Let's talk Ford!
All-New F-150 – Seats 6
High-strength, military grade, aluminum-alloy body and high-strength steel frame for less weight yet greater strength
Best-in-class towing and payload*
Improved power-to-weight ratio across the entire 4-engine lineup for greater performance
Better fuel efficiency by up to 20 percent over the previous year's F-150
Best-ever ride, handling and braking
New features that redefine the cab and pickup box
The new 8-inch LCD Productivity Screen provides useful information from fuel economy to towing data right in front of you on the instrument cluster. You can create a customized "MyView" home screen to access your most frequently used screens in one place. The menu includes gauge setup, trip computer, fuel economy, and towing/off-road applications. The 8-inch LCD Productivity Screen is standard in F-150 LARIAT, King Ranch® and Platinum.
The available class-exclusive* 360-Degree Camera with Split-View Display uses four cameras – one in the grille, tailgate, and under each of the sideview mirrors. The system enables you to see all sides of the truck by stitching the images together and displaying them on a center stack screen. It's useful when maneuvering in tight spaces and on trails. Enhancing the 360-Degree Camera is the available Dynamic Hitch Assist feature that provides a line-of-sight guide to help direct your hitch ball to the trailer receiver.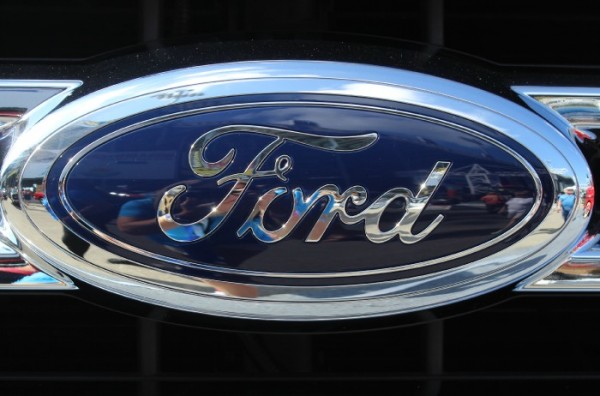 The F-150 provides lots of places to store the assortment of things you carry inside the cab
• Nearly twice the front-row storage space than before.
• Door trim panel bins.
• Under-seat front storage (in models with 40/20/40 front seating).
• Center front console storage; plus space for a laptop inside the available flow-through center console.
• Class-exclusive* fully flat rear load floor with more under-seat storage than ever (SuperCab and SuperCrew).
For more info on Ford
Guest post by Rachel Ferrucci.
For more insights from Rachel visit: