This post was sponsored by Teneral Cellars as part of an Influencer Activation for Influence Central and all opinions expressed in my post are my own. It is written in honor of my brother Rob and his partner Kent, my cousin Jeff, my best friend Shana (without whom I'd look like the monster from the deep), and my good friend of over 50 years (and maid of honor at my wedding) Donna, who have all had to endure snide remarks, being outcast, and not getting to live OUT LOUD for a good part of their lives.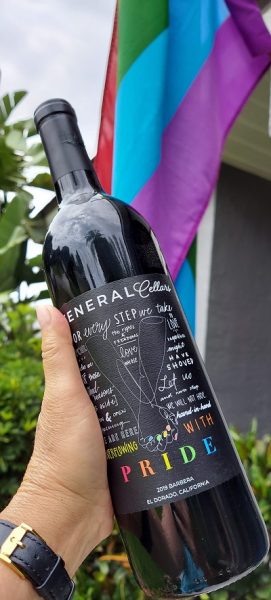 But I see your true colors
Shining through
I see your true colors
And that's why I love you
So don't be afraid to let them show
Your true colors
True colors are beautiful
Like a rainbow
Love is Love
If you don't believe that, you can click the little "X" up in your right-hand corner. At 67 years old I've lived through the March on Washington (the original one), being called names because of my beliefs, and feeling shunned as a teenager. But, I've always known that "what doesn't kill you, makes you stronger" and I've used these opportunities to speak my mind. In 1970 I helped to form the gay/straight alliance in our school, I have celebrated our differences and our likenesses, and am proud to call so many in the LGBTQ+ community friend and family.
This year so many brands have jumped on the PRIDE bandwagon
So much so, that it has begun to feel like another marketing campaign. The rainbow washing by brands in 2021 has been interesting to watch, especially when they could be helping to promote diversity training to their employees and to promote change in the 27 states who do not have laws that protect LGBTQ+ individuals from discrimination in employment and/or housing. Instead, they place a rainbow flag on their advertising or change the colors of their logo for the 30 days in June.
When a brand TRULY embraces change, I take notice
When a brand comes forward and has an ACTUAL CONVERSATION about embracing diversity I take notice. When a brand is NOT afraid of speaking, I take notice. And, most of all, when a brand puts together an ADVISORY BOARD with the specific task of keeping management accountable for meeting their equity and inclusion goals in hiring, content, and practices, I take notice. When this brand makes a superior wine using sustainable wine growing (and production) methods…well, that's even MORE reason for me to take notice. I'm talking about Teneral Cellars. This brand actually puts their profits to good you and give back a portion of ALL of the purchases made of their wine, with 10% of each bottle sold to organizations that work to create equality and equity for all women, not just for special occasions, but YEAR ROUND.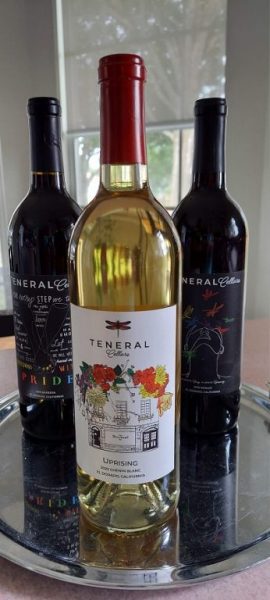 The Teneral Cellars Pride Collection
I feel honored to have been invited to a wine tasting with Teneral Cellars owner Jill Osur, founder and CEO of Teneral Cellars wine recently. I had the opportunity to uncork and enjoy the 3 wines in their Love Is Love Collection and they blew me away.
Like dessert on your tongue. You'll want to go out into the yard and pick fresh blueberries and strawberries to compliment this wine. I'd be happy with some sharp cheese and fruit along with the smooth finish of a glass or two of this Merlot.
Chenin Blanc is one of my summer go-to's and Teneral Cellars has captured the bright flavors that you want on a hot day. The notes of citrus and melon bring to mind a picnic and conversations with best friends as we laugh and tell our deepest secrets. Great over ice or at room temperature, you'll fall in love with this wine over and over again.
Overflowing With Pride Barbera
Earthy and deep, this wine had a slight leather smell as I inhaled it deeply before drinking. Its full body made me crave a big bowl of pasta with red sauce. I don't often buy Barbera, instead, I lean to a Tempranillo or Malbec. This wine reminded me just how much I missed the balance of a great red. I'll be purchasing this one REGULARLY.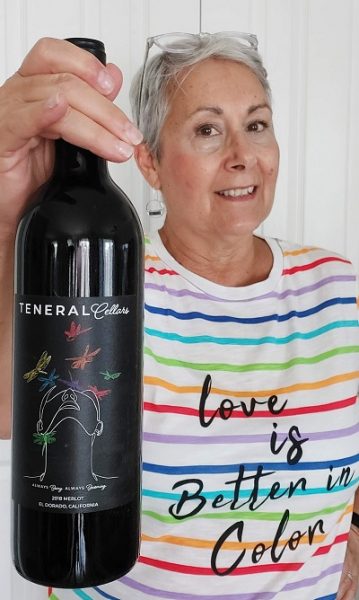 A commitment to quality, diversity, and female empowerment
The moment you pick up a bottle and enjoy one of the Love is Love selections and read even a LITTLE bit about Teneral Cellars you'll get it. They are absolutely COMMITTED. They have lead the way toward greater wine industry inclusion as they advocate for equality, equity, and humanity, and are proud that they are able to create opportunity and inclusion for women in this traditionally male-dominated field. I not only love their messaging, but their wine stands out in a crowded field as well.
Teneral Cellars produces elegant and balanced, premium quality wines from grapes grown sustainably in California's premier wine growing regions. The winery is an entrepreneurial agent for social change and is leading the way towards greater wine industry inclusion for women. The winery is built on a foundation of social beliefs that are reinforced by the organization's support of women's empowerment causes with a donation of 10% of profits on all orders.
Purchase with Purpose
$10 from the sale of every "Love is Love" 3-pack is donated to the Stonewall Inn Gives Back Initiative.
Be

The

Change

AND

Enjoy

Good

W

i

n

e