I received a Lily Jade bag to review. Little did they know that it would become my go-to for all of my travel needs.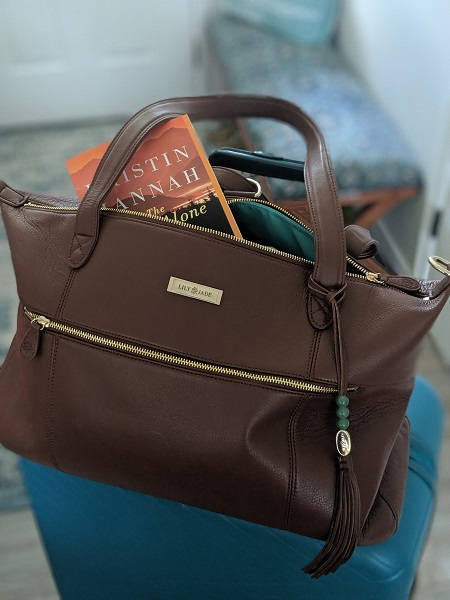 I have too many suitcases
Brands send them to me, I buy them, I've gotten some as swag at events, and people think they'd make a great gift for a travel blogger. Mr. S wants me to start tossing some of them out. I can't. Each suitcase evokes a memory for me of where I got it and where I've been with it. I guess that I may be a hoarder.
Except when it comes to my carry-on
Admission, being short I NEVER, EVER, EVER put my bag in the overhead compartment. It always goes under the seat. I want what I take in-flight to be right at my fingertips. So, I'm pickier about which bag I travel on the plane with than I am about the one that I've checked.
That's why I love my Lily Jade bag
You may know Lily Jade if you are a mom or grandmother because of their beautiful leather diaper bags, but did you know that they also make the best leather bags for work and travel as well? After years of coveting a good leather bag to keep all of my in-flight essentials, or the perfect sized back for a weekend getaway, I finally did it and I'm so happy that I did.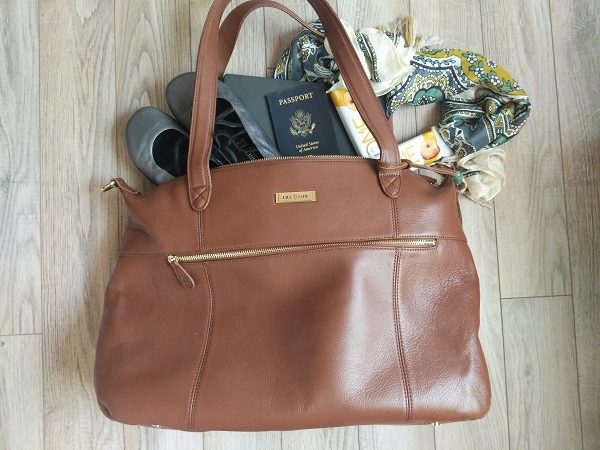 My needs in a carry-on are simple
My computer must fit along with a mouse & cords
My bag of liquids has to fit
I need to tuck in my toiletries – toothbrush, meds, etc.
I have to fit in spare shoes, t-shirt, underwear & PJ's (in case my checked bag doesn't make it)
I have to put in a scarf large enough to wrap or sleep under
There has to be an outside pocket for my phone, Kindle or book & auxiliary charger
Needs a pocket for my travel munchies like protein bars
Meet the Jennifer Tote
This Lily Jade Jennifer Tote is my new companion wherever I may be heading. Shes like Felix the Cat's bag of tricks (for those who remember that cartoon). There is room for EVERYTHING that I need and MORE, plus depending on my balancing act (1-2-3 suitcases) I can
toss the Jennifer Tote over my shoulder
wear it crossbody
criss-cross the straps as a backpack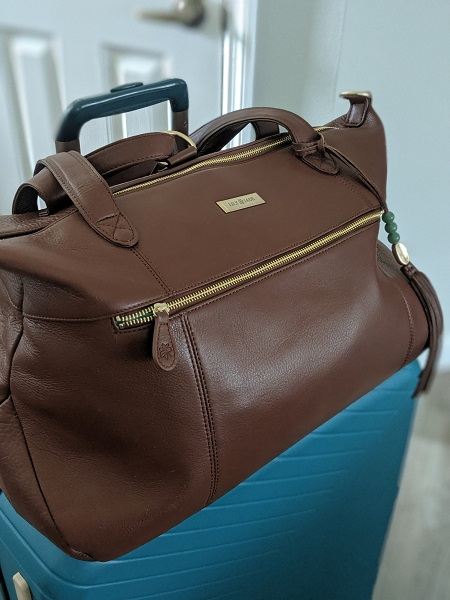 I don't have ANY OTHER carry-on that is this versatile.
I chose the brandy and gold colors because I wanted something that would look as appropriate in summer as it does in winter. While I LOVE black, I also know that being a Floridian that it doesn't always go with everything that I have on vs. the lighter brandy color.
The interior, however, is smart. Not only is it that beautiful robin's egg blue (that reminds me of my favorite jewelry company), but because it is light and bright I don't dig in the dark looking for that pen I tossed in at the last minute that found its way to the bottom below everything. The color makes everything in the tote easy to find with its very distinct hue.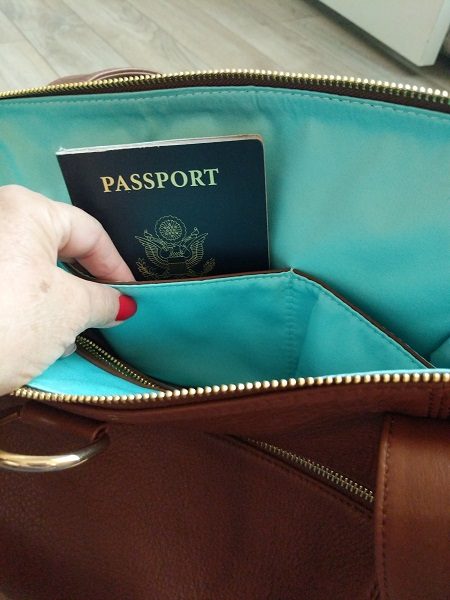 For the organized challenged (hey, that's me)
The Jennifer Tote offers not just one outside and inside pockets but has 
one large zippered pocket on the front
a large zippered pocket on the back
an inside leather pocket
a pocket that is the perfect size for your phone
a medium-sized zippered inside pocket
Absolutely beautiful
From the quality leather to that gorgeous lining the Jennifer Tote from Lily Jade is perfect and the added detachable beaded tassel on the front gives it a distinctly feminine touch.
Lily Jade is the perfect handbag investment
Why? Because as you can see by the photos, quality is so important to them and for you and me, we get more dollar value with Lily Jade than any other bag I've found (and you KNOW how I love to shop). This is one bag that delivers value at a price lower than other leather bags on the market.
Check out the double-sided leather and the beautiful variances on the bag. Did you know that no two Lily Jade bags are exactly the same? This is because they aren't STAMPED like their competitors, but instead, they are made of tumbled full-grain leather that brings out the beautiful texture. 
Step up to the last carry-on tote you'll ever need