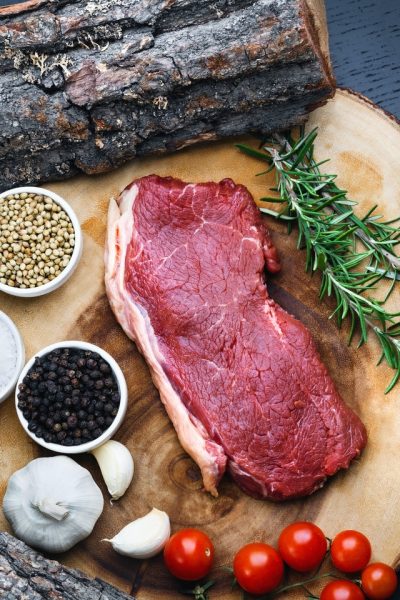 If you're looking to impress your next round of dinner guests or simply beef up your culinary expertise, look no further. We've rounded up a list of some of the best cuts of meat on the market, and what you can do with them for a meal you won't forget.
Prime Rib
The size of this piece of beef isn't the only thing about it that's impressive – it packs an unbelievable amount of flavor. Whether you go for the whole rib, or just the first cut of it (a ribeye steak), you're bound to land up with a load of flavor and just the right amount of fat.
The best way to use your prime rib is in the oven for a juicy roast beef Sunday lunch. Cooking your roast low and slow for a few hours, and then finishing it on high heat under the grill will give you a beautiful pink inside with perfectly rendered fat. You're welcome.
Sirloin
Coming from the hindquarters of the animal, sirloin is another great pick. This cut of meat is leaner and has less marbling, but is still juicy and flavourful. Because of the reduced amount of fat, this cut is best suited to an experienced cook who has a firm grasp on cooking time – you don't want to overdo these bad boys. Searing a sirloin off in a pan and then finishing it off in the oven for just a few minutes will leave you with a bushing pink beauty. 
Eye Fillet
The queen of lean, a fillet steak has absolutely no fat on it, but cuts like butter. For someone who prefers their steak to almost literally melt in their mouth, this cut has a higher price tag but can be well worth it if you cook it just right.
Due to the lack of fat, these cuts tend to have less flavor and do well with a punchy sauce on the side. They're also great to sear and toss into a salad, or layer up for a decadent sandwich.
Short Rib
These guys are yet another flavor bomb when handled correctly – low and slow. If you rush the cooking time, short ribs can tend to be tough and chewy, but a low and slow cook will bring out their tenderness. Pair with some Asian flavours and a fresh zingy salad for a great contrast, or keep things traditional with some red wine in a slow cooker with a side of creamy mashed potatoes – enough said. 
Chuck
Often seen as a bit of an outcast, chuck has a bad rep for being tough to chew. However, this underdog packs amazing flavor for far cheaper than other cuts of meat and does great in roasts and hearty stews where they can cook for hours on end and develop their mouth-watering flavors. 
Treated right and given the chance, this cut can melt in your mouth and be the perfect addition to your dinner table.