By Kathy Chin Leong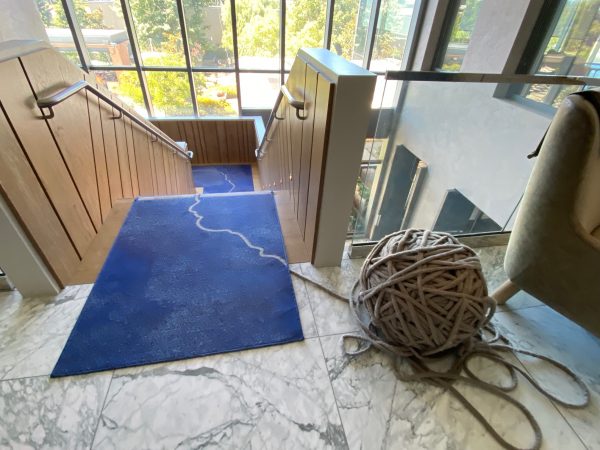 Rising out of a tangle of industrial warehouses, you'd never guess that this gleaming glass monolith dubbed Hotel Nia would be a destination for interior design enthusiasts and urban resort lovers around the world.  Named "Nia" after a Gaelic word that means clear brilliance, the multi-million dollar Marriott Autograph hotel in Menlo Park, Calif. takes on modern luxury with a whimsical twist. Take the blue carpet in the lobby with an image of a white strand of yarn. Follow that snaking strand to the top of the stairs, and you will discover a physical white ball of yarn, bigger than a basketball.  The shadow of a willow tree seems to be cast from the window across the hall, but it's an illusion, for the shadow is actually printed on custom wallpaper.
The witty art and customized décor imagined by New York designer Colum McCartan elicits smiles and wonder from guests throughout the hotel.  There is a seriously giant tree trunk by the elevator banks held up by ceiling ropes.  By the glass doors of the hotel's porte cochere, a super-sized terra cotta pot tipped on its side spills out boughs of impatiens.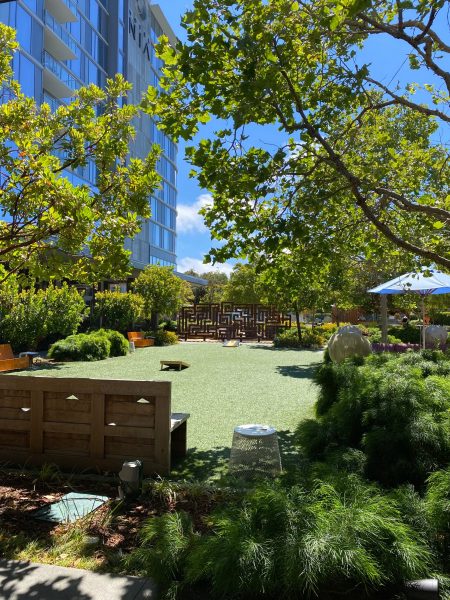 At the same time, thoughtful landscaping takes advantage of Silicon Valley's optimal weather.  Outdoor space is partitioned into zones for work, rest, and play.  The swimming pool with cabanas, a whirlpool, and lounge chairs sits adjacent to the outdoor bar with its own set picnic tables and umbrellas.  Imagine sitting beneath the wooden patio overhang with wicker and rattan pendant chandeliers.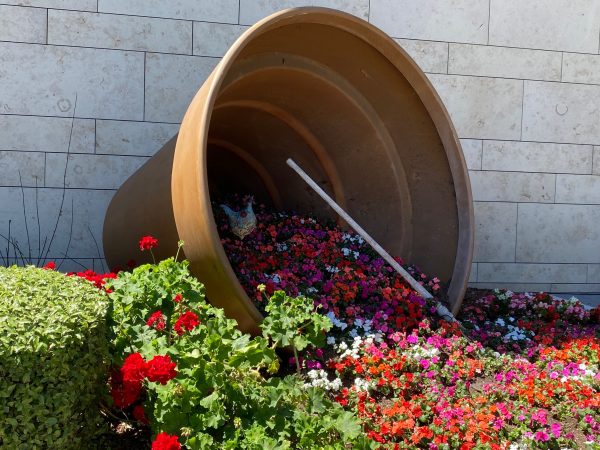 Outdoor dining? Yep.  Private greens for weddings? Absolutely. Corn hole games? Of course!  Surrounded by Facebook buildings (okay the company is now called Meta) the modern crash pad caters to tech travelers with surprising nooks, trendy seating areas, couches, and cushy single-person booths that feature sneaky outlets and USB ports that meld into the furnishings.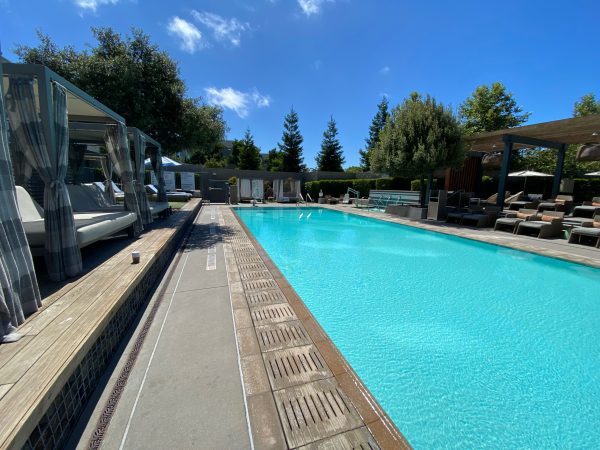 Staycations are common. In fact, Hotel Nia is so attractive to residents that, according to general manager, Fred Kleisner, families typically book a Saturday, bringing their kids for a daylong visit to the pool and grounds.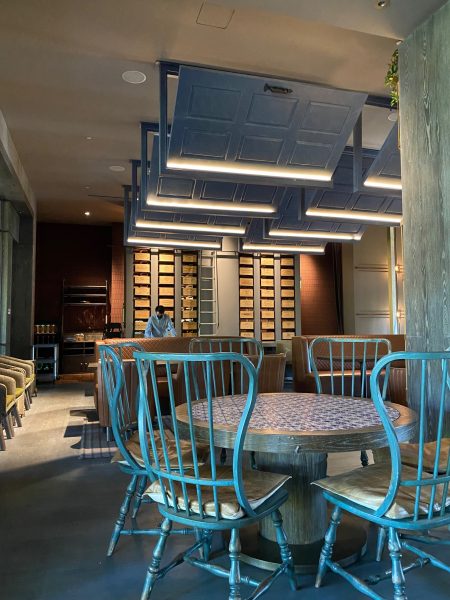 The range of amenities makes for an extremely comfortable and convenient stay. Since you are away from everything and in an industrial zone, you are not going to have a lot of people who just happen to wander in, so the hotel is relatively quiet and secluded. The cocktail bar, the Verve coffee bar, and the all-day restaurant ensure your food and bev cravings are met. And the swimming pool and fitness center are available in case you want to get a daily workout, so no excuses there.  The pillow-top mattresses and white linens address deep sleep requirements. Double-paned windows block out noises from busy Highway 101 right outside the hotel.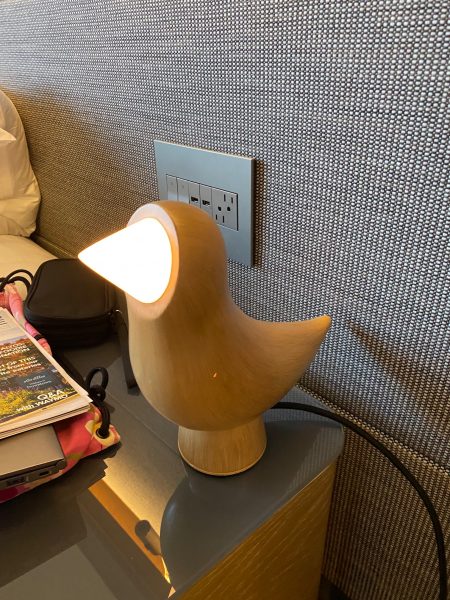 With 250 guestrooms, options are plentiful.  Suites are stunning with their own patios.  Ours, Room 903, featured a deep soaking tub with electronically-controlled windows right above it.   The sink area was lit around the large mirror and at the top, an art illustration was lit up on the mirror too.  The bathroom was the highlight of the room which was sealed by a teal sliding barn door.  And speaking of teal, this color and pumpkin orange were the accent colors of the room against a charcoal hue.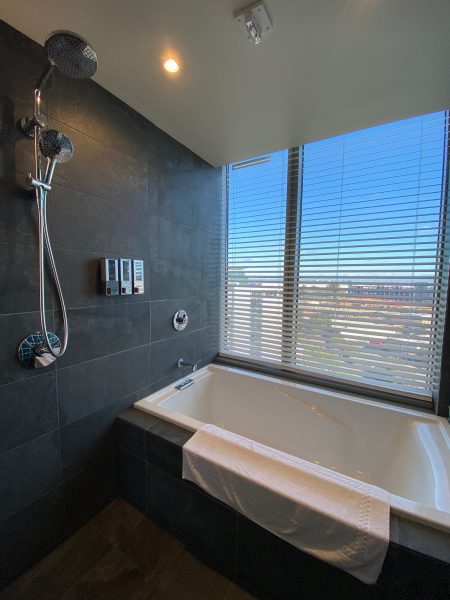 Rooms harken to Mid-Century mod themes with walnut cabinets, an orange glass closet that lights up upon touching a button, and a full-length mirror that also illuminates.  A nightlight sits on my side in the guise of a wooden bird with a beak that lights up white.  Adding to the ease of stay is the refrigerator, a Keurig coffee maker, and a wall-mounting LG flat screen TV for Netflix and other streaming services. The tech needs are met with outlets galore on the bedside tables, and a strong gigabit Internet connection so your data whips by without a hiccup.
Meanwhile, Nia's food scene deserves high kudos.  The Mediterranean eats at Porta Blu, led by executive chef Chad Bayless, delivers on a flavorful menu along with a whimsical ambiance. Inside the restaurant, a series of large blue doors hang above.  There is a theme here of things that seem to be suspended above your head wherever you go.  Rich decorative carpets dangle at a delicate height from the ceiling in the adjacent dining room.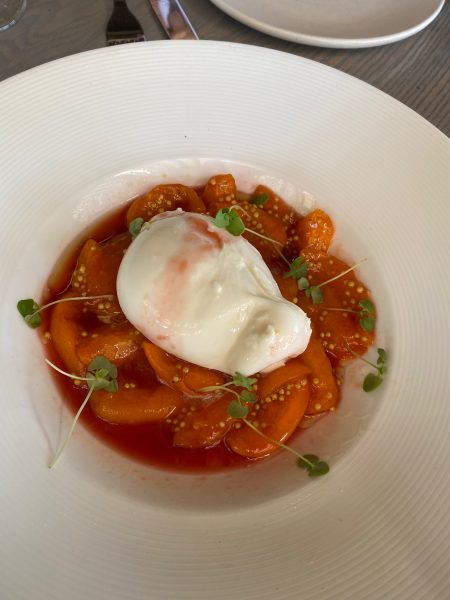 Porta Blu boasts its own signature cocktails such as the Bay-roni (hint: Bay Area) which is its own version of a Negroni.  For eats, I fell in love with the fresh burrata cheese over fresh apricots. The 16- ounce rib eye seasoned with thyme, rosemary, and other seasonings made for a carnivore's dream at medium rare. Broccolini was seared at the right crunch without being too charred or salty. The fire-roasted sea bass turned out to be a moist, generous thick chunk accompanied by poblano, corn, black bean, and celery bits.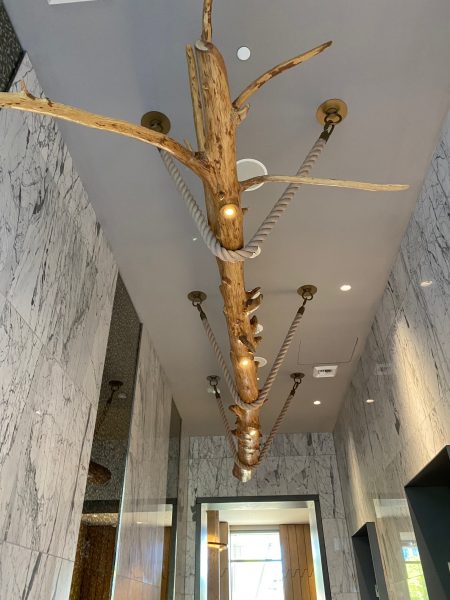 Bottom line is that this trendsetting hotel with a creative spirit lives up to its tagline brandished on the hotel TV screen  "Our promise is to deliver clear brilliance for every guest," and with that said, Nia's design imagination, comfortable amenities, and friendly service is, indeed, clearly brilliant.
As a side note: Hotel Nia is managed by hospitality group, HHM, and operates as part of the Independent Collection of hotels and resorts.
For more information or to make reservations visit: Hotel Nia