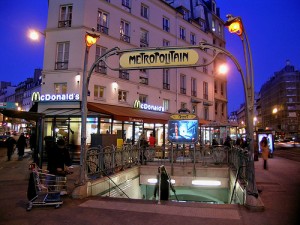 You know I'm ALWAYS seeming to run in to people in airports and on my trips that I've come to expect it. I remember VERY well the first time I ran into someone totally unexpectedly. I was on the Metro in Paris coming from Gentilly into the center of the city. It had to be 1972 and I was working teaching dance in the basement of the American Church. I was sitting alone when a VERY drunk man sat next to me. At the time, my French was pretty good, as I was living on the outskirts of the city and my language skills had improved beyond the three years of high school French I had taken, but while his accent sounded French, the words coming out of his mouth made little sense…and he was getting a little TOO CLOSE FOR COMFORT.
It turns out that the gentleman (for lack of a better word) was from Corsica (hence not understanding him), and a nice guy sitting in front of me, came over and told the man who obviously wanted to get to know me more than I wanted to get to know him that I was his boyfriend. The person who came to my rescue was obviously American, and he had an accent that reminded me of home (Rhode Island). After sitting and chatting for the rest of the trip we realized that he had been my camp counselor when I was a kid.

I just LOVE small world experiences, which is why when I saw this #ConnectingFlights video from Sears, I knew that I had to share it. It's one of those feel-good movies that makes the world seem JUST RIGHT.
Got a story about running into someone on a flight or in an airport? I'd LOVE to hear it. Please share YOUR #ConnectingFlights story in the comments below.
This is a sponsored post, I am a Sears blogger, though all opinions are my own.