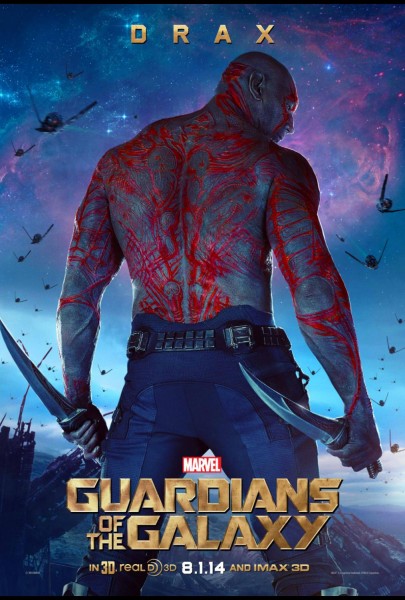 It's hard to believe that the soft spoken man looking down and fiddling with his bottle cap nervously was the same man that I'd  just finished seeing tossing bodies around like they were paper on the screen the night before.  Add in the WWE factor and none of this makes sense.  It seems that the real Dave Bautista is a far cry from my preconceived notions. As I sat down to interview him, along with our group on the #GuardiansoftheGalaxyEvent junket, I realized quickly that we ALL were a little surprised by this sweet man who sat at the head of the table.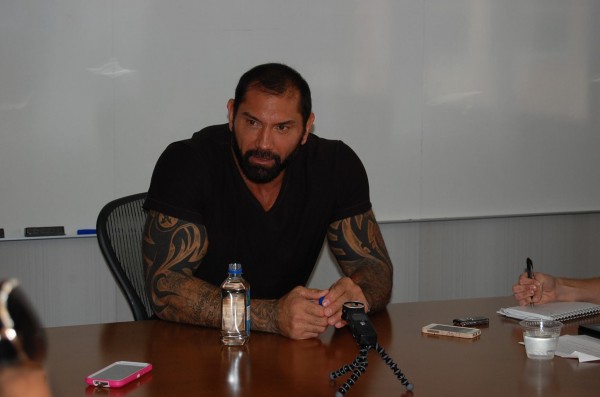 You'd think that with a background in professional wrestling and mixed martial arts that the fight scenes would be easy for him:
It's weird because it's so different, but, I guess being athletic helped me a little bit.  I picked up on stuff kind of easy.  Still, it's just so different from anything that I'd ever done, and we had really good stunt guys and relied on them for their advice. They showed me how to do stuff, and I would do it, I'd mess it up and they'd say, well, try it this way if it's easier, and I'd say no, I like the way you did it because it looks cool that way.  So just show me how to do it that way, and I'd just do it and do it until I picked up on it.
About WHY he choose to take the role of Drax: 
Oh, it's easy.  It was because he's a nut job.  It's because I've been wanting to do a role that wasn't  one noted.  He's a  multi-layered character with a little bit of  an emotional range, which is something that I needed for my career. I think people have a certain perception of me leaving wrestling that they just saw me as that guy, and I'm really not that guy at all.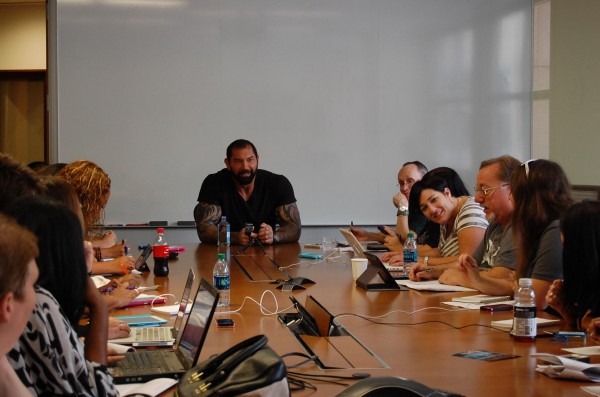 Moving from action to acting!
I never set out to be an action star, and I think most people think that I'll lean that way because or my background in wrestling, and the way I look.  I actually want to pursue more dialog driven stuff; more storyline driven stuff; more character driven stuff.  I'm a huge fan ofTarantino, Guy Richie, and Martin Scorsese. Those are the type of films I love and would like to be involved in.

As far as action, I don't think it's gonna ever get any bigger or better than this.
What's next for Dave Bautista?
We're doing a remake of Kickboxer, and I'll be an updated Tong Po.
Don't miss Dave Bautista in Guardians of the Galaxy 
For more details follow Guardians on: