I HATE KEEPING SECRETS!
Especially for a long time (7 months) and with my memory…OY VEY! I had an incredible opportunity to spend a few days ON SET of the movie Ant Man with Paul Rudd this past November (my memory is so bad…that I actually had to look up in my calendar when I was there) and have been under embargo until…
…RIGHT THIS VERY MINUTE
Thankfully, I had recorded the full 13 minutes and 36 seconds that I spent with…
…PAUL RUDD
That's right Paul Rudd…Ant Man himself (and the most talked about talent here on Champagne Living). What started out as a visit to an outdoor set, quickly turned to winter coats and mittens. We were there to watch an outdoor birthday party scene, but alas…no one…not the bloggers, not the talent, and not the crew were going to subject themselves to the WINTER WEATHER.
Tented with heaters blowing the group of bloggers sat and watched the scene play out on the monitor (with a very quick visit inside to the set itself). It would suffice.
Paul Rudd walks in. I'd never seen him so thin before….then I remembered the suit and noticed that he was definitely a lot more cut than the last time I saw him (over a bagel at the Main St Deli in Park City). I soon found out that bagels were a thing of the past. As always he was absolutely CHARMING.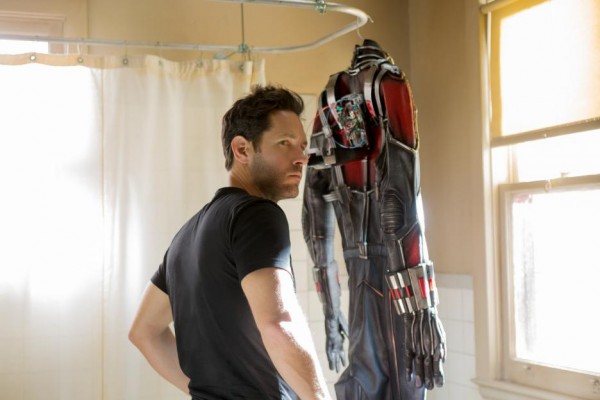 On being a Marvel character
It's FUN, it's a totally different kind of experience for me. I've just kind of given in to it and got on this wild ride. It's been great. 
On taking the role
I thought it would be funny, with both action and drama…something people don't normally associate with me.
On wearing the Ant Man suit and helmet
It feels really cool…'cause it looks BADASS!
On getting in and out of the suit
It takes a few people to get me in and out of it….a small pit crew
On working with the crew (after being told how highly the rest of the cast spoke of him)
JOKINGLY: It hasn't been that great. I don't even know half of their names. (I love his sense of humor)
On training for the role
I did a lot of gymnastics and weight training and stuff.
Ant Man opens in theaters on July 17th
For  more info