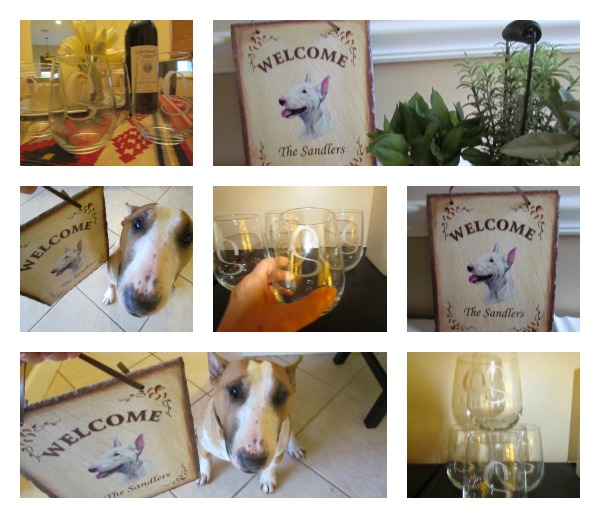 Aside from an engraved piece of jewelry, I USED to think that personalized gifts were cheesy. I imagined a cheap piece of junk that was cutesy for a moment and was later either donated to Goodwill or tucked into a cabinet never to be used. I'm sure those items still exist, but I learned that personalized can be not only thoughtful – but also playful, fun, and yes….even elegant.
We're in the midst of the gift season again with
Easter
Passover
Mother's Day
and the usual Birthday's and Anniversaries
I don't know about you, but the invitations for holiday dinners mean a nice hostess gift and showing up with some beautifully monogrammed stemless wine glasses would make ANY hostess happy. They are elegant and thoughtful, and the price is RIGHT at under $30. As a wine lover myself, I'd love a COUPLE of sets of these, since they're perfect for entertaining. This is my first set of STEMLESS wine glasses and I love the casualness of just holding onto the goblet. The shape is generous, and the sand blasted initial (you choose which one you want) is simple enough to use for everyday or with your best china.
A VERY special something
I don't think I've ever mentioned it before, but Mr. S collects toys, etc. with Miniature Bull Terriers on them, and when I saw Welcome Dog Breed Slate I knew we had to have it. I didn't tell him that I was ordering it from Personal Creations, and when I handed it to him he got SO excited. The quality of the sign is amazing and it is sitting proudly on my entry table. For less than $20, I put a HUGE smile on a dog lover's face.
All of my finds came from Personal Creations, a great place to find just the right gift for almost every occasion. Instead of getting something ORDINARY next time you have a gift to buy, make it a special one by getting something a little more personal.
COUPONS
Yes, there are lots of coupons available for Personal Creations including, free shipping, % off, etc. Head to their COUPON PAGE for this month's deals.
Disclosure: I received product to facilitate this post. This does mean that any brand can "buy" a positive review or endorsement, as my readers are MUCH more important to me than any product. All opinions are strictly my own.