There's something about clear blue skies, the beach or pool, and baring more skin that makes me feel like it's time for some COLOR. While I'm not terribly extravagant with  my wardrobe (I tend to wear what I love and it remains the same year round), one of the areas where I DO experiment is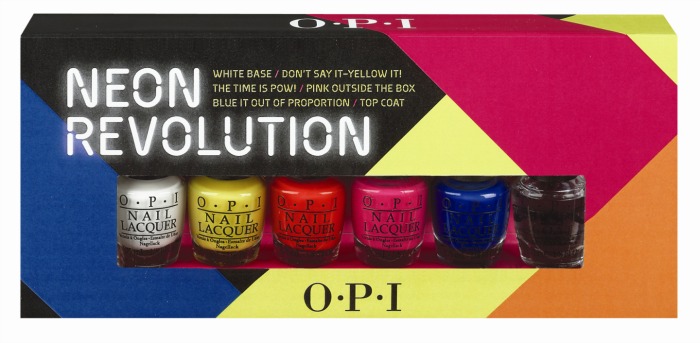 MY NAILS
Luckily OPI is bringing a GREAT way for me to have a little fun this summer with it's new Neon Revolution mini pack. This pack of six polishes,features four limited edition neon nail lacquers, a neon white base coat, and OPI Top Coat (for added shine). It'll make those hot, hot, hot days a bit "cooler" with great NEON colors such as
Don't Say It – Yellow It! 
Make a statement in this spiked lemonade yellow.
The Time is Pow!
And the color is this fiery orange.
Pink Outside the Box
Wearing this hot pink is your best idea yet!
Blue it Out of Proportion
No I'm NOT overreacting…I can't live without this cobalt blue!!
Neon Revolution will be available in July  at professional salons and MY favorite store – ULTA for $19.95 ($24.95 CAN).
For MORE details about these FUN colors, as well as other stores and salons where you can pick them up visit