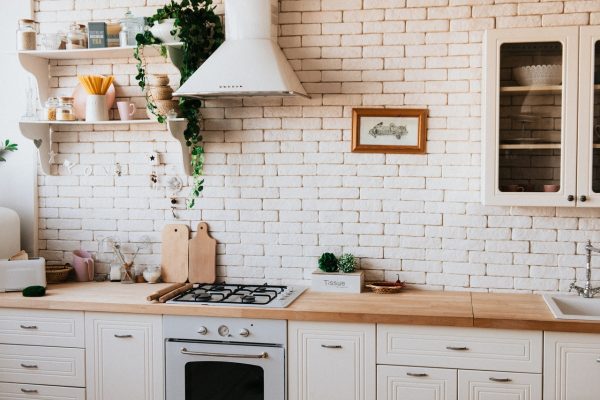 Kitchen counter space is a rare commodity that we never seem to have enough of. Unfortunately, this is a problem that can be further exacerbated if you're someone who lives in a small city apartment or a home that is simply lacking in the kitchen department. A small kitchen can be frustrating, especially if you're someone who loves to cook, bake or entertain. Thankfully, not all is lost! Even the tiniest spaces can be functional (and believe it or not – a joy to be in), and these clever storage and organization solutions for small kitchens will inspire you to take your kitchen from cluttered and cramped to organized and airy. Keep on reading to find out more! 
A Pegboard Is Your Best Friend
Are you dying to create some extra space for your everyday kitchen supplies and tools? Thankfully, one of the cheapest and most inexpensive solutions that will instantly create a bounty of extra space comes in the form of a simple pegboard. Your walls can hold a lot more than you think (pots and pans, cooking utensils etc) and a pegboard is the easiest way to add very flexible storage space that can be adjusted over time as your needs change. 
Create A Pinterest Worthy DIY Pantry
One of the biggest complaints that we hear about small kitchens is the sheer lack of pantry space available to store ingredients, snacks and other food items that you need on a daily basis. Some kitchens don't even come with any pantry space at all. Before you decide to move out or sell your home out of frustration, try out this simple Pinterest-worthy pantry hack that may very well solve your storage problems. 
All you need for this hack is a variety of different mason jars, a kitchen rack (or a built-in floating shelf) and a blank wall. Empty out your pantry staples (beans, flour, rice, pasta, etc) into appropriately sized mason jars and store them on your floating shelf for a trendy-looking DIY pantry that even the hipsters would be proud of. Not only will this hack save you a ton of space, but you'll also have an easy view of all your pantry staples thanks to the use of glass mason jars. 
When it comes to maximizing your kitchen storage space, being narrow-minded (in terms of design, of course), is the best way to create space in places unimaginable. Take for example the small sliver of space that exists between your fridge and your cabinets. In order to capitalize on narrow spaces, we highly recommend getting a contractor to install pull-out/sliding cabinets that are ideal for storing pantry staples, coffee, tea, cutting boards, and other everyday items. If you're someone who loves all things DIY, you could even try building one yourself. 
No Dining Table? No Worries!
Don't have enough space in your kitchen for a regular-sized dining table? Fret not, as there are a number of solutions around this common small space problem. The first option you can consider if you're dead set on including a dining table in your kitchen set up is a fold-down table. A fold-down table (on a wall, in front of a window, or even hanging off a bookshelf) almost always works, even in the tightest of spaces. Use the table when you need it and get it up and out of the way when you don't. The second option is to use barstools to create a "breakfast bar" set up on your kitchen island. Not every small space will include a kitchen island, so this solution will only work for those who are lucky enough to have a small island area in the kitchen. 
Utilize Under Sink Storage
The cabinets under most of our kitchen sinks are often packed with random items such as plastic bags and are in most cases completely underutilized. When space is a rare commodity, every single nook and cranny of your kitchen needs to be maximized which is why we always recommend utilizing stackable storage containers that you can fill with sponges, dishwasher pods, rags, and more. If you can opt for clear storage bins as they can help assure you don't forget about what you already have.
Consider A Kitchen Trolley
A kitchen trolley may not be the chicest looking piece of furniture to have in your space, but it can be a total lifesaver when you're lacking in a drawer, cupboard and pantry space. A simple, inexpensive trolley from Ikea or K-Mart is the best way of injecting some additional storage space for groceries, cutlery, china and other kitchen items. Always opt for a trolley on wheels as this will enable you to move it out of sight when you have guests over or are simply in need of a little extra legroom in the kitchen. 
The Fridge Is Thy Saviour
Lastly, don't forget your fridge. Aside from providing ample space for refrigerated products, your fridge can also double up as the ideal storage solution in small spaces. Think magnetic spice boxes, magnetic storage brackets/baskets, and paper towel holders that are sure to clear up a ton of counter space in an instant. You could even invest in a fridge applicable magnetic knife holder that will keep all your kitchen tools organized and in easy reach. The best part? Not a single ounce of cupboard, drawer, or counter space is used with this hack! 
_____________
And there you have it – 7 sneaky tricks that are sure to make it feel like you've doubled your kitchen's square footage in an instant. Do you have any tips for maximizing kitchen storage and organization? Be sure to drop a comment and let us know!