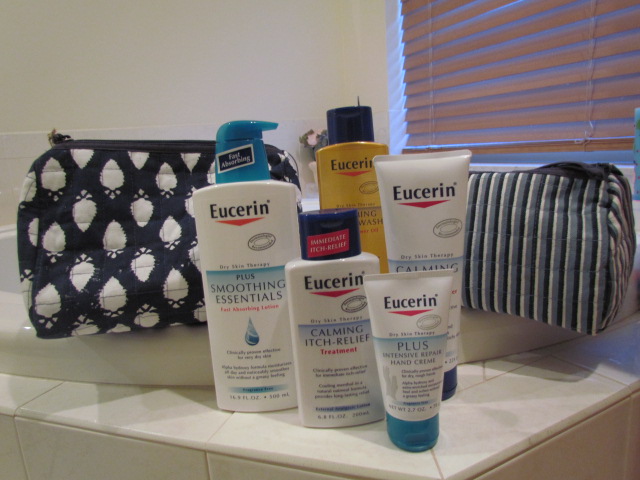 This time of year is the worst for my skin.  I keep finding myself scratching my arms, legs and even my belly throughout the night. Last night Mr. S complained that his skin was itchy as well.  If Clem the mini-bull-terrier showed signs of scratching I'd be worried, but since he hasn't and I looked down at my legs that look like a replica of the Sahara I knew that summer was over and winter is approaching. For me DRY ITCHY SKIN is the first sign.
I also tend to be less vigilant about putting on moisturizer and cream the minute I stop wearing shorts and skirts and start wearing slacks and jeans. It's that "no one can see them, so why bother?" attitude. Last night I suffered to the point where I couldn't fall asleep because I was so itchy. You'd think that as a Eucerin ambassador I'd have immediately popped up out of bed to slather on some 
Calming Itch Relief Treatment!!
After my initial bout of laziness, I marched into the bathroom and grabbed my bottle and covered every inch of epidermis, and experienced blissful RELIEF. I swear that I need to make a New Year's resolution to be pro-active with my skin care this year. It should be easy, especially since I'm already armed with: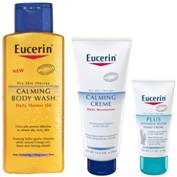 The one application made me realize that just because I'm not running around baring a lot of skin this season, that I still need to treat it RIGHT. I placed the Eucerin Calming Body Wash into the shower and the Eucerin Calming Cream right on the vanity, so that I don't forget to use it IMMEDIATELY upon drying off. The Calming Itch-Relief formula is now sitting next to the bed, in case I get the night-time itchies again, and I always keep Eucerin hand cream in my car. There…I'm all set now.
So, what are YOU doing to insure that your skin doesn't get all dry and itchy as the colder weather approaches? Why not share it on Eucerin's fan page and show EVERYONE what it is that YOU do to combat to COOL – CALM – RELIEVE – PROTECT – CALM your skin this season.
Eucerin and Champagne Living are giving you the opportunity to fight YOUR dry skin this winter by offering one lucky reader Eucerin Calming Crème, Eucerin Plus Intensive Repair Hand Crème, and a makeup bag along with some festive nail polish.
GIVEAWAY
Extra Entries
Tweet me @zipporahs and tell me what you do to get rid of dry skin in winter.
Comment below with your tweet
 Subscribe to Champagne Living, "Join the Clique", follow me on facebook or twitter – all found on the sidebar (each counts for 1 extra entry)
Tell your peeps on your blog, facebook page or twitter about this or any post (each counts for 1 extra entry) and link to us.
Share this giveaway on any contest/sweepstakes/giveaway site for 5 extra entries..
This giveaway is open to US residents, 21 and over and ends on December 27, 2011
No purchase is necessary.

Odds of winning are dependent upon the number of entries received.
Void where prohibited by law.