This post is sponsored by the Sunbeam brand. All opinions are mine alone #ad.
I have had it
I am tired of the kvetching (Yiddish for complaining) and excuses. I believe that if something is bad enough to complain about continuously, that maybe…just maybe, you should do something about it. I guess that Mr. S would rather complain, so I took matters into my own hands and had the Sunbeam® Renue® Neck Wrap sent to the house. It was my small (but as you'll see in a minute, MAJOR) contribution to the years of his aching neck and shoulders.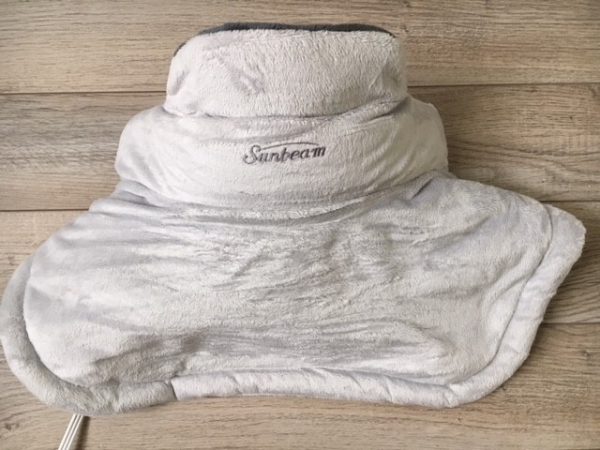 How is the Sunbeam Renue Neck Wrap different from other heating pads?
Your neck is circular your shoulders arched, yet traditionally, heating pads are big rectangles. In the past he'd tried to either hold the heat around his neck by propping pillows or with his hands, and even tried using a chip clip (warning – do not try this, the clip can come undone and fly up into your face….I learned this from experience). Instead, the Sunbeam Renue Neck Wrap is cut to fit securely around your neck and shoulders and WEIGHTED to stay in place allowing the area to get targeted heat for maximum pain, tension, and muscle relief. The magnetic closure at the very front allows the wrap to form a cradle around your neck and shoulders to assure that the heat gets to your neck aches and pains without slipping, sliding or falling off.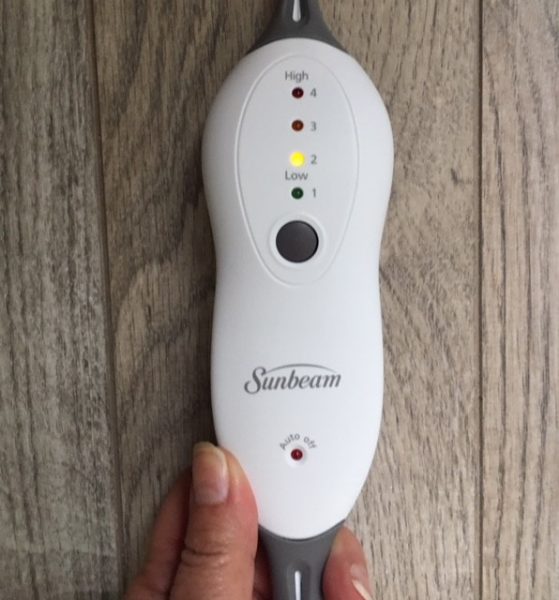 Adjustable heat settings
Being able to adjust the settings from low to medium and high means that you can get JUST the right amount of heat that's comfortable for you. The  Sunbeam Renue Neck Wrap is thicker and softer than other heating pads that we've tried, and I personally find that because it stays close to the body, that a medium setting works well for him.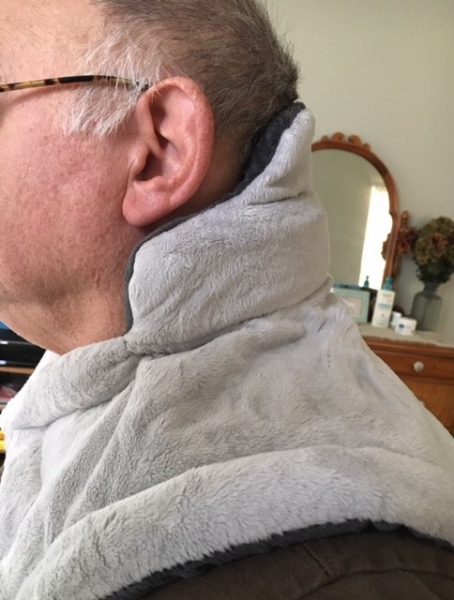 As you know I've been going to physical therapy twice a week
And while Mr. S has claimed this as his own, my therapist told me about the importance of using heat to help me heal and to keep my muscles relaxed (especially just before and after my therapy). Heat helps to ease the inflammation by bringing oxygen to the area, allowing sore muscles to heal faster.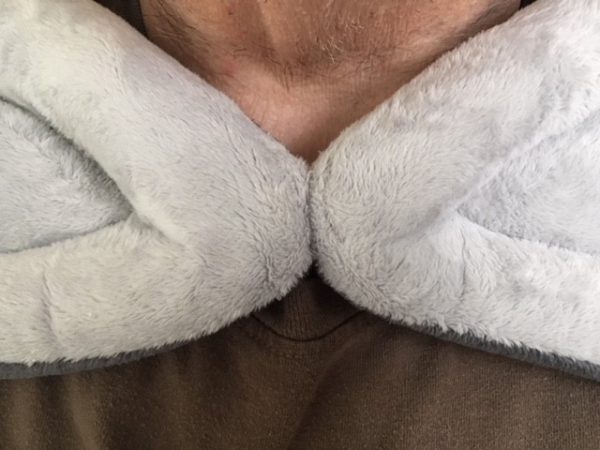 Please don't give away my secret
But, while Mr. S is out hitting golf balls (yes, the regular use of this neck wrap has allowed him to get back to his favorite pastime), I use it while I'm at the computer. If you regularly work online, you probably get a sore neck from looking down at the keyboard, so rather than wait until I have an aching neck, I keep it in tip top condition by using the Sunbeam Renue Neck Wrap and doing a few stretching exercises.
The BEST thing that this neck wrap has done?
STOPPED THE KVETCHING. Now he has to find something ELSE to complain about….like his golf swing.

GIVEAWAY
Enter to win your own Sunbeam Renue Neck Wrap!
Open to U.S. residents only and must be 18+ to enter.
Ends January 29, 2018 12:00 am EST
WINNER: Tara P