This post is sponsored by Sivan Social. All comments and opinions are my own.
There are things that we all put off.
We bought the house we are in now 5 years ago, and while some of the areas that guests may visit have been updated, there are a few areas that we neglected, like our bedroom and bath. I had been searching online (and a little in-store) for a while, but hadn't really found anything that screamed "MY STYLE," I love things to be a bit eclectic and in the bathroom I need FUN. I am the gal who used to have plastic flamingos peeking out from behind a shower curtain in the '90s and never really got over that style. Unfortunately, my husband is a bit (okay, a LOT) more conservative than I…so Harry and Goldie had to go and I stopped giggling every time I went into the room (did you know that because they are made to be outside on a lawn that you can keep them in the shower with you and they'll be fine).
I need grown-up, but I still wanted colorful
Did you know that HomeDepot.com offers a home decor category that's not available in stores? Neither did I until I did a little research. Once there I found the perfect items for decorating just about any room in your home with things like furniture, home & wall decor, kitchenware, small kitchen appliances, bed & bath textiles, and even tabletop decor like dinnerware, glassware, and serveware!  Who knew? I sure didn't, but I'm glad that I do now. I paced myself because given the opportunity I would have tackled ALL of the rooms that need to be done, but I figured that one at a time would be a great way to actually get things done so…
The Master Bathroom it is!
First of all, it screams "Where were you in '82?" with it's dropped lighting fixture, single sink on a H-U-G-E vanity and typical 1980s architecture. I was about to bring it from feh to fun with a little bit of color and a tad more function. So
Bye-Bye White towels and Scatter Rugs
Bye-Bye STUFF that is all strewn on the counter with no home
HELLO FUN and ORGANIZED.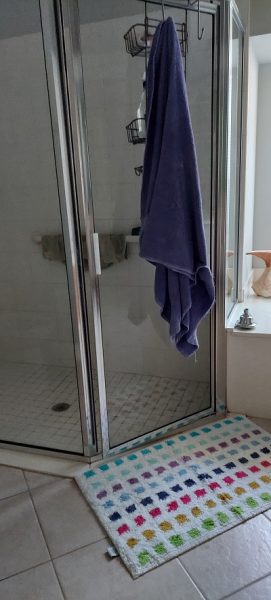 I started with color
I had no clue WHAT color I wanted, so…I WENT FOR THEM ALL with these Spectrum White Geometric Cotton Towels and Rug by The Company Store. THAT was a HUGE surprise. The fact that I could order great bedding and bath domestics from The Company Store at Home Depot at the same time as I bought other accessories made thinking about how I was going to lay it all out so much easier. I love the mult-color that these bring to the room and I can still use the solid bath sheets that I already had as the colors coordinate. Being able to mix old and new means that you don't have to get rid of those things that you love, but you can give a breath of fresh air to the room.
Mr. S' Counter Fail
I'm putting it out there…he has no clue. He'd rather keep stuff ON the counter than inside the cupboards. It's messy, it's ugly and I just don't get it. But, since he claims this bathroom as HIS, I took a step back. Then I thought….why can't a makeup organizer keep his stuff ON the counter without being all over the place? My next step was to find a bathroom accessory set and a makeup organizer that looked masculine enough for him to actually USE (without an overflow of STUFF) that I would actually like.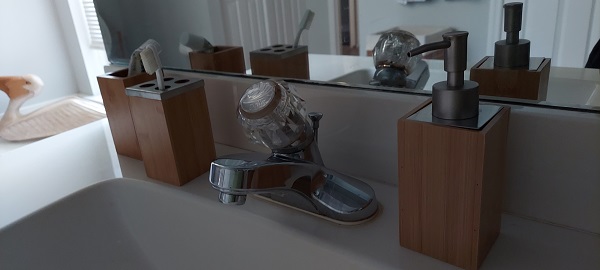 I found this adorable bamboo set that includes a toothbrush holder, soap dispenser, tumbler, and trash can by Redmon that goes perfectly with this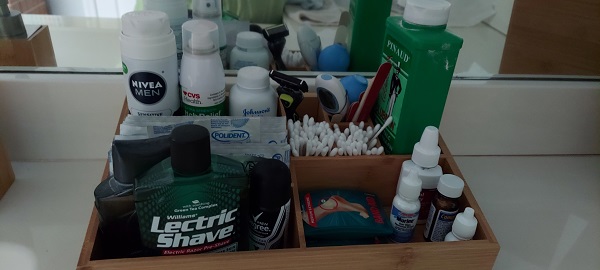 10-Compartment Bamboo Vanity Organizer for keeping his stuff. Because we have a puppy, trash cans have to be kept high enough for the dog not to rummage through, so we keep it ON the vanity (I know it's ugly there, but it's so practical). Now, because it matches it actually looks nice (and one day maybe, just maybe we'll be able to keep an open trash basket on the floor, but for now it remains up high).
Over the tub
There is and has always been a hook over our Roman Tub. I tried hanging live plants, but when I watered them, the mud would drip into the tub making more work for me and if I took them down to water them, I'd have to get a ladder out to take it down and put it back up (yes, I'm THAT lazy). I knew that I wanted a silk plant, so I ordered this adorable hanging Pothos to replace the real one that I had attempted to keep alive. It's a little smaller than I wanted, so I may order a large silk fern (they have LOTS of them at HomeDepot.com and put this one above the kitchen sink). Still, even though it's small, it definitely finishes off that part of the bathroom.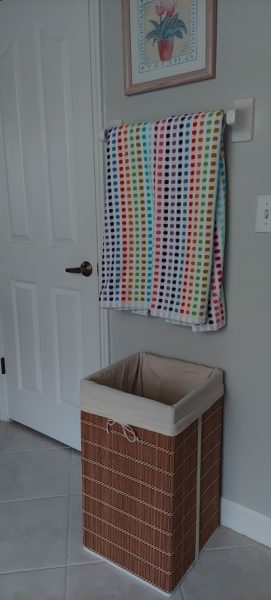 The Dirty Clothes
Getting a hamper that doesn't keep falling over was a MUST, because what is the point of putting dirty clothes IN to a hamper, only to have them fall out on the floor? This Bamboo Wicker Hamper matches everything else and actually STANDS UP.
Later today I'm heading back to Home Depot Online
I still need to add more, now that I look at it. I'm going to look for a
Teak Bench for the Vanity
A 2nd LARGER Rug to match the one I bought for in front of the sink (it comes in 2 sizes)
2 pieces of fun ARTWORK (they have LOTS)
Maybe some curtains? (What do you think?"
NEXT UP – The Master Bedroom
I saw a lamp I like on the Décor Special Buy Of The Week and I don't want to miss out on the deal! YES, Home Depot online also has SPECIAL BUYS for home decor!
Looking to upgrade, redecorate or just SPRINGIFY your home (yes, I made that word up).
RIGHT NOW you can Save Up to 30% on Select Furniture, Decor, and Kitchenware at HomeDepot.com
Dates: 4/7/21 – 4/20/21
Restrictions apply.
Click >> Home Depot to go directly to the deal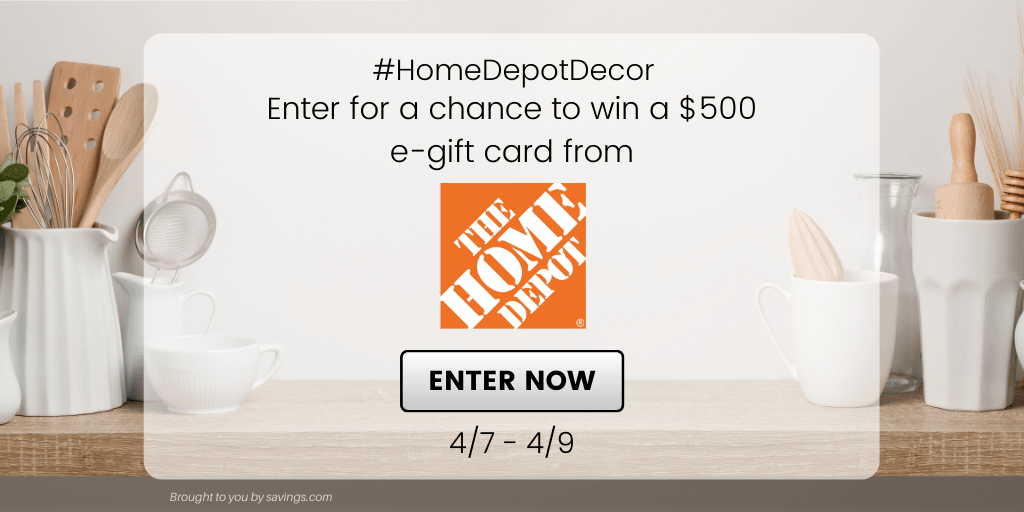 ENTER TO WIN a $500 Home Depot gift card!!!
Wednesday, April 7th at 12:00 AM PT to Friday, April 9th at 11:59 PM PT.
One (1) winner will receive a $500 e-gift card from The Home Depot.
Users enter the giveaway by heading to the Home Depot merchant page on Savings.com and submitting their email address on the form on the page.
The winners will be chosen through a lottery drawing and notified on Monday, April 12th via the email address they used to enter.
See complete Official Rules for entry instructions, full prize descriptions, restrictions, and other important details.
Oh, and if you see anything else that I should add to my Master Bath, feel free to comment or ping me. With so much to choose from, I may have missed something.