I participated in a campaign on behalf of Mom Central Consulting (#MC) for Sprint. I received a product sample to facilitate my review and to thank me for participating.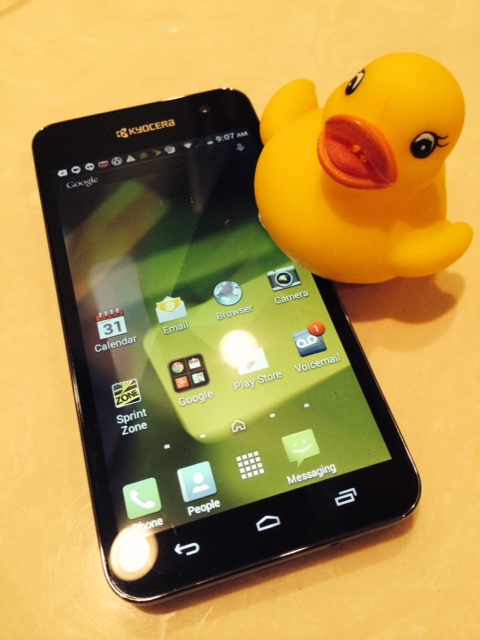 Splish, splash, I was takin' a bath Long about a Saturday night, yeah A rub dub, just relaxin' in the tub Thinkin' everythin' was alright

Well, I stepped out the tub I put my feet on the floor I wrapped the towel around me and I Opened the door –  Bobby Darin
You're probably too young to remember that song, and while I'd like to say that I heard it on an oldies station…um, well, I'd be lying. Just so that you know, I take my phone into the tub with me.
TMI?
Well I don't actually take it INTO the tub, but I do set it on the edge, just in case. When I need my down time, I'll often relax with a glass of bubbly in a tub of bubbly. I am usually extremely careful, although there have been times when the bubbly in my wine glass (I use a plastic glass when I'm in the tub, JUST IN CASE) has ended up in the mass of bubbles, and I've always worried that my phone will as well.
Let's just set up a scenario: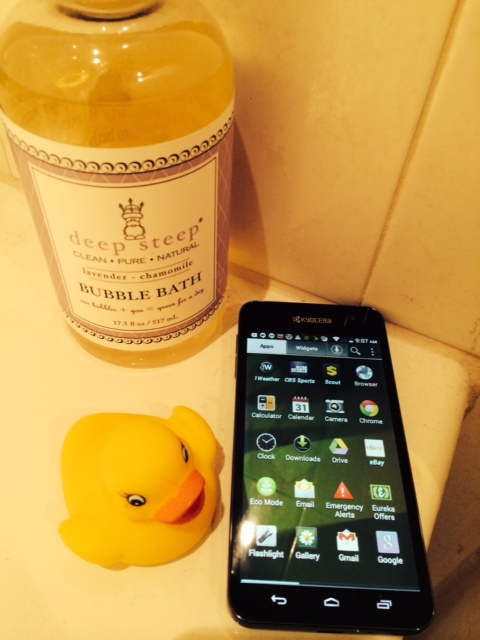 I'm on my second third glass of champagne, James Taylor is playing on Pandora, the bubbles are up to my neck, and THE PHONE RINGS! I reach over and it falls into the tub. Panic ensues. I have to begin digging blindly through the bubbles for the phone, but I know inside that it's done, over, kaput, dead.
Water and mobile phones are ultimate enemies.
I no longer have to worry about that
No, I have NOT stopped taking baths, but I have changed phones. As a Sprint Ambassador #SprintMom recently sent me the Kyocera Hydro Vibe Waterproof 4G LTE and it's
W-A-T-E-R-P-R-O-O-F
Not only can I accidentally drop it in water without issue (it'll be fine in up to 3½ ft of water for up to 30 minutes), but it's got the features that I need in a phone, like 4.5 inch qHD impact-resistant touchscreen display, an 8-megapixel rear camera with LED flash and video camera, and even MORE important, a 2,000m Ah battery. so it's ready when I need it (even after I've been tweeting and instagramming all day at events).
A HUGE PLUS
You won't find this in the description on Sprint's site, you won't find this on the Kyocera site, you may  not find this on ANY site…but, I've been having signal difficulties with my brand new "fruit" phone that I got four months ago. It was dropping calls like CRAZY. At first I thought it was the service, but someone I don't have issues at ALL with the Kyocera Hydro Vibe Waterproof 3G LTE.
I apologize,  Sprint for thinking it was you.
I can even get 4GLTE on the Hydro Vibe when I'm traveling (never could get it to pop up on my fruit phone), and YES the fact that it has a mobile hotspot has gotten me out of at least TWO jams recently as I traveled. Why don't all hotels have free wifi, especially if you're hosting a blogger?
411
14 hours of talk time
4.5 inch qHD impact-resistant touchscreen (great size BTW)
8-megapixel rear camera with LED flash and video camera
2,000 mAh battery (lasts a good LONG time)
weighs 5.29 oz
For my crunchy friends
 Environmental Certification: Certified by the independent UL Environment, this phone contains environmentally-preferable materials with a minimal environmental impact.
Are you ALL WET?
Don't worry, simply go to Sprint.com and look at all of the specs on the Hydro Vibe