I'm sick and tired of Mr. S complaining that I have all the fun (um, I do). Then again, he's incommunicado during football season, so why shouldn't I be heading to the spa (Monday night football wives time)? Still, I know that he probably needs pampering just as much as I do, then again if he's at the spa…I have the remote.
Willow Stream Spa at The Fairmont Mayakoba– Quintana Roo, Mexico
Post Game Face Treatment – 60 minutes
Whether you're cheering for football or futbol, this treatment will do the trick. A relaxing, deep cleansing facial developed to treat, repair and protect skin that is subject to a lot of sweating due to activity from golf to yard work to high pressure presentations. The treatment combines a shoulder and neck massage for tension relief as well as revitalizing exfoliations and massage on the arms, hands and feet.
**I met the manager of the Mayakoba as I was flying to Cancun and he was flying back to work from a stay in NYC. He was absolutely charming, and ever since then I've wanted to stay there.
Cornelia Spa at The Surrey – New York, NY
Cornelia's Gentleman's Facial (60 minutes/90 minutes)
A deeply cleansing, moisturizing, and re-energizing skin care treatment specifically for men. Cleanse and exfoliate with botanical formulations that eliminate impurities, resurface, and smooth the texture of your skin. Vitamin E enriched emulsion combats the effects of shaving, and restores a more toned complexion. A specialized masque relaxes stressed, tired skin. Giants and Jets fans will reveal a younger and more refreshed face. The treatment rounds out with Cornelia's botanical tasting and beverage.
Willow Stream Spa at The Fairmont Scottsdale Princess – Scottsdale, AZ
Total Body Recovery – 90 minutes
Cardinals fans can soothe muscle aches, pains and stiffness, whether due to arthritis, athletics, travel – or just keeping up with the kids. Featuring locally derived remedies and oils, this treatment uses warmth to alleviate stiffness, and coolness to relieve muscle spasms and inflammation.  Includes a therapeutic bath and a massage that treats your problem areas.
Regent Spa at the Regent Palms – Turks and Caicos
Gentleman's Oasis (60 Minutes)
Dolphins, Patriots and Falcons fans can hop on a quick direct flight to the islands to relish an aromatic blend of essential oils and malt extract of Scottish Whisky combined with a series of relaxing massages to ensure a deep sense of well-being and relaxation. Hot towels are incorporated to make this a traditional barbershop like expedition. The skin immediately appears bright, clean, soft, and refreshed.
The spa's "man cave" features masculine interior including crocodile wall paper, flat screen television to watch Sports Center, an assortment of whiskeys and a comfortable shaving chair for treatments with Art of Shaving products.
Willow Stream Spa at The Fairmont Pacific Rim – Vancouver, Canada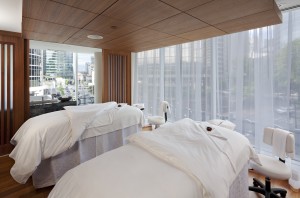 Van Active Hot Stone – Muscle melt 60/90 minutes
Earth, air, fire and water unite in this therapy. Hand-picked stones warmed in water, combined with aromatic Willow Stream Balance Oil, create a deep heat, while a therapeutic massage melts away stress. BC Lions fans will appreciate this stress-relieving remedy in between games.

The Muscle & Joint Pain Relief soaks; scrubs, sprays, and creams used in this treatment will not only heal and rejuvenate hands and feet, but will also alleviate symptoms of pain, aid in the relief of swelling and inflammation, and strengthen muscles and joints during this powerful Manicure & Pedicure.  Using Jadience Herbal Formulas' rare proprietary herbal blends, this is a perfect mani/ pedi for athletes, individuals with circulation issues or pain, and individuals who are often on their feet. Chargers fans will indulge in this tension-relieving mani-pedi treatment.
Willow Stream Spa at The Fairmont Sonoma – Sonoma, CA
Invigorating Scalp Experience—60 minutes

49'ers fans will enjoy restoring vitality to their hair and scalp with botanical shampoo and conditioner, and a customized blend of essential oils. An invigorating scalp and neck massage completes the luxurious treatment.