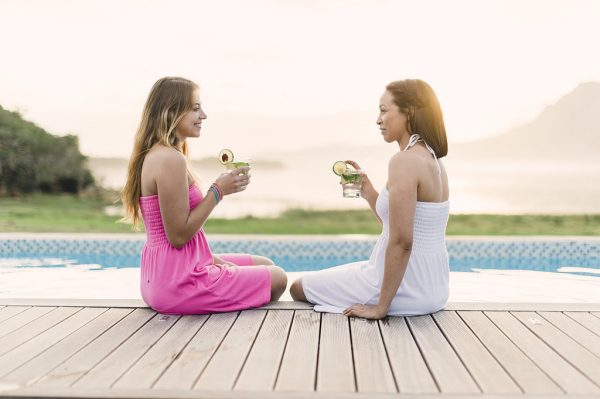 Welcome to the first post in our Snowbird Series with a product that is PERFECT for those of us who have pools to enjoy, whether they are under our covered lanai or you share with your fellow condo neighbors. I don't know about you, but I hate having getting out of the pool after a few laps and realize that the only thing that I have available is that beach towel that I got from a blogger conference that screams…."I GOT THIS FOR FREE & IT LOOKS IT." I admit that it's probably time to go out and buy some "good" towels for by the pool, but that still doesn't solve my problem.
Bathing suit cover-ups just aren't practical
Oh, some of them are really pretty, but if you're wet, all of that gauze is clinging to you and it's foolish to think that ANYTHING is really covered up by them. I love the idea of tossing on something heavier, but A BATHROBE? No thank you.
Up until now short towels, heavy bathrobes and shapeless wraps were the only spa wear available. That's not enough wardrobe functionality or 'feel-good' style for what a spa day is meant to do: Lift you UP!
I recently came upon The Spa Dress®, a reinvention of the sundress…you know, the ones we used to wear in the '80's, only THIS dress is a practical solution for poolside, health clubs and even for travelers like me who know that room service is about to knock, but I'm not dressed yet.
Packaged as An Emotional Boost in a Box™, The Spa Dress® comes in a range of colors to uplift mood, as a spa day should. For example, need emotional strength? Restore self-esteem in their 'Confidence Boosting Black.' Lost your grove? Find your mojo in our 'Get Gorgeous Pink.' Or, clean the slate in our 'Starting Over White.'
Long story short, The Spa Dress® is a multi-use wardrobe item for by any pool….whether it be your own, the association-shared pool, or on the beach with your besties. It rolls up, easily packable in the tiniest of getaway bags.
But, it's not JUST for poolside, it's also:
A Body-Enhancing Cover-Up – Wearable UNDER resort robes. Cotton-blend 80-20% spandex adapts to curves. Stretchy top provides light support.
A Slip-On Towel – Soft, lush terry locks in moisture. Doesn't fall when you need a towel to stay up. Reduces public displays of 'towel dropping syndrome.'
A Dress-Before-You-Dress – Text message and primp as you wear. Comfy walk-around attire. Dries as you dress. Leaves hands free for everyday errands.
A Sundress or Skirt – Practical for the sauna but wearable on the beach, by the pool or anywhere your spa excursion takes you, at home or away.
The Spa Dress is a no-brainer…for both snowbirds AND those of us who live by our pools year-round.


Purchase a Spa Dress or all 3 colors (pink, white & black) at TheSpaDress.com
Priced at $69