This post has been sponsored by Frame My Mirror. I was able to build & order just what I wanted to facilitate this post. Opinions are my own.
When we first bought our house two years ago I spent WAY too much money just on getting ready to move in – like painting, tearing up the floors in every room except for the two bathrooms, pulling down a wall, etc. This year I went hog wild on the exterior, painting and replacing the light fixtures both in the front of the house and on the lanai (including overhead fans so that we could extend our outdoor time when it gets hot).
My intention was to pull down the ugly 1980's mirrored wall that is in our living room, but when I heard about the mess (glass), the cost, and the fact that it would take down all of the drywall…I realized that it wasn't in the cards. I had to come up with a solution to make it fit with my eclectic/bohemian style and not make me feel like I was in my grandmother's condo in Century Village (senior condos in South Florida).
As I was looking through the framed mirror options at Frame My Mirror, I found a few frames that I liked. I went ahead and ordered some samples. They came quickly and I held them up against the painted wall to see how the colors would go. At $1 per sample, I felt like I could order all of the options that I was considering.

My decorating "style" is bohemian/eclectic (AKA: an artistic hoarder), and the Winston white frame looked like it would be a good fit. I liked that this frame had a 2″ depth, as it would give the area more dimension.  Now it was time to order. I measured the area and knew that I wanted a substantial mirror, and wanted to place it length wise, so I ordered a custom framed mirror in 24 x 36 (this way, if I changed my mind, it would work as well if I wanted to hang it in a spot that warranted hanging it vertically).
Frame My Mirror's ordering process is very specific, from how to add the mirror dimensions to mirror style (beveled or straight), and even an 800 number to help if you have any questions or need help. I found that the prices are affordable, and the free shipping (on standard products), made it even less expensive than other options.
Shipping
I was actually worried about the shipping. This was to be a large, heavy mirror and it's GLASS and I know that the FedEx & UPS drivers are not always gentle with my deliveries.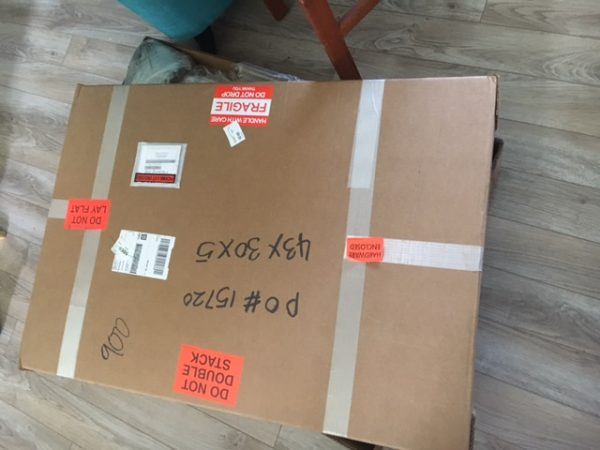 I guess that the folks at Frame My Mirror know that, because I opened the box and…..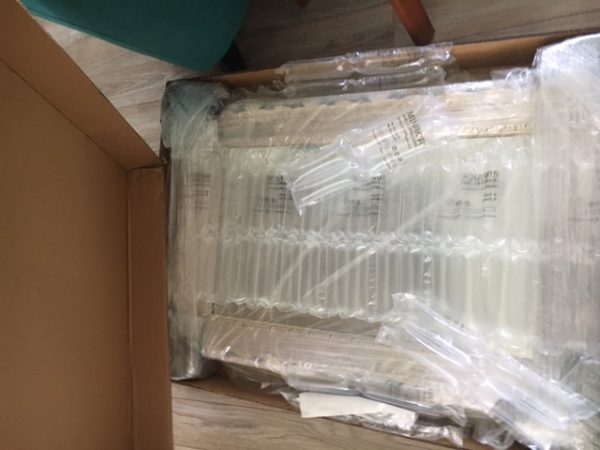 I couldn't even SEE the mirror through all of the custom made packaging.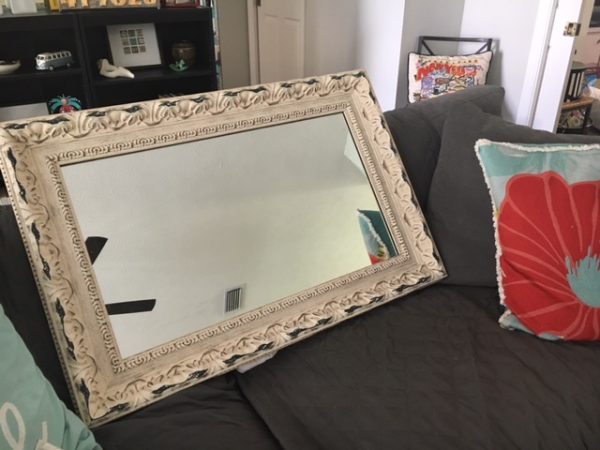 I set it down on the sofa and looked up. While I had ordered it for the guest room, I set it on the bookcase that I had pushed in front of my 1980's mirrored wall.
I love the look of a leaning mirror
But, wasn't sure if a mirror-on-mirror would be right. I knew IMMEDIATELY that the Winston white mirror would be perfect to pull the look together.
[smartslider3 slider=3]
All hardware is included
Had I decided to hang it in the guest room (or should I change my mind and do it), all of the hardware, detailed directions on hanging, as well an adjustable leveling hanging bar are all included with your custom framed mirror. Instructions on FrameMyMirror.com, and the mirror arrives ready to install.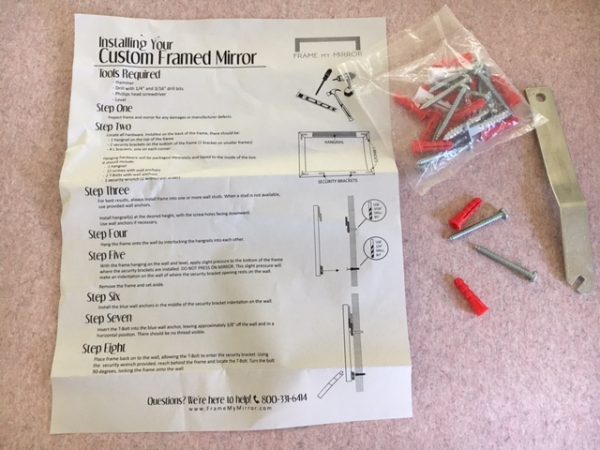 The holidays are the perfect time to spruce up the house
I'm so happy with my custom framed mirror, and think that it really completes that part of the room. Frame My Mirror also offers Add-A-Frame products as well, and I'm really considering updating the hall bathroom mirror with one of their frames to warm the room up.

To order your custom framed mirror visit: FrameMyMirror.com
If you have any questions during the ordering process you can also call:  1-800-331-6414 from 8:30-5:00 EST