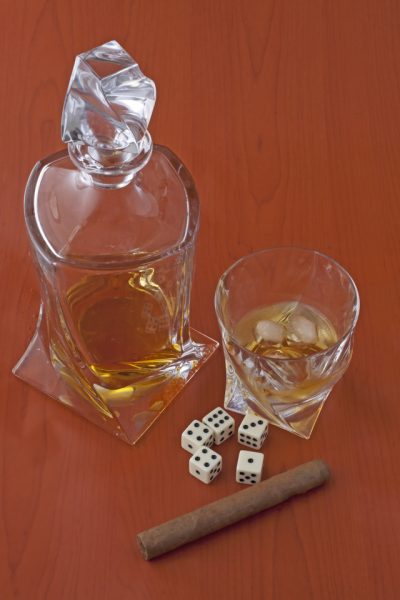 When it comes to the classic vices – smoking, drinking, gambling, and that kind of thing – there are plenty of ways to let things get out of hand. But there are also lots of ways to do these things right. Vices and enjoyable pastimes have always been part of human life. We've seen the dark side of lots of these things in the 20th and 21st centuries, but that doesn't mean that these things can't be reclaimed by the healthy adult for personal enjoyment. There are a lot of ways to bring these things into your life without losing control, ruining your health, or throwing your money away.
Smoking.
Smoking has gotten a bad name in the 21st century, but that doesn't mean it is terrible or that it will kill you if you do it. Smoking two packs of cigarettes a day? Bad. Smoking the occasional cigar with friends or by yourself, while gazing out at the sunset? Perfectly ok, and even healthy. Tobacco is all about moderation and mindset. Cigars, pipe tobacco, and even the occasional fine cigarette are perfectly legitimate indulgences that won't negatively impact your health if consumed with the right respect. So buy that new pipe or splurge on that box of Acid Cigars. You'll enjoy them and be glad you tried this new way of doing things.
Drinking.
People have all kinds of feelings about wine, beer, and liquor. Some people enjoy these freely. Others avoid them completely. Others use them only in social situations. Regardless of how you enjoy your drink, one of the best possible techniques is to enjoy better quality stuff than you are perhaps accustomed to. For people who are concerned about drinking too much, this is one of the best techniques. Fine spirits cost good money, and this can make it difficult to overindulge. Many people who love good brews and distilled spirits find that they enjoy drinking so much more when the quality of their drinks are very high. You will likely not be an exception.
Gambling.
Card and casino games are really fun. It's why people have played them for generations. And while it's possible to lose a lot of money during these activities, these games are also legitimate ways to enjoy your time (without losing your pants). Whether you play online or in person, or even just discuss your March Madness picks with friends, there are plenty of reasons to gamble for fun. By setting careful personal boundaries about how much money you are willing to risk in a turn, a sitting, or a day, you won't put yourself into trouble. You may even find that you make money this way. Many classic gambling games are games of skill. Learn the ropes and find the game you love. You'll be glad you did.
Just because it is possible to go overboard with these "vices" doesn't mean they can't be enjoyed in perfectly healthy and enjoyable ways. Take a page from the guidebook to being happy and satisfied for people all over the world. You'll quickly learn a lot about these pastimes and take them into your future.