Note: I was sent a Nuvanna mattress to review, all opinions are strictly my own.
I can't sleep
Mr. S and I have been sleeping on a mattress that we got 5 years ago, and about a year ago it completely broke down. There was a gully and the edges had lost their firmness. After tossing and turning for hours I would head to sleep in the guest room…every night (there….I said it), because I couldn't get comfortable. Yes, our mattress was so bad that we slept in separate bedrooms, not that THAT was the perfect solution either. The guest room mattress isn't much better, it is too hard for me. I feel like Goldilocks with no place to curl up for the night. I get cranky easily. That's what happens when you can't sleep.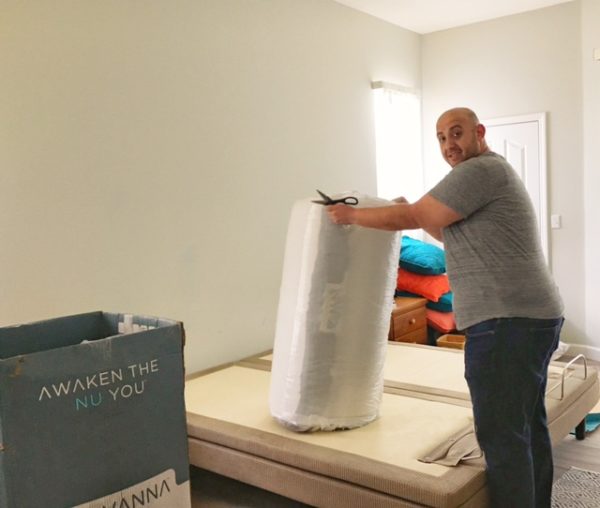 The Nuvanna™ mattress
I'm no stranger to the new mattress-in-a-box phenomenom. My guest room mattress was shipped this way. I knew in advance that I'd need help to maneuver the old king size mattress out to the curb before putting the new one on, so I called Ben to help.
A "Hey, I could have done that myself" moment (after watching this video) I realized…
Receiving a mattress this way means that I wasn't locked in to waiting ALL DAY long for delivery
I didn't have to worry about having $2 in my wallet – no tipping
No worries about the dog being under foot
I didn't have to clean the room before anyone came to the house (as you can see)
I could have done this myself (I know I said it above…but it's TRUE)
My old mattress was about 3-4 inches thicker
I started to worry. Did I do the right thing here? I was reviewing this mattress, but the old one was now curbside getting dirty. Well, at least I don't have to worry about the sheets pulling up at the corners. I gave it a shot.
I kept putting the company off
There were two reasons.
I needed to make this video & had just bought new software. I'm not good at new software.
If the mattress wasn't more comfortable I didn't want you to waste your money. So I slept on it for a month.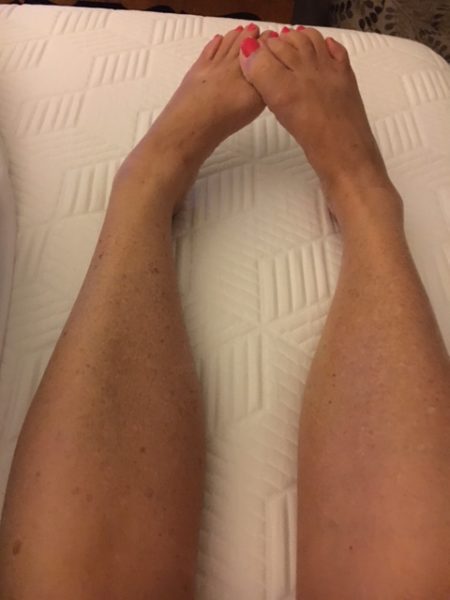 30 days of sleep
I told the company that I'd write this right away, but I KNEW that I needed to give this mattress at LEAST 30 days before I could really "sink in" to reviewing it. This is day 33 (or should I say NIGHT 32) of sleeping on my Nuvanna mattress, and sleep I do. I still toss and turn a bit, because old habits die hard. But, I get comfortable quicker and I actually sleep without getting up and going to the guest room. That is much more important to me than what the mattress is made of, the warranty, shipment, etc.
It's ALL about how you SLEEP!!
and Nuvanna has that part covered. After a good night's sleep I did a little digging to find out WHY it works.
One size fits all?
I couldn't figure out how offering only ONE mattress style (there are plenty of sizes) would work for everyone, but I can tell you that Mr. S likes his mattress firm and I like mine much softer. Because the mattresses are made in 3 layers, with each layer designed to function differently it works. You'll find both comfort AND support all rolled in to one.
The first layer cradles you and unlike many other memory foam mattresses it disperses your body heat to keep you cool.
Layer #2 is designed to minimize motion transfer. If Mr. S turns I don't feel it. If Clem jumps on the bed, I don't feel it. If I roll over, I'm cradled immediately without having to adjust.
The third layer keeps you from sinking in what they call "the quick sand feeling that often plagues memory foam mattresses" by offering progressive support.
I know I said that there were three layers – but OH THAT TENCEL® COVER! It has moisture-wicking and for women like me in the throws of menopause it helps keep you cool.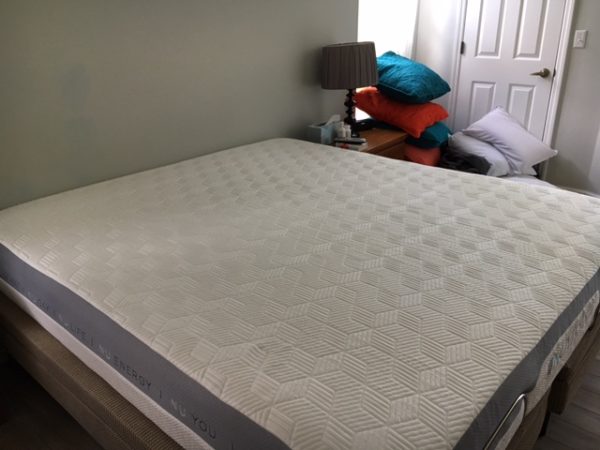 Mattress speak
From the Nuvanna site…this is WHY it's so comfy.

The ascension layer is a specially designed hybrid adjustable foam 3 psf with phase change gel particles to maximize heat dissipation. Our middle layer is two inches of memory foam, it's a special grade designed to minimize motion transfer. The density is 4 psf. The support layer is a 1.8 psf high performance high durability, open cell foam.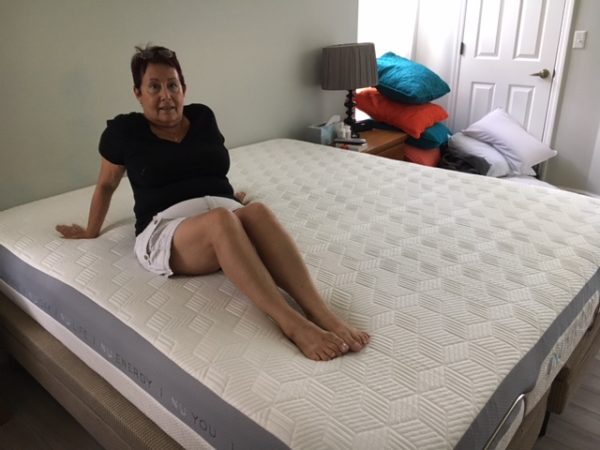 My apology to Nuvanna
Dear Nuvanna,
I'm very sorry that I kept putting this review off. I probably shouldn't have, but my readers are just too important to open a mattress…jump on it…and tell them ooohhhh it's soft. It doesn't work that way here. After 30 days of sleep I am now ready to say
I LOVE THIS MATTRESS!
Now I have to go wake up Mr. S because ever since we put this mattress on our bed he's been sleeping late.
Love,
Your new best friend Zippy


Learn more at Nuvanna.com
Prices range from $550 (Twin) to $950 (California King)