Note: I was a guest of Disney Pictures for the Pirates of the Caribbean/Bambi junket.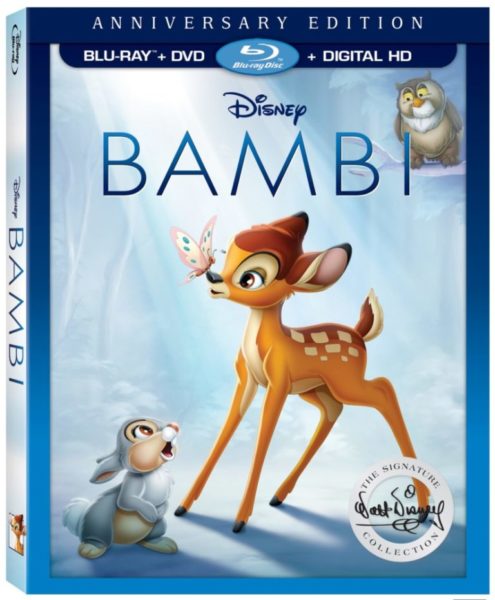 Spoiler alerts
Bambi is a "HE" (for anyone that didn't remember)
Film has changed SO MUCH in 75 years, and the opening reminds you JUST how much.
Bambi's mom dies.
It's weird how little of this film I really remembered
Or maybe it was the WAY that I remembered it. Either way, as an adult (a jaded one at that) I had to find a new appreciation for this classic animation…and I found it in the painstakenly created art. Each frame of this film is a child's masterpiece which could be taken a frame at a time…like a showing in a gallery. There is a certain vulnerability in the drawings, an aesthetic that is lost in todays animation. I began watching it wanting more action (where was the car chase), and ended up sitting in that one room of the art museum staring lovingly at a favorite painting.
Why now?
75 years later this classic has been released in blu-ray, DVD and Digital HD Anniversary Edition with new never before released bonus material including:
THE BAMBI EFFECT: "Bambi" was full of innovations for its time. Let's take a look at how those past innovations affected future Disney animated titles all the way up to today.
Studio Stories: "Bambi": Recordings of Walt Disney. Listen in on intimate moments where he discusses the challenges, pitfalls and triumphs during the production of "Bambi."

DELETED SCENE: BAMBI'S ICE AND SNOW:

 Bambi coaxes Thumper and his brothers and sisters to come play on the ice during the first snow.
DELETED SCENE: THE GRASSHOPPER: A grasshopper confronts Bambi and Thumper and finds himself in quite a predicament.
BAMBI FAWN FACTS: Think you know everything there is to know about Bambi and his forest companions? Well, it's time to discover some fun real-life facts about the creatures that live in the forest he calls home.

OSWALD THE LUCKY RABBIT:

"AFRICA BEFORE DARK": 

Oswald Short.

CELEBRATING TYRUS WONG (DIGITAL EXCLUSIVE):

 A heartfelt look at the man who played a key role in the success of "Bambi." Much like Mary Blair and Eyvind Earle, Tyrus Wong had a unique signature style all to his own. The soft water-colored backgrounds and beautiful palettes in "Bambi" were inspired by Tyrus' concept art paintings.
As well as Classic Bonus items that were available on earlier blu-ray releases.

It's 2017 & Bambi is on SOCIAL MEDIA! The mystery is…where does a deer keep his cell phone while he's romping through the forest?