BUMPS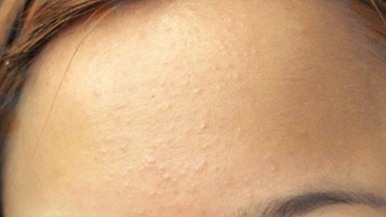 Itty, bitty, little bumps. From my hairline down across my forehead I'd somehow gotten a forest full of them. I went for a facial, then two, and then a third. I asked the esthetician what they were from. They are definitely not an allergic reaction and they seem to get more dense at certain times. They have nothing to do with hormones. The only answer is that something that I was using was clogging my pores.
I tried everything…
…expensive department store brands, skin products that I picked up at Target or CVS, and even my FAVORITE brand Kiehl's. But, no matter what I used and how often, I still had them.
Thinking back
I started to notice them after I go to the salon. It could have been the haircolor, shampoo, conditioner, or the fact that I don't wash my hair for 2 days before so the color will hold better. Since they continue to reappear, I knew that I needed a regime that would get rid of them.
Skincare by Nassif MD
If like me, you're a fan of the show Botched on E!, you know who Dr. Paul Nassif is. I first caught wind of him when he was on RHOBH, and have followed him from the craziness of being a husband (now ex) of a cast member, to a show that highlights how he and Dr. Drubrow  fix "botched" plastic surgeries.
If I had the money….he's the guy I'd be going to.
Bio-Rhythmic Skincare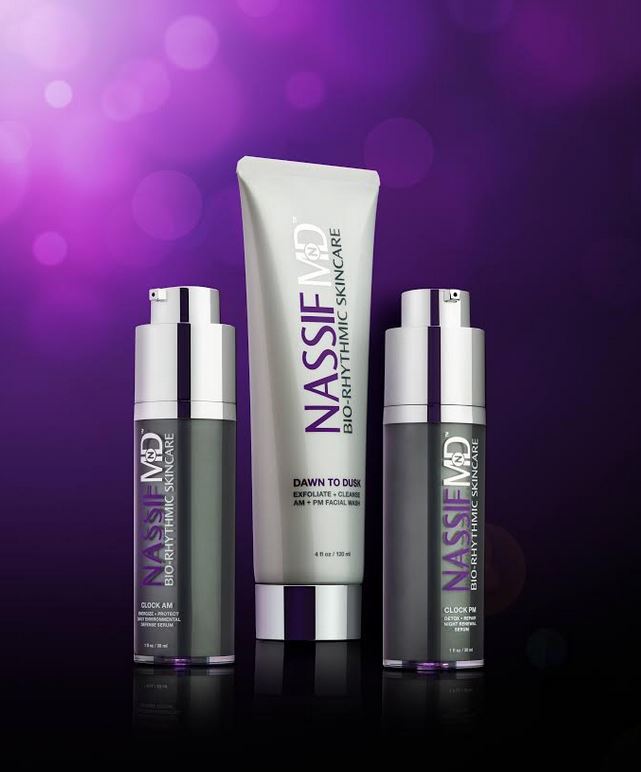 Hmmm….I was a bit confused when I first learned that Nassif MD was a bio-rhythmic skincare system. Then again, I'm a bio-identical hormone gal, so why not my skin too?
This skincare line addresses the Bio-Rhythmic changes that our skin experiences during the day versus the night, while also rapidly counteracting the negative effects that lack of sleep and busy lifestyles have on our skin. While specifically designed for stressful lifestyles, this radical new skincare line is exceptional for all consumers and skin types.
Is the process complicated?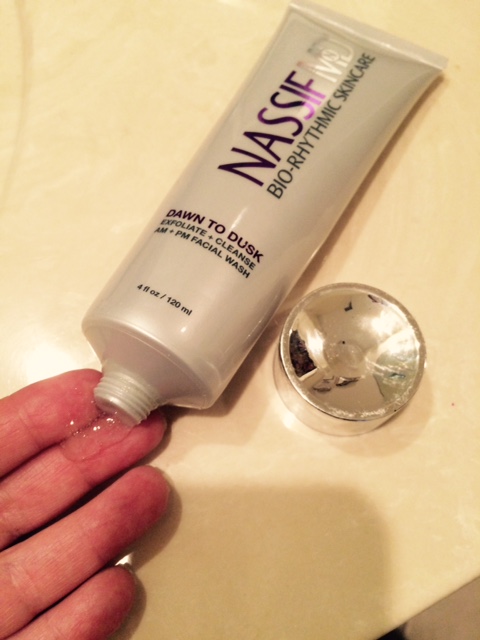 NOT AT ALL.
It's actually EASIER than other skincare systems I've used, and has only THREE products. That's MUCH less than most.
I've FALLEN IN LOVE with Nassif MD
First of all, it cleared up those bumps on my forehead WITHIN DAYS, but even more important than that, my skin has begun to show signs of improvement. While I was surprised at just how LIGHT the Clock AM Day Serum is, the Clock PM Night Serum is definitely more emollient.
Are your skin's Bio-rhythms off?
Are you busy?
Are you stressed?
Do you find yourself getting less than 8-hours of sleep a night?
Do you travel often?
Sitting in front of the computer all day I'm exposed to HEV (high energy visible) light which takes it's toll on my skin. Being able to counteract the effects of this and other types of UV radiations, as well as to help repair damage from oxygen free radicals is essential to me.
Dr. Nassif's "Hero Ingredients"
LipoShield™
During the day, when the natural daytime Bio-Rhythmic state is one of metabolism/protection/nutrition, Ergothioneine– our daytime amino acid – helps to boost ATP (metabolic energy). It joins forces with LipoShield™ to help protect against environmental aggressors like pollution and UV damage, which can alter our daily biorhythm's cyclic phase.

LipoShield™ provides the ultimate environmental shield. Together with its antioxidant and free radical neutralizer sidekick, Vitamin C, it works with our skin's genetically programmed daylight cycle. Combined, they temper the majority of HEV light (which is not encompassed by current sunscreens).
Roxisomes™
At night, Roxisomes™ are fed proficiently into the skin to assist the skin's natural repair of any daytime oxidative damage. Coordinate this with the nighttime biorhythm's reparative mode, and the skin is genuinely restored to preserve its youthful glow.
Astaxanthin
This hero ingredient acts as a potent antioxidant bolstering cellular resistance to environmental toxins. Matrixyl Synthe-6, a fortifying peptide, helps stimulate collagen production, contributing to firm, smooth skin. In addition, multiple ingredients speed up cellular turnover to assist in the protection and repair of the skin to supply superior hydration and moisture retention. During sleep, these nutrients infuse recovering cells, and the epidermal matrix with essential sustenance for skin regeneration, restoration and renewal.
Nassif MD is available at:
Products range from $35 – $95 & the ENTIRE line of products is only $225.