Ben and Allyson were off checking out the preview of Sisters last night and I can't WAIT to hear what they have to say. You'll find the review coming soon, right here on Champagne Living.
ME?
Being a fan of both Amy Poehler AND Tina Fey, I can't WAIT to see this fun comedy. Having a brother who is as different from me as possibly can be, I have the feeling that I'll relate, relate, relate.
About SISTERS
Tina Fey and Amy Poehler reunite for Sisters, a new film from Pitch Perfect director Jason Moore about two disconnected sisters summoned home to clean out their childhood bedroom before their parents sell the family house.  Looking to recapture their glory days, they throw one final high-school-style party for their classmates, which turns into the cathartic rager that a bunch of ground-down adults really need.
Staring
With an all-star cast that includes Tina Fey, Amy Poehler, Maya Rudolph, Ike Barinholtz, James Brolin, John Cena, John Leguizamo and Dianne Wiest, you KNOW this Universal Pictures movie is going to be a great way to laugh your way through the holiday season.
SISTERS opens this Friday, December 18, 2015
For more information about SISTERS, visit 
Win a SISTERS party pack from Universal Pictures and Champagne Living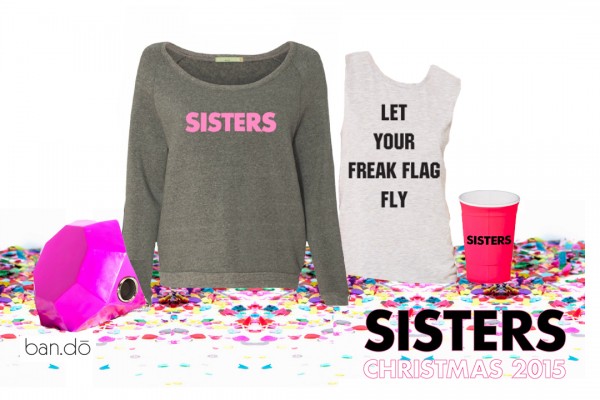 PRIZE
One (1) winner receives a SISTERS Party Pack (value $125)
a ban.do Giant Gem Speaker
SISTERS Sweatshirt, T-shirt, and party cup
$25 Fandango gift card to see SISTERS in theaters
ENTER