There's something about handmade bracelets, gathered in a group on my wrist – clanking against each other making the most delicate of sounds that can make me smile. I've been wearing bangles on and off, as they seem to come in and out of fashion in waves. Collecting beautifully designed circles of metal that can be mixed and matched according to my whim is something that I'll do whether they're being featured in fashion magazines or not. They are the type of jewelry that always feels right.
One day it might be a 2″ bracelet reminding me of a gladiator and the next an ethereal corona, twisted with the thinnest of gold-filled wire and adorned with sweet tourmaline. Much like an art collector, I find myself scouring jewelry shops, malls and etsy to find new pieces to add to my ever growing collection.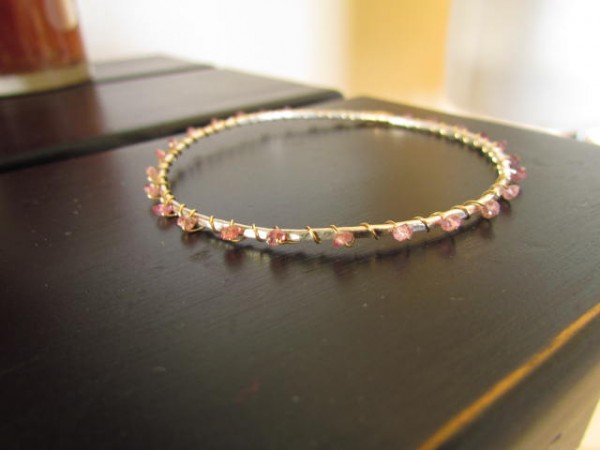 I recently discovered Rose Gilley Designs on etsy.
Jewelry designer and metalsmith Shannon Gilley scours the country searching for old worldy coins, antique keys, locks, brilliant gemstones and unique scrap metals to create her romantic jewelry line, Rose Gilley Designs. Shannon's pieces have a distinctively textured yet whimsical look and feel, with semi-precious and precious stones and pearls wrapped in copper, sterling silver, fine silver and 14kt gold filled. She personally crafts each piece by hand from her studio in her hometown Sacramento, California. No two pieces are identical; only the original design is sold. Her pieces include bangles without the bang, necklaces that can be double wrapped, and stackable rings that can be worn anytime or anywhere!!!
Today I've added one of Shannon's beautiful jeweled bangles to the stack. I love the way that it looks when worn alone – a coy ornament that I can wear when I'm feeling particularly sweet and feminine, or piled with my collection on a bolder day. Rose Gilley designs are unique and so very beautiful, and she seems to have designed bangles that are thin and quiet (for those reflective days), dangling earrings that tickle your shoulder when you quickly move your head, and necklaces that are like pieces of art when worn framed a simple solid colored top.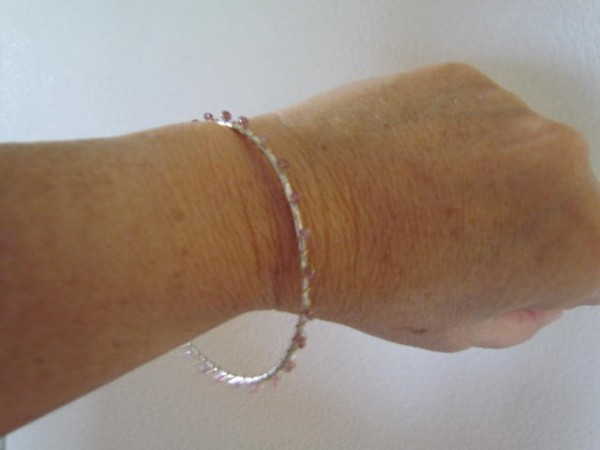 Perfect for women and girls of ANY age – check out Rose Gilley Designs on etsy, you may find you've just collected another and another and another…..
I received product to facilitate this review. All opinions are strictly  my own.