I received the outfit shown to facilitate this review. All opinions are strictly my own.
In my book that's a homerun.
In the case of San Francisco CityLights, I'm thinking it's my new uniform. Days at the mansion are spent writing from my office, certainly NOT the surroundings for fancy dresses and stiletto heels. At home I'm more of a t-shirt and yoga pants or leggings gal. I need comfort if I'm going to be inspired. The WRONG outfit can leave me uncomfortable and thinking about things OTHER than being creative, and THAT means that a post that should take an hour or less, can take all day (or even longer).
The look
Laid back and California comfy is the best way to descibe the Butterknit fabric that their clothing is crafted from. My Lace Sweat T paired with a pair of Lux Leggings are meant for curling up on the sofa, taking Clem for a walk, or running out to do an errand.  That means that I can be completely comfortable and stylish all at the same time. I go to yoga class and out for a drink with the girls after without being self-conscious in the same outfit. They're my new favorite comfy clothes.
The feel
Pure unadulturated softness. One touch of the Lux Leggings and I knew they were a superior quality. I put them on and INSTANTLY felt good. I've already worn, washed and worn again, and I can say without hesitation that my San Francisco CityLights outfit will serve me well for YEARS to come. They look as good coming OUT of the dryer as they did when I put them on for the first time!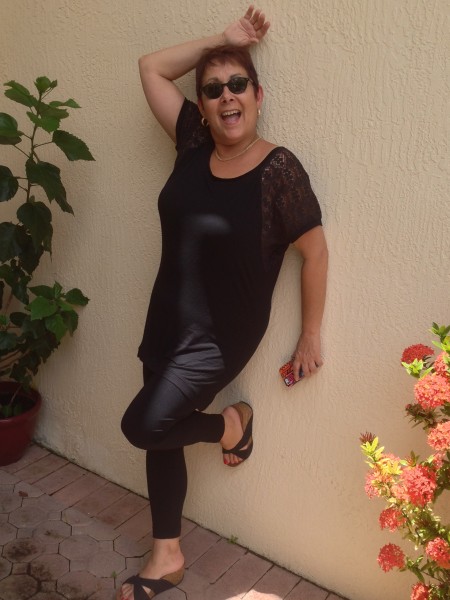 My only question is…
Why is this the first time I've tried them
It turns out that they've been in business for over 25 years, and I've been around WAY longer than THAT!
Details
For more information, or to purchase the outfit above, or ANY of San Francisco CityLights beautiful pieces visit: San Francisco CityLights
PS
I'm LOVING the Beverly Hills Tee and the Beach Bungalow Dress! The next time I go shopping….they're MINE!