This post is sponsored by Vicks DayQuil and NyQuil Severe and She Speaks. My cold was sponsored by my vacation.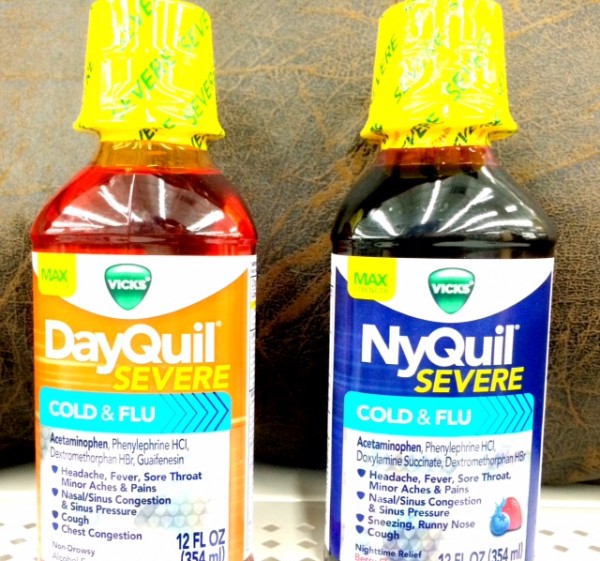 I am on planes WAY too often, and with all of the travel and running around that I do, I tend to get run down fairly easily. Then I sit for five or more hours breathing in the recycled germs on a plane and one day after I return home from a press trip it starts…
The sneezing and coughing
As a matter of fact, Mr. S and I had to cancel a cruise earlier this year because I caught yet another cold/flu/bug while traveling (and lovingly came home and gave it to him as well). I knew even before I started to get that rundown feeling that I was getting sick. I had been on a river cruise in Europe and over half of the passengers either had colds or the flu…it was inevitable.
I have no patience for being sick
I felt like POO. There's no way to really describe that aching feeling, the runny nose and the coughing that makes you double over from the pain in your rib cage. The worst part, when BOTH you and hubby are sick at the same time…there's no one to take care of you.
LUCKILY
I had new Vicks® DayQuil™ and NyQuil™ Severe in the medicine cabinet that I had picked up at Walmart. JUST IN CASE! While we had always used Vicks® DayQuil™ and NyQuil™, I had heard that this year's flu season was going to be WORSE than usual, so as soon as I noticed the severe formula on the shelves, I figured it's better to have it stocked, rather than have to run out feeling awful. Yes, I was a Girl Scout, I learned to "be prepared."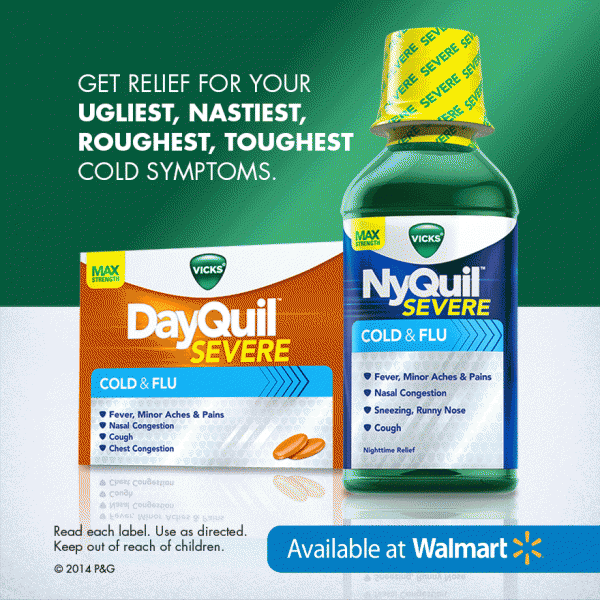 I'm also lucky to have a Walmart just outside the gates of my community. From Puffs tissues to carrots, onions and chicken for my "Jewish Penicillin" they have everything I need to take care of Mr. S and I when we're not feeling 100%. It's only February, and there's still a LOT going around, so I'm keeping stocked with all of my supplies (including Nyquil with a decongestant so I can actually SLEEP when I don't feel good). You need to get a good night's sleep to be able to help your body fight off colds!
I use the caplets and Mr. S prefers the liquid (so we keep BOTH in the house).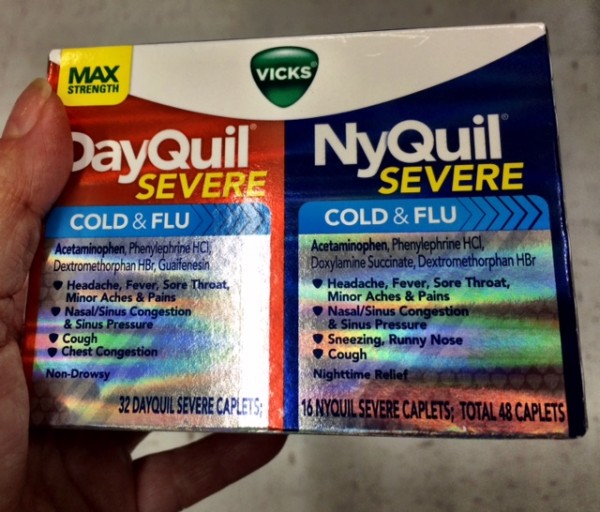 Nyquil with decongestant helps me on nights when I have
Nasal congestion
Sinus congestion and pressure
Cough due to minor throat and bronchial irritation
Cough to help you sleep
Minor aches and pains
Headache
Fever
Sore throat
Runny nose and sneezing
Reduces swelling of nasal passages
Temporarily restores freer breathing through the nose
Promotes nasal and/or sinus drainage
Vicks DayQuil Severe Cold & Flu is there for
Maximum symptom-fighting ingredients to relieve your worst cold and flu symptoms.
Maximum strength nondrowsy cold and flu relief so you can tackle your to-do list.
Available in caplets or liquid.
Temporarily relieves common cold/flu symptoms:
Nasal congestion
Sinus congestion and pressure
Cough due to minor throat and bronchial irritation
Minor aches and pains
Headache
Fever
Sore throat
Reduces swelling of nasal passages
Temporarily restores freer breathing through the nose
Promotes nasal and/or sinus drainage
Helps loosen phlegm (mucus) and thin bronchial secretions to rid the bronchial passageways of bothersome mucus and make coughs more productive
DETAILS
To learn more about Vicks Daquil and Nyquil Severe Cold and Flu visit