Disclosure: I received the Dyson Big Ball Animal + Allergy from Best Buy to facilitate this post. All opinions are strictly my own.
MEN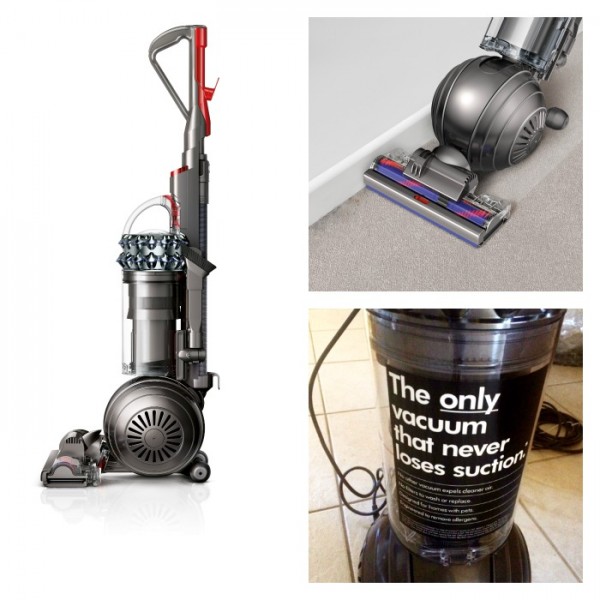 I live in a household of them. From Mr. S to Ben and down to Clem there seems to be a LOT of testosterone at the mansion. What is it about the male species that make it so that they don't SEE dirt, don't look beyond the shelf in front of them in the refrigerator, and have NO clue that they're dropped, spilled, left something on the floor? I don't get it. Sometimes I wish that I had the same scope of vision….maybe then it wouldn't bother me so much.
Since I travel so often, the mansion doesn't get cleaned quite as often as it should. You'd think that they could pick up a sponge, dust cloth or vacuum even ONCE in a while. Once I finally get to it, it's usually a major chore to clean up. The dusting/polishing part is easy, and the tile floors a breeze (they're white – so bleach is my bestie), but those off-white carpets? They look like a Berber dark gray by the time I get home.
As a result, I use and leave vacuums in the dust. It's hard to keep up with that type of cleaning, but just recentlyI was sent me a Dyson Cinetic Big Ball Animal + Allergy available at Best Buy, to see if it could clean up what the OTHERS just couldn't manage.
I opened the box and found all of THIS inside…would it be a project?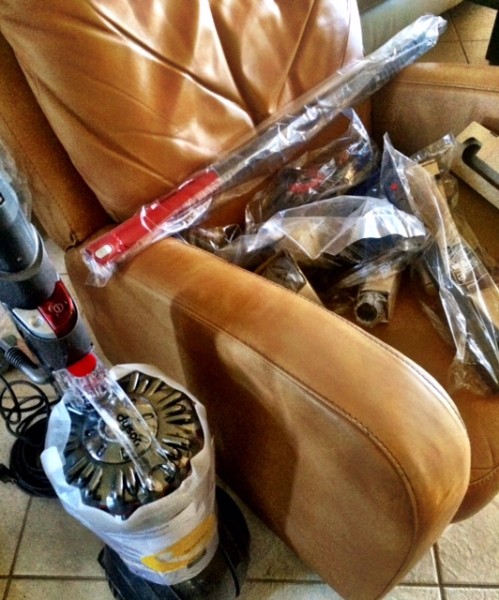 I got a bit overwhelmed. Thankfully, Ben showed up in the nick of time and just clicked the four main pieces together (took him less than 2 minutes including FINDING the right parts in my mess).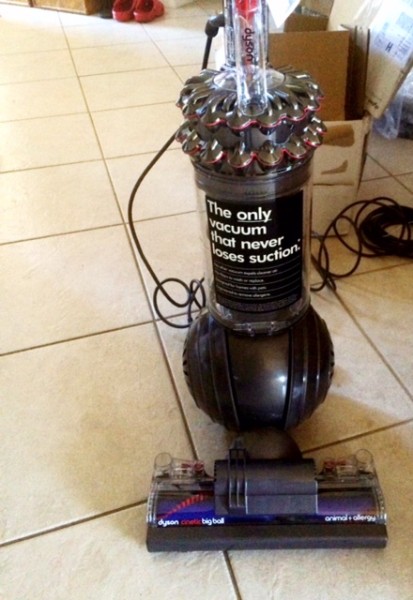 I plugged it in and took it for a whirl. The only other Dyson that I've ever used was a small cordless one that I keep in the kitchen for easy pick-ups. The Dyson Cinetic Big Ball Animal + Allergy from Best Buy is a totally new beast to me. It's claim to fame is that it doesn't lose suction (so, I guess saying it "sucks" is a complement). It has no dirty filters to wash or replace, which makes ME happy, and it has whole-machine HEPA filtration (great for the pet dander flying around the mansion from the Clem Meister). Plus…all of those extras on the chair are tools for everything from a tangle-free turbine tool to a mattress tool, a carbon fiber soft dusting brush, a tool to reach under small spaces, and a tool that works at multiple angles (all with a bag to carry them in).
So…I headed to the master bedroom to give it a try. I figured, how dirty could ONE ROOM be?
THIS IS WHAT HAPPENED…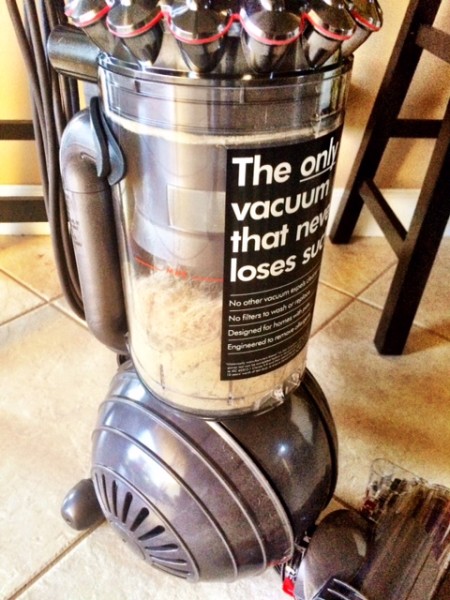 The agitator on the brush is a MONSTER! It swept every little speck of dirt into the bin (which I empties with ONE TOUCH).
At first I found it a little tight to maneuver, but then again, I wasn't used to a vacuum of this magnitude. When I pushed it against the wall, I was amazed at how it just scooped up everything right up to the floorboard. AMAZING.
My only complaint?
That Mr. S, Ben and Clem may never know the joy of using it. Somethings just never change.
Dyson Cinetic Big Ball Animal + Allergy
New Cinetic cyclones are smallest yet, so they can spin out the finest dust and dirt. They oscillate to dislodge any particles that would typically get stuck in a cyclone that small.
Cinetic cyclones allow for dust capture so small, that a filter becomes unnecessary. Thus, there are no dirty filters to wash, maintain or replace.
Tested and proven with 10 years' worth of dust. (Others claim "no loss of suction" by only testing one bin full of dust. Dyson used the equivalent of 10 years' worth, and Dyson Cinetic never lost suction.)
Cleaner head self-adjusts to seal in suction across carpets and hard floors.
DETAILS
The Dyson Cinetic Big Ball Animal + Allergy is available at BEST BUY for $699