Mr. S was back at the dentist AGAIN today. Within the past 6 months we've easily plunked down $10K on his dental work and that's WITH insurance. I'm due for a lot of work as well (need to replace crowns and have some surgery to make sure that they fit better this time), so making sure that our day to day oral care is even MORE important. Both of our dental problems are a result of either medications or crazy things that have happened (I broke 2 crowns with ONE bite).
The dentist has repeatedly told our family to use the Crest Pro-Health products.  With another bill looming, it reminds me that preventative oral health is SO important. So, once again I find myself with paper and pen making my shopping list. This one to replace what we currently use and to try some of the newer Crest Pro-Health Clinical products.

Crest Pro-Health Clinical toothpaste with plaque control – After having to have the plaque scraped from my teeth (my least favorite thing about going to the dentist), I want to make sure that I keep it from coming back. This product significantly reduces the plaque and helps to keep it from coming back.
What is Plaque?  Plaque is a sticky, colorless deposit of bacteria that is constantly forming on the teeth and along the gum line. Visible plaque begins forming on teeth 4 to 12 hours after brushing, which is why it is so important to brush at least twice a day and floss daily. The buildup of plaque can trap stains on the teeth and is also a primary factor in the formation of an early stage of gum disease, known as Gingivitis.
Crest Pro-Health Clinical Oral Rinse – I need surgery on my gums and this mouthwash not only reduces plaque but it helps to prevent and even REVERSE gingivitis. Just another plus for me (and less money for the dentist).
What does Gingivitis Look Like?  Gums become red and swollen and bleed easily during brushing or flossing. Gingivitis affects more than half of the U.S. adult population, but can be treated with good oral care.
Pro-Health Clinical Pro-Flex Toothbrush by Oral-B – Since I'm stocking up on toothpaste and oral rinse, I figure that it's time to replace the toothbrush as well. I use a soft one, especially since my gums tend to be bad (and anything harsher makes them bleed). I like this particular toothbrush because it seems to adjust to all of the curves in my mouth….helping me to get to ALL of the places and spaces.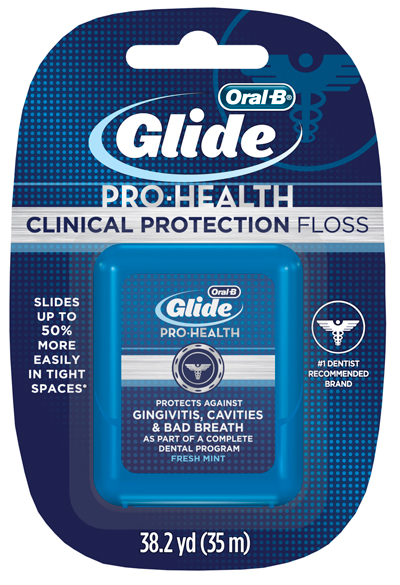 Glide Pro-Health Clinical Protection Floss by Oral-B – If you watch my videos you can see that my bottom teeth are crowded. I probably should have had braces when I was a child. I have a VERY difficult time fitting the floss between those particular teeth and the Glide floss seems to slide in and out out a lot easier.
Now that your smile is looking great – head over to enter the Pro-Health Clinical Olympic Games Sweepstakes for the chance to win a trip to the London 2012 Olympic Games, and also enter into a weekly drawing to win the full product line.
To enter the sweepstakes
Hurry, because you can only enter between March 15 and May 31
No purchase necessary.
Plus from now through June 2012, P&G products will be featured in a monthly Good Housekeeping sweepstakes.  Through the Good Housekeeping Seal Deal Giveaway you';; have the opportunity to win one of 50 P&G product baskets filled with the trusted brands you know and love. 
GIVEAWAY
Winner – Colleen H – Oconto, WI
Extra Entries
Follow me on twitter @zipporahs and tweet about this giveaway
Comment below with your tweet
Subscribe to Champagne Living,  follow me on facebook or twitter – all found on the sidebar (each counts for 1 extra entry)
Tell your peeps on your blog, facebook page or twitter about this or any post (each counts for 1 extra entry) and link to us.
Share this giveaway on any contest/sweepstakes/giveaway site for 5 extra entries..
This giveaway is open to US residents, 18 and over and ends on May 9, 2012
No purchase is necessary.
Odds of winning are dependent upon the number of entries received.
Void where prohibited by law
I received product to facilitate this review. All opinions are strictly my own.