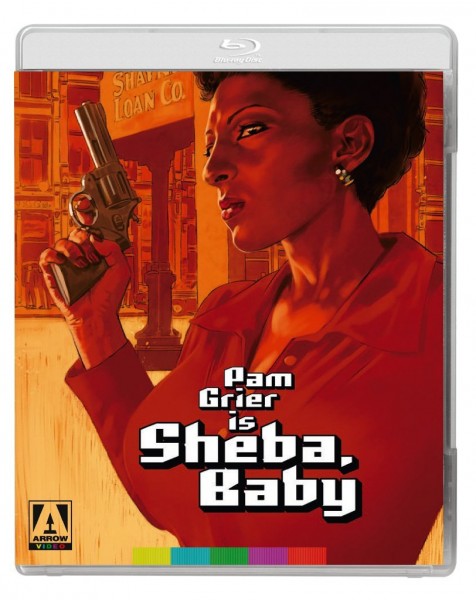 Hells yes I love Blaxploitation films. 
Why?  Plots were ridiculously amazing and so was the music. Blaxploitation films catered to America's black audiences craving their own riffs on genre cinema.  I don't know anyone who loves a good genre riff more than me.  The other best thing about Blaxploitation? Pam Grier.  Everything about Pam Grier is amazing. Characters. Figure. Résumé. Talent. That is why I couldn't wait to review Sheba, Baby for Arrow films.
What is Sheba, Baby about?
Sheba Shayne (Pam Grier) returns to her hometown of Louisville, Kentucky to help her father. A proud businessman, he refuses to be intimidated by thugs attempting to run him out of business. While Sheba looks for the men (and the organization) supporting the thugs, she also finds a sinister motive behind their actions. Sheba's former flame Brick (Austin Stoker) adds some muscle to her mission.
While not as good as Coffee or Foxy Brown, Sheba, Baby is still a solid Blaxploitation film.  It was also her last film of the genre (unless you count Jackie Brown, just look at the structure of that film again).  This film is a bit more toned down rated PG rather than R (just because the sex was replaced with violence it's still the 70s).  This movie is just worth it to see Pam Grier in a wetsuit.  It's the least memorable of her films in this genre, but the carnival sequence still sticks out.
The true delight is the Audio and Video as well as the bonus features.  It is a really strong set!
Bonus Materials
* High Definition Blu-ray (1080p) and Standard Definition DVD presentations
* Original mono audio (uncompressed PCM on the Blu-ray)
* Optional English subtitles for the deaf and hard of hearing
* Audio commentary with producer-screenwriter David Sheldon, moderated by critic Nathaniel Thompson
* Sheldon: Baby – a brand new interview with David Sheldon
* Pam Grier: The AIP Years – a look over the wonder years of the Blaxploitation queen with film historian Chris Poggiali
* Trailer
* Gallery featuring rare publicity images and Lobby Cards
* Reversible sleeve featuring original and newly commissioned artwork by Sean Phillips
* Booklet featuring brand new writing on the film by Patty Breen, webmaster of WilliamGirdler.com, illustrated with archive stills and posters
Overall, my least favourite Blaxploitation with Pam Greir.  However, I'm still glad I watched it.  This also could be a great teenage segue into the genre.