Crafting a sophisticated home bar nook is more than an aesthetic pursuit; it's an art form that blends ambiance with practicality. It can be a space that beckons both connoisseurs and casual enthusiasts alike.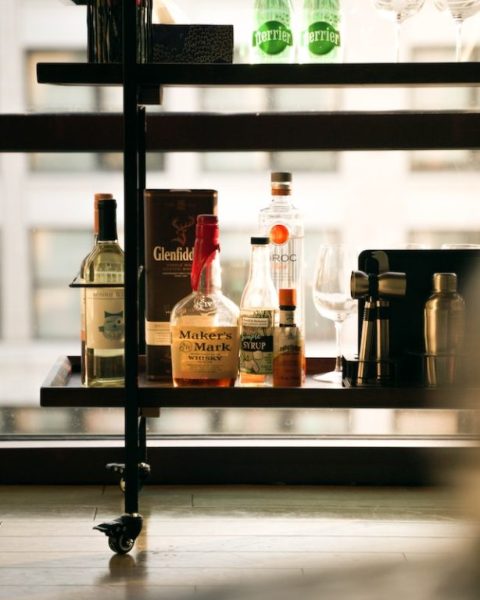 Why settle for the ordinary when you can design a retreat within your home, a place that echoes your style and caters to your distinctive tastes? Beyond the mere aesthetics, a home bar becomes a statement—a testament to your love for hosting intimate gatherings or relishing quiet moments of self-indulgence.
As we embark on this exploration, we'll uncover the allure of having a home bar and how it transforms your living space into a haven of sophistication and sociability.
Deciding How To Design The Space
Crafting an impeccable home bar nook begins with the pivotal decision of where to place this haven. To set the stage, contemplate the intricacies of your living space—the interplay of natural light, accessibility, and proximity to social hubs. A mindful selection ensures a seamless melding of functionality and style, defining the character of your haven. Assess the room's dimensions; a tucked-away corner may offer intimacy, while an open layout enhances sociability.
Yet, transcending the practical, visualize your desired ambiance—a snug hideaway or a dynamic focal point. This foundational step sets the overarching tone for your entire bar nook venture, establishing a space that effortlessly intertwines your design aspirations with the inherent flow of your home.
The Power Of Furniture Selection
Having evaluated your room's dimensions, direct your focus to the instrumental aspect of furniture selection in bringing your dream bar nook to life. Barstools and countertops transcend mere functionality, becoming defining elements of your space. Immerse yourself in the barstool world, seeking comfort and a harmonious blend with aesthetic appeal.
Concurrently, view countertops as the canvas where your mixology artistry unfolds. Delve into materials and styles that align with your aesthetic while resiliently withstanding the demands of a bustling home bar. The careful curation in this phase ensures your home bar emanates a perfect amalgamation of style and functionality, becoming a refined extension of your personal taste.
Set The Tone With The Right Lighting
In the intricate tapestry of perfecting your home bar nook, nothing quite compares to the transformative power of well-chosen lighting. It goes beyond mere illumination; it's about orchestrating the mood of your space. Deliberate on the ambiance you wish to cultivate.
Don't underestimate the impact of a custom neon sign or neon signs; they introduce a unique flair. Explore the versatility of custom neon lights, especially this range of neon lights from Echo Neon, as they become a vibrant part of the narrative within your home bar. Lighting is more than a functional necessity; it's a silent maestro, shaping the very essence of your home bar.
Invest In Essential Bar Tools
Outfitting your home bar nook with essential tools is akin to arming yourself with the right instruments for a symphony. Every shaker, muddler, and strainer is a note in the composition of crafting the perfect cocktail experience. Invest thoughtfully; choose quality over quantity. Delve into the world of must-have tools, understanding their unique roles.
From the precision of jiggers to the versatility of a bar spoon, each tool contributes to the seamless execution of your mixology endeavors. Consider reputable brands and materials that withstand the test of time, ensuring your investment enhances your home bar's functionality and aesthetic appeal.
Personalize Your Bar Nook
Elevating your bar nook from a functional corner to a personalized haven involves infusing it with unique touches that resonate with your identity. Move beyond the utilitarian aspect and perceive it as a canvas waiting to be adorned with your individuality. Integrate elements such as artwork, memorabilia, or bespoke decor items that harmonize with your style and narrate your personal story. The essence of personalization is encapsulated in the subtleties—those nuanced details that render your home bar distinctly yours.
Whether it's a collection of vintage glassware or a cherished piece of art, each addition contributes to the overall character of your space. Don't shy away from showcasing your personality; these distinctive elements elevate your bar nook from a functional area to a curated haven that reflects your taste and experiences.

Don't Forget Maintenance And Upkeep
Maintaining the allure of your perfect bar nook requires a commitment to regular upkeep. It's not just about sustaining the aesthetics; it's preserving the essence of a refined space. Develop a cleaning routine tailored to the specific materials in your bar area, ensuring that every surface gleams. Attention to detail is paramount; every element contributes to the overall appeal, from polishing glassware to organizing tools.
Periodically review and declutter, keeping the space both functional and visually enticing. This ongoing dedication to maintenance ensures your home bar remains a sophisticated haven, ready to host memorable moments. Consistency in care is the key to sustaining the style and functionality of your meticulously crafted bar nook.
Enjoy A Drink At Your New Bar
Now, with your meticulously crafted bar nook ready, it's time to savor the fruits of your design labor. Your new bar nook is poised to become the backdrop for countless enjoyable moments. Revel in the satisfaction of transforming your space into a refined retreat for personal enjoyment and shared celebrations. Cheers to your perfect home bar!