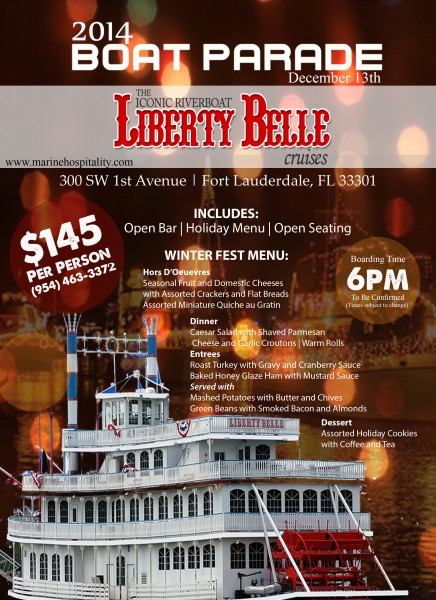 The Winterfest Boat Parade is coming this weekend (12/13) with Grand Marshall Flo Rider leading off the festivities. This year don't get stuck watching the parade from the shore amid the crowds and lose out on see all of the beautiful lights sparkling from the masts and decks for the 12 mile parade.
It's time to see Greatest Show on H20 Champagne Living style, on board the Liberty Belle, a 150-ton, 28-foot-high, 105-foot-long Iconic PaddleWheel Cruise Vessel!!! Imagine being a PART of the parade as you watch the festivities UP CLOSE from the water.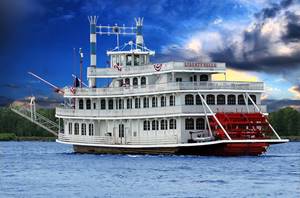 The iconic paddlewheel cruise vessel will welcome 400 passengers for scrumptious hors d'oeuvres, a full-course holiday dinner including Roasted Turkey with gravy and cranberry sauce or Glazed Honey Ham with mustard sauce plus top shelf open bar and assorted deserts during the 12 mile route in this year's Winterfest Boat Parade. 

Boarding at:
300 SW 1st Ave (Riverwalk)
Fort Lauderdale, FL 33301
Time: 6:00PM and return at 11:30PM
RESERVATIONS
Toll Free: (800) 49-YACHT (499-2248)
Fort Lauderdale: (954) 463-3372
$145 per person all-inclusive (including top shelf OPEN BAR).
DETAILS
For additional information or to purchase your ticket, please visit: http://libertybellecruises.com/