Article by Kathy Chin Leong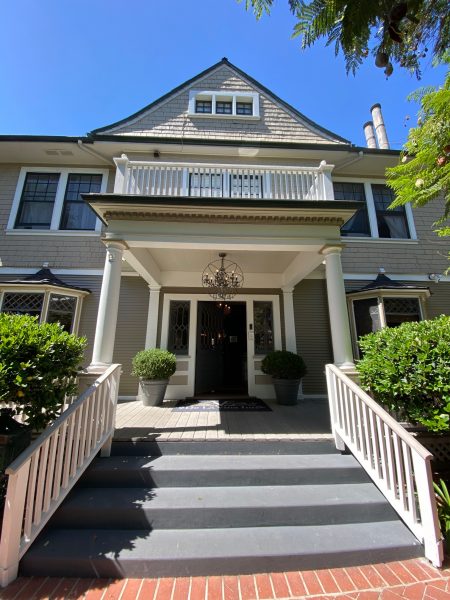 It is believed that in 1895, a magnate named Henry Spencer commissioned a grand Victorian to be built in Santa Barbara, Calif.  By 1917, the Menkens, distributors of wine and spirits, acquired the estate.  After that, subsequent stewards have shepherded this property for more than a century, preserving the seven bedrooms, peaked rooftops, and wood balconies.
This same abode known as the Country House Inn witnessed another change of hands in 2018. Seline, a real estate investor, could not resist the opportunity to restore it to its glory.  "I fell in love with the hotel because of its charm and location," she recalls.  "We have maintained the original structure which is a historical landmark in Santa Barbara."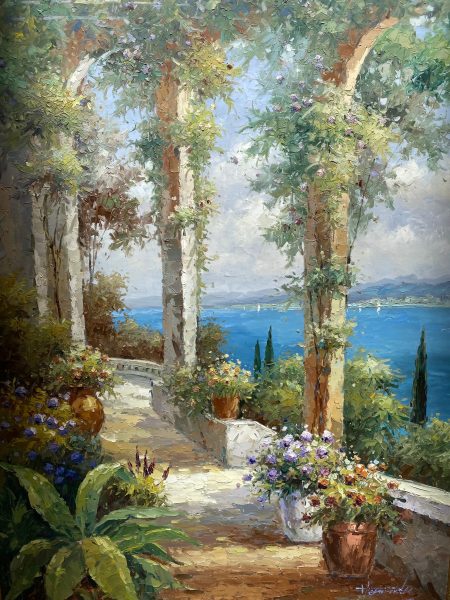 Today, the De La Vina Inn reflects Seline's grace and charm.  She has single-handedly led the renovation outside and in.  The classic artwork, wallpaper, antique furnishings, and complementary accessories blend into a refined Santa Barbara cottage chic.  Yes, there is Wi-Fi, and yes, there are flat-screen televisions in every room.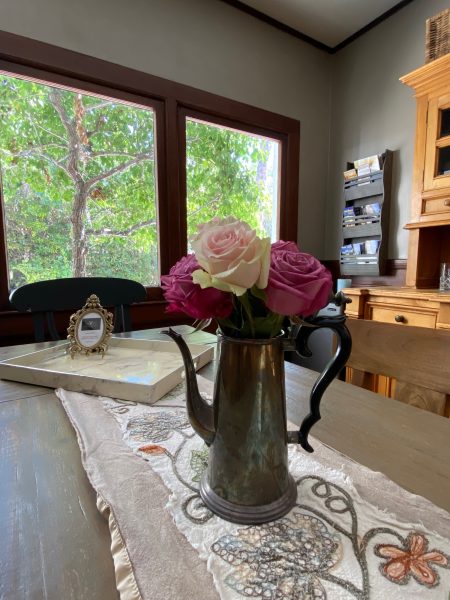 De La Vina Inn is already a popular group destination on weekends where brides book the house for receptions and weddings.  In fact, weekends are reserved for group buyouts. However, during the week, rooms are reserved individually. Upon first glance, the vibe is magical. Lanterns dangle from tree branches in the front garden. Next to it, a tall tiered fountain gurgles on a lawn with wicker chairs and a table. The living room is filled with orchid arrangements, gold gilded mirrors, and a chess set ready for a friendly game.  If you are a garden lover, the interiors will relax you. Fresh bouquets accent every room.  Paintings of birds, oceans, Italian garden pathways and impressionistic flowers adorn the walls.
ROOMS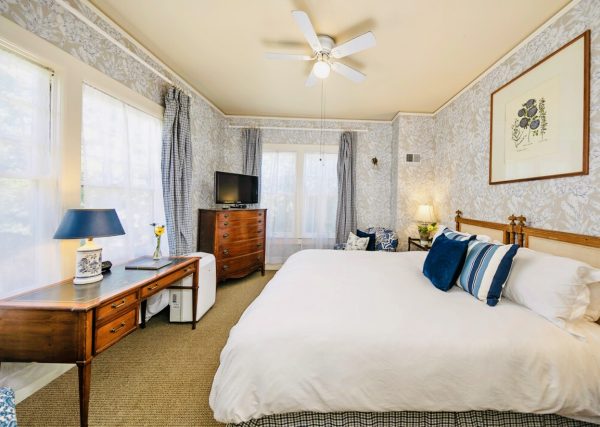 There are just eight rooms: two on the bottom level, five upstairs, and a penthouse on the third floor. All include a soft palette of draperies, wallpaper, a writing desk, television, a private bathroom with a shower, and antiques or antique-like furnishings.  Each comes with romantic monikers such as Darcy and Victoria.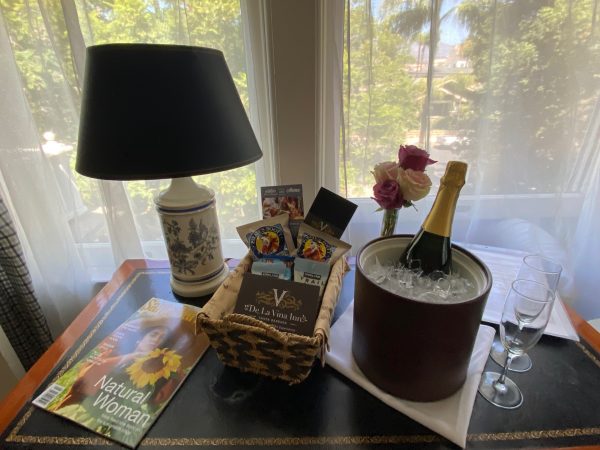 Welcoming guests is a basket of goodies including power bars, trail mix, and cheddar puffs. Also included is a card for 20 percent off participating restaurants.  A carafe of water next to a pair of drinking glasses is an important touch, especially if you have driven from afar.
Unique here is the modern Penthouse. The largest room of all is a secret escape where the stairwell is not so obvious. Once you ascend the steps, you cast your gaze at the bold navy, couch sectional, silver gray rug, cashmere walls, and matching media console for the Samsung flat-screen TV. The king bed with charcoal velvet headboard and a deep mattress slays you to sleep.
And who can say no to a jetted soaking tub next to a window secluded by trees?  And there's more. The Penthouse's spacious furnished balcony serves up views of palm trees and Spanish architecture dotting undulating hilltops. This is where I spent my morning reading, praying, and illustrating in my journal.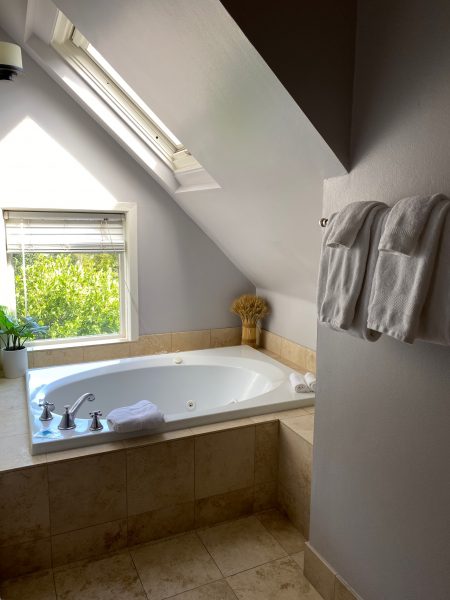 PRACTICAL AMENITIES
If you don't get to book the Penthouse, you will enjoy the rooms that are meticulously decorated. Practical considerations have been well thought out. The common dining room provides a microwave, utensils, bowls, and a refrigerator.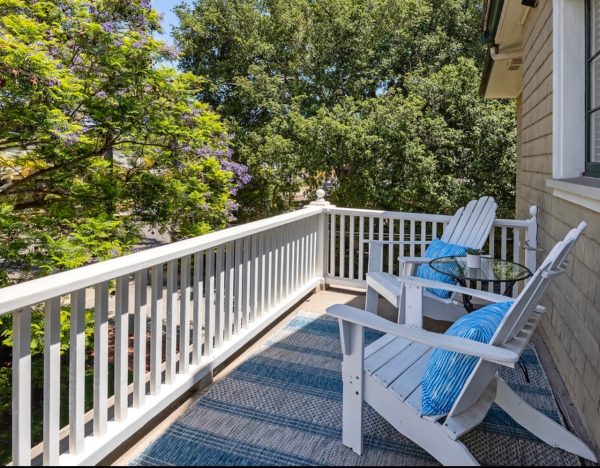 As a guest, you have access to the public sun room and the extended porch in front and in the rear of the house. My favorite area is the long, deep English garden with a winding path and another bubbling fountain. You will be mesmerized by many a hummingbird and small tweeters that arrive for a sip or bath.  Three sitting areas in the backyard, including a wicker couch conversation set, provide privacy, enabling you to rest, rest, rest.
LOCATION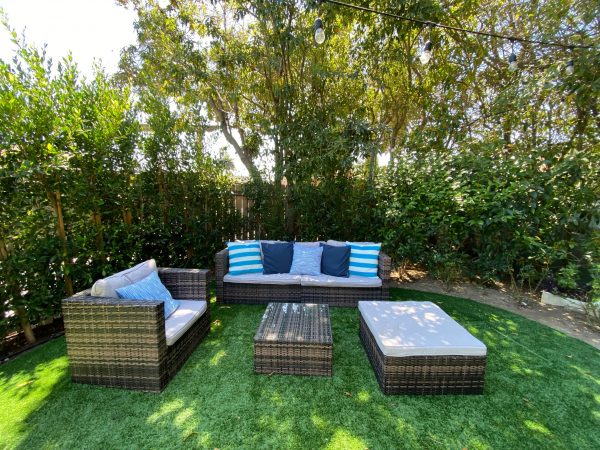 A bonus at the De La Vina Inn is the on-site free parking.  Leave your car on the premises with no worries about exceeding time limits. The inn is tucked in a tree-lined neighborhood, two blocks from State Street, the main shopping/dining corridor. All the entertainment you want is there.  You'll find a club with dueling pianos, an underground salt room for treatments and massages, and even a speakeasy playing disco music.  E-bikes are parked along the street, ready to cruise to nearby Santa Barbara beaches. The train station is downtown as well, and I hope to board the Amtrak next time I come to Santa Barbara for a car-free vacation.
Since you are close to State Street with a zillion eateries of all price points, you are encouraged to explore the many excellent food options. The inn does not provide breakfast, but you can get a head start with complimentary microwave oatmeal and coffee in the morning. The inn also provides free microwave popcorn, my favorite snack.
Just as you'll discover cafes at all price points, State Street retailers tout the gamut from inexpensive tourist goods to the sublime leather purse made in Italy.  Meander the women's boutiques, home décor stores, a hip backpack store for college students, and Marshall's and Old Navy for tried-and-true affordable shopping.
BOTTOM LINE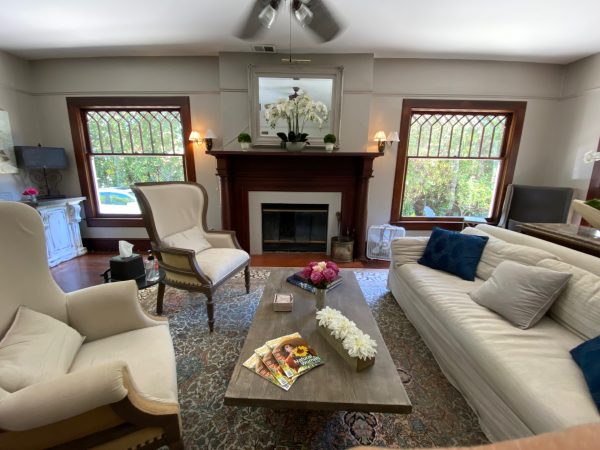 Want a place with a central location to shops and restaurants? A place with historic roots? And a place with serene décor? Check out the former home of Mr. Spencer and Mr. Menken.  Feel the tranquility and savor the popcorn!
To book a stay (or for more infomation) visit: De La Vina Inn