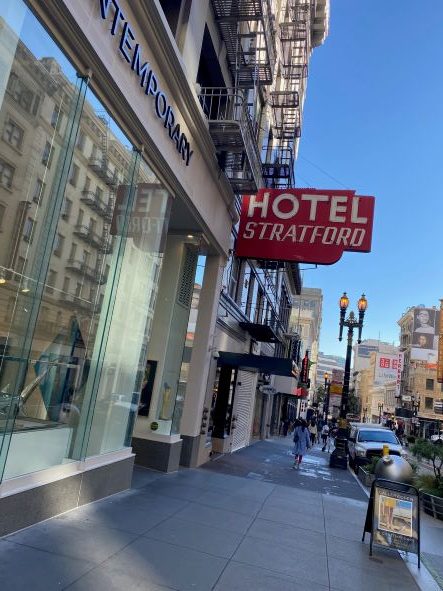 After a multi-million dollar renovation, the historic Hotel Stratford Hotel is now open to a new generation of guests, guests who value design and function, and those who crave an urban setting close to museums, shopping, the theater, and restaurants.
The boutique property of 95 rooms is well-positioned to meet these criteria. The 9-story, downtown hotel is situated around the corner from Macy's, Louis Vuitton, the Apple Store, and iconic Union Square. Have tickets to a show? You only have to walk a few minutes to the Curran Theater and the San Francisco Playhouse.  You can also hoof it to Chinatown in about 20 minutes as well as to the San Francisco Museum of Modern Art.  Fine restaurants as well as fast food joints and coffee haunts saturate the neighborhood.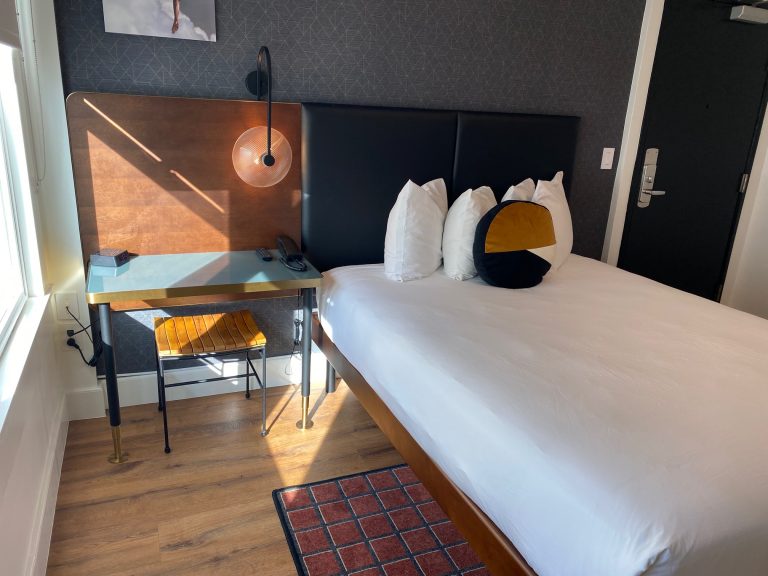 Hotel Stratford boasts small, but well-appointed rooms that start at 150 square feet. Like a handful of other storied properties nearby, it was built in 1918 in time for the World Fair.  Today, in this urban setting, cable car dings and fire engine sirens erupt in the distance, and the sight of tech workers waiting at stoplights is returning.
Hotel Stratford prides itself on offering a high level of safety as there is 24-hour, front desk service. To initially gain access, you have to be cleared for entry.  The registration attendants see through the glass doors and will buzz you in. Later on, you use your keycard to enter.
Four room categories await.  Again, these are compact rooms, and being an urban hotel, there is no pool, workout room, parking lot, or restaurant.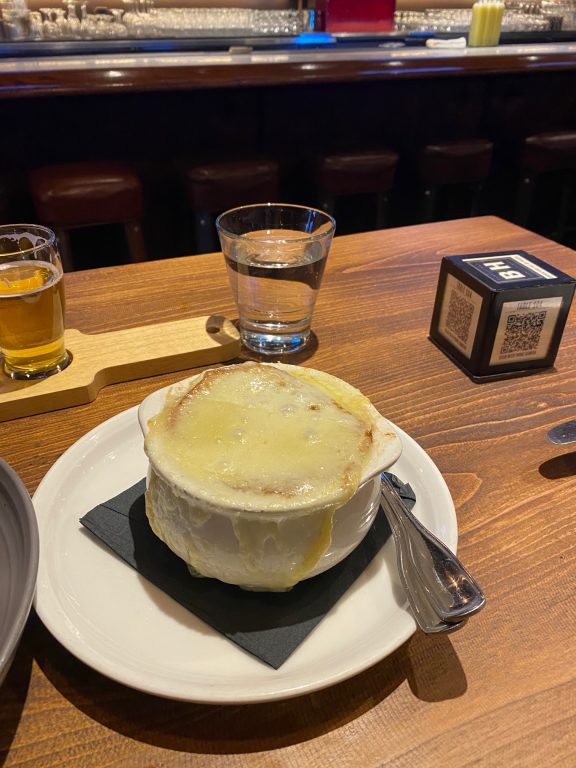 Since we arrived too early for check-in, Stratford staff directed us to Bartlett Hall, a gastropub around the corner owned by Paramount Hotels Inc., the same parent company. Here, the taproom features an array of bar food and TVs airing sports of every ilk. Meanwhile, the chef utilizes local ingredients whenever possible. We indulged in high-quality burgers, a cheesy French onion soup, and a creative kale salad with roasted cauliflower and walnuts. And while I traditionally shy away from deep-fried food, the Buffalo wings were absolutely tender inside, crispy outside, and balanced with a sweet and salty glaze.
After the smooth check-in, we discovered our deluxe, queen-sized bedroom at 211 square feet was even a tad larger than others. Instead of a closet, the room offered a wall with hooks and hangers and a small bench beneath it – this concept is quite a trendy look these days.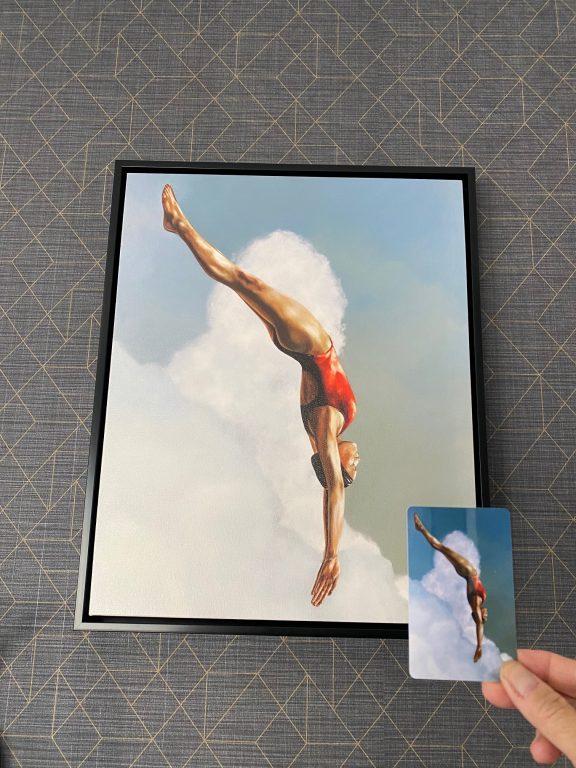 Throughout the hotel, the gray, black, chestnut, and gold palette commands a masculine aesthetic, specifically underscored by our room's dominant, black cushioned headboard.  Our abode also revealed hints of early San Francisco with retro artwork of women divers wearing swim caps and red swimsuits. In fact, the keycard features the same illustration.  This harkens to the days of the Sutro Baths, built in 1896, perched on the edge of San Francisco's Ocean Beach on the other side of town
Room fixtures are cleverly attached. Our 40-inch TV was mounted in the corner close to the ceiling.  And to save space, the safe was screwed to the bottom edge of the bed frame. The side table had enough space for an electric kettle and packets of instant coffee and tea.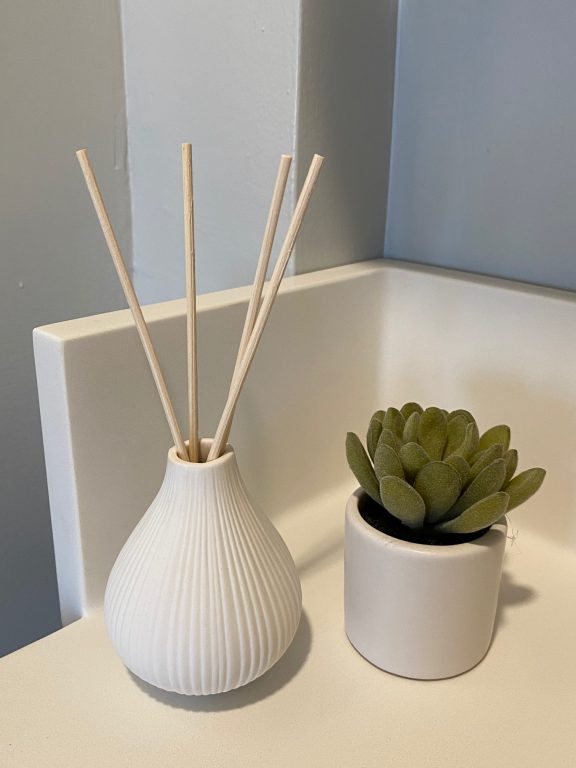 The white bathroom was elegantly festooned with gold-colored fixtures on a pedestal sink, gold mirror, and on the little shelf beneath it, a miniature white pot with imitation succulent. In keeping with the ocean theme, the bath products in the marble shower were ocean-scented.
Unless you grab the large suite where it is a bit roomier, you'll find that the small room means you have just enough space to walk around your bed to get to the bathroom.  Doing jumping jacks is still possible but that means you will be confined to a few square feet.
In the morning you get free coffee in the back of the lobby where there's a lovely living room with an indigo blue couch and round tables for setting down treats. It is an intimate space for reading a book or catching up on the news.
With rates that start at $225 and a current promotional for $150, the bottom line is that Hotel Stratford is worth the price to plunk down for a night or two. This urban niche is safe and secure with friendly service, design-forward without being pretentious, and centrally located to every tourist amenity desired to explore this great city.
Isn't it time you visited?
Hotel Stratford
242 Powell Street
San Francisco
415.397.7080
www.hotelstratford.com