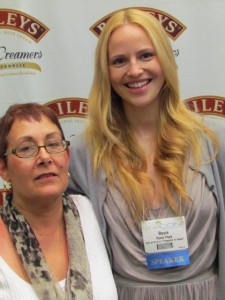 8:00 pm begins MY TIME. Dinner is usually finished and the dishes are done. I am not sharp enough to write a post, article, or chapter, and the glare of the LED screen has taken it's toll on my eyes. It means one thing. TELEVISION            Oh, not ANY television, it means a glass of wine and some mind numbing, ridiculous, fight-ensuing, tacky, "reality" television. In one word – BRAVO. If there's ONE thing that can take  me totally away from the pressure of the day or the mind that won't SHUT UP no matter what I do Bravo seems to be able to take care of it. Why? It's simple, I'm an addict and when I get my fix I fall into a coma.
This season, Bravo slipped a little something into my mix that I wasn't expecting – "Pregnant in Heels" starring Rosie Pope. You have to understand a few things. I knew of Rosie Pope BEFORE the show. She was a fabulous dancer (Alvin Ailey) and I love her fashions (she's a maternity clothes designer), so I poured my glass of Flip-Flop Pinot Grigio, picked up the remote and waited for the implosion.  What I got was Rosie being elegant and sweet, while her Mom Prep clients would melt down on camera one fit at a time. I LOVE IT.
Unfortunately, tonight – Tuesday, May 24th is the final episode of the season – 10 EST and 9 CT. But it's Bravo, so if you missed any of this season's episodes you'll certainly be able to catch them again (and again, and again, and…).
This past weekend I had the pleasure of meeting Rosie. We had an interview scheduled on Saturday morning, but I was able to meet her and introduce myself on Friday (a chance passing). When I walked into the interview room that Saturday  morning,  Rosie greeted me by NAME with a big smile (and not just the name on my tag or on her list…which said "Zipporah" – she called me ZIPPY).  I was impressed and enchanted. Once the quick interview was finished I put down my camera and we chatted for about a half hour. Did I say that I'm impressed and enchanted (it bears repeating).
Thank you to Rosie Pope and her PR team for making me feel like an old friend, rather than a gawking fan. I appreciate it.