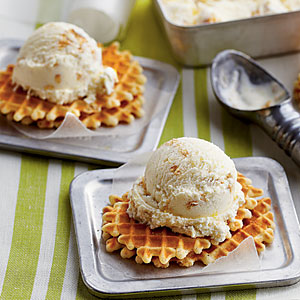 The biggest perk of being a Southern Living Source are the FABULOUS recipes that come into my inbox every now and then. This one has me longing for summer, but I'm jumping the gun and making it for Mother's Day. I figure that I deserve it.
"If you can't decide between ice cream and pie, then have both! We churned the flavors of old-fashioned lemon icebox pie into a new summer favorite—even the graham cracker crust made its way into every delicious bite." – Shannon Satterwhite
Lemon Icebox Pie Ice Cream
Makes about 1 qt.
Total time: 20 Minutes
Ingredients
3 to 4 lemons
2 cups half-and-half
1 (14-oz.) can sweetened condensed milk
3/4 cup coarsely crushed graham crackers
Preparation
Grate zest from lemons to equal 1 Tbsp. C
ut lemons in half; squeeze juice from lemons into a measuring cup to equal 1/2 cup.
Whisk together half-and-half, sweetened condensed milk, and lemon juice.
Pour mixture into freezer container of a 1 1/2-qt. electric ice-cream maker, and freeze according to manufacturer's instructions. (Instructions and times may vary.)
Stir in graham cracker crumbs and lemon zest; transfer to an airtight container.
Freeze 2 hours before serving.
Enjoy!
For more recipes like this pick up an issue of Southern Living magazine or head over to the Southern Living website.