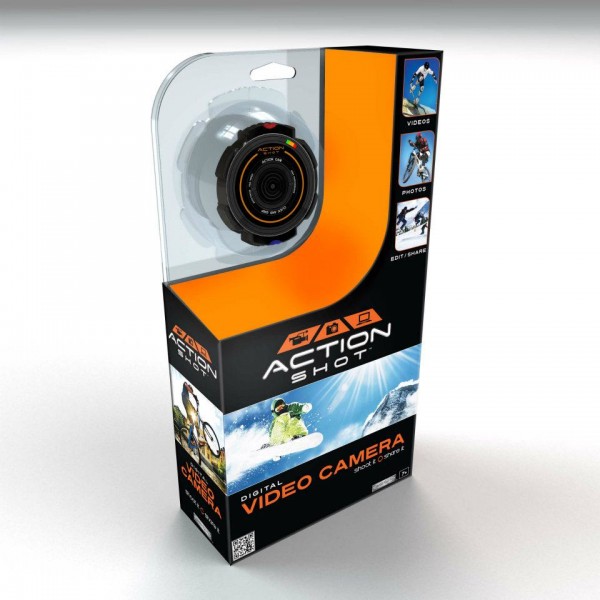 SEVEN YEARS OF FILM SCHOOL…
well, seven years of school (Emerson in Boston and Rhode Island College), that are still being paid out.  Some of those years were as a film major, which later turned to a degree in Mass Media Communications. That's what Ben went to school for, yet getting him to shoot FAMILY video is like pulling teeth.
He's been yapping about getting two cameras. One is too much money and the other an action camera that's affordable. He can FORGET the one that has 3 or 4 zeros after the number, so action it is. Of course, as usual….he does not want to use it for anything family oriented. I've temporarily taken possession of the cute little Action Shot Cam, and to show him that I don't need a FILM SCHOOL GRADUATE to handle the camera for me, I've employed Clem my miniature bull terrier (payment = 2 dog cookies).
Behold the Clem Cam
Yes…it's THAT easy.
Proving that even the DOG can take videos (so much for all of those school loans), I simply charged the camera in the USB port on my computer, tossed the micro SD card into the slot, and strapped it around his mid-section (bull terrier's do not have foreheads…as you can see the only way to position it on his head was UP…LOL).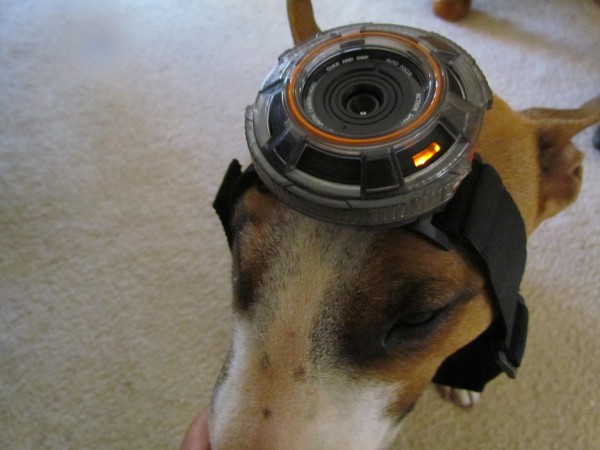 A push of the ON button (it was so easy, that I didn't think it was actually on as you can hear in the video), and out the door we went to experience the world à la bullie.  Once back in the house, I simple unstrapped him, took out the card and popped it into my computer to upload  (the Action Shot Cam includes a micro SD and adapter for the computer). While I didn't edit it AT ALL (as you can see), Action Shot offers a free editing app (available online) that lets you create your own sequences, edit in your choice of music & visual effects and create your own mini epic!
Includes with the Cam are:
Helmet Mount
Adhesive Mounts
Click & Grip™ Protective/Mounting Case
128MB of Onboard Memory
MicroSD Card Slot to Expand Memory
Mini USB to USB Connector & Charger
Rechargeable Lithium Polymer Battery
Camera Specs:
Video:
Standard Def (640×480) at 30 frames per second
QVGA Resolution (320×240) at 60 frames per seconds
Photos:
Also available is the optional mounting kit – which I used to strap onto Clem. For those who want to film with excitement, you can use it to mount on your windshield, helmet (for skateboarding or snowboarding), and  more.
The Mounting Kit includes
multiple Click & Grip™ mounts
Helmets: Strap and Mounting Unit
Boards: Hinged flat mount for Skate, Surf & Snow to Camera Angle
Bikes: Handlebar Mount for BMX & Moto
Multiple, Strong Grip Adhesive Pads
Drawstring Storage Pouch
For those who love to live and play on the edge, they can now capture their action-packed stunts with the Action Shot™ Camera. The Action Shot Camera is a portable mini-camera designed to capture the first person point of view of all the spills and thrills of action and adventure-seeking sports buffs that enjoy action sports like skating, surfing, skiing, snowboarding, BMX, motocross and much more. Simply attach the Action Shot Camera to skateboards, bikes or helmets with the secure mounting system to record the most exciting thrills (and spills!) footage. The Action Shot Camera has upgradeable memory to record your wild feats and then upload the footage through the built-in USB port to share (and shock!) your family and friends so they can experience your adventures! (SRP: $49.99, Ages 7+). If a picture is worth a thousand words, then your Action Shot videos will be worth millions! Don't miss the opportunity to share high-def shots of your stunts online with the HD Action Shot™ Camera! (SRP: $99.99, Ages 7+)
For more information:
Twitter: https://twitter.com/actionshotcam
Facebook: www.facebook.com/ActionShotCam
Website: http://actionshotcam.com/
I'm guessing this is gonna see a LOT of action over the holidays. At under $50 it's the PERFECT gift for your budding filmmaker.
This review was made possible by Mom Spark Media. Thoughts are my own. I received an Action Shot Camera for the purpose of this review.