I did it! Earlier this week, I told you that I was going to stretch my cooking repertoire a bit and attempt a Rack of Pork for Ben's celebratory dinner. The expectation was that it would be difficult to prepare. Add to that the fact that I started with a recipe at the Pork Be Inspired site and changed everything from the seasonings to the temperature of the oven (because I wanted to sear the outside of the pork to make it hold in the juices).
Perhaps it was beginners luck, but it worked.
Champagne Living Rack of Pork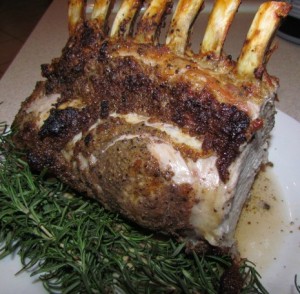 INGREDIENTS
2½ lb. rack of pork
¼ c. olive oil
1 Tbls. course ground black pepper
1 Tbls. minced garlic
1 tsp. sage
1 tsp. rosemary
1 ½ tsp. salt
shallow pan with a roasting rack (line the pan with foil for easy clean up)
DIRECTIONS
Preheat oven to 450°
Mix together pepper, salt, garlic, rosemary and sage into a bowl.
Rub the rack of pork with olive oil
Generously rub the dry seasoning onto the meat, pressing to create a crust of herbs and spices.
Place the pork onto the rack bone side up
Roast at 450° for 15 minutes
Turn oven down to 350° and continue to cook for 1¼ hours or until the internal temperature reaches 145°
Remove roast from oven and let it sit for 10 – 15 minutes.
Slice between the bones and serve.
HURRY in to Costco to get your $2.50 off on a Pork Roast. Follow the hashtag #CostcoPork on twitter and check out the bloggers listed HERE to see what OTHER Pork Bloggers are cooking (and watch as we take each other on in a cooking competition).
GIVEAWAY

Extra Entries
* Tweet me @zipporahs and tell me your favorite pork meal using the hashtag #CostcoPork
* Comment below with your tweet
* Subscribe to Champagne Living, "Join the Clique", follow me on facebook or twitter – all found on the sidebar (each counts for 1 extra entry)
* Tell your peeps on your blog, facebook page or twitter about this or any post (each counts for 1 extra entry) and link to us.
*Share this giveaway on any contest/sweepstakes/giveaway site for 5 extra entries..
This giveaway is open to US residents, 18 and over and ends on November 11, 2011.
No purchase is necessary.
Odds of winning are dependent upon the number of entries received.
Void where prohibited by law.
Winners will be selected by Random.org and sent to the Pork council  for fulfillment. Champagne Living is not responsible for prizes that go unfulfilled by the aforementioned sponsor.