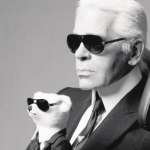 Over the years there have been many a designer who gets the fact that we want Champagne Living STYLE at a budget that's more affordable. We've seen Isaac Mizrahi and Missoni at Target, agnes b. and Louboutin at H&M, etc. Stores like Macy's have traditionally brought in couture designers to make more affordable clothing from designers like Rachel Roy and this past year Karl Lagerfeld. Ten years ago, the option of buying Chanel at Mall prices didn't exist. Today we have a cornucopia of major designers available to ALL of us.
The result is that it no longer costs a fortune to look like a million dollars, which is the essence of Champagne Living. It's the "as if" lifestyle.
2012 will bring even MORE opportunities for draping you body in designer style when Karl Lagerfeld unveils "Karl," a 100 piece line aimed at YOU and ME. With prices beginning at about $95 – $450 we'll be able to bring that Chanel and Fendi styling that he's so famous for to our own closets.
I hear that it will be unveiled at Net-a-Porter first and then to his own site Karl Lagerfeld.
By the way – for a HUGE sale on Karl Lagerfeld – check out Macy's NOW!