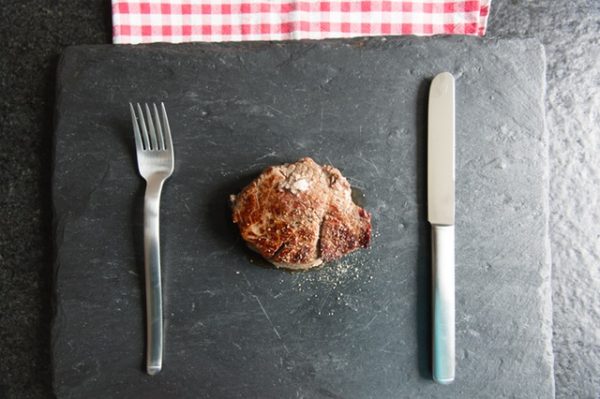 There are few words that get a person to salivate upon mention.  Steak is one of them.  You've had all kinds of steak before, some better than others.  Actually, come to think of it, you would eat more steak if you knew how to cook it perfectly each time.  It's a skill that is not lost on the amateur.  You don't have to be a world-class chef to prepare a one-of-a-kind steak.  Here's how.
The Purchase
For starters, all steaks are not created equal.  Do not assume a cut found at the supermarket is similar to what a butcher can provide.  Additionally, a specialty store can educate you on types of cuts and how to prepare them.  Don't think one dimensionally.  The perfect steak starts with the quality of the meat.  Don't grab a steak from the bargain bin at the market and expect beyond spectacular results.
The Cuts
A filet is tender and lean.  Sear it in a pan and pair with an array of available sauces.  If you like rare cuts, try a steak tartare.  However, the filet has limited flavor on its own.  Ribeyes are a bit more flavorful.  You can sear it in a pan or throw it on the grill.  Take a good look at the piece; some are too fatty on the outside.  Strip steaks are a poorman's ribeye.  It's a bit more economical and has a fatty outside, but is delicious.  Top sirloins have incredible flavor yet are not always available.  Plus, they can be the toughest of the cuts if not prepared well.  A porterhouse steak is expensive but you get what you pay for.  A t-bone is similar to a porterhouse but can get dry if overcooked.
The Tenderization
Some steak eaters are big believers in the process of tenderization.  Any good butcher will tell you that the meat is tender enough yet those who question the quality of their meat will be pleased at the result of tenderization.  There are no secret ingredients when it comes to tenderizing the meat.  Any salt will do fine.  Cover both sides of the meat in salt and rub the granules inside the steak.  Let the steak sit for about an hour before washing and thoroughly drying the steak.  Now, you're ready for cooking.
The Marination
Some love to couple a quality piece of meat with a special marination process.  There's no need to get fancy.  A few kitchen staples will do the trick.  Gather 3 tablespoons dried basil, 1 1/2 tablespoons dried parsley flakes, 1 teaspoon ground white pepper, 1/4 teaspoon hot pepper sauce, and 1 teaspoon dried minced garlic.  Blend the ingredients together on high speed for half a minute.  Pour the marinade over the steak and let it sit for 10 hours.
The Temperature
Taking meat out of refrigeration and immediately cooking it is a huge mistake.  You need to allow the meat to reach room temperature.  Grilling or frying a cold steak results in uneven cooking and an undercooked mid section.  Also, a steak is not soup; you don't place the steak in the pan and then heat the pan.  The cooking vessel has to be hot before touching the meat.
The Seasoning
Seasoning differs depending on whether one plans to cook inside or outdoors.  If using a pan or oven, season the steak an hour before cooking with extra virgin olive oil, black pepper, and sea salt.  You do have a third option, eating out at a restaurant like Prime Steakhouse, San Antonio.
The Flavor
Debates will continue to rage through the ages about adding flavor or keeping it simple.  As mentioned, the quality of meat can be tasted.  A great cut of steak should need little added flavor.  However, there are a few things to do if you're a fan of flavor.  For example, rub a garlic clove all over the meat each time after turning.  Those who prefer a sweet taste, rub butter after each turn.  Are you a fan of au jus sauce?  Skim the fat off the pan while the steak is resting.  Boil the fat to half its amount and then pour over the cooked steak before serving.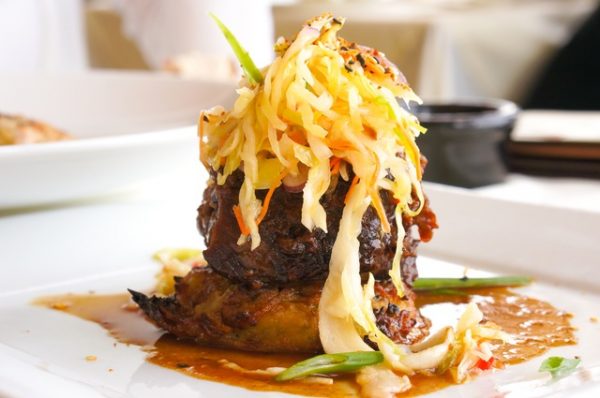 The Presentation
Do you want to score bonus points with onlookers and fellow eaters?  Make the steak look worthy of a commercial by arranging it on a 45 degree angle from the grill lines.  A quarter way through cooking, give the steak a half turn.  Wait the same amount of time and then flip the steak and angling it at a half turn again for the last quarter.  If done right, you'll have crisscrossed grill lines on the meat, a beautiful sight and symbol of your ability to cook the perfect steak.


Bill Been, along with his wife Jo Anna, fired up the ovens at Myrons in 2003. Bill, whose first name is actually Myron, spent over 20 years working for several well-known steakhouses perfecting his art before he and Jo Anna decided to venture out on their own. The Beens first steakhouse was, and still is, housed in a remodeled 1924 movie theater in downtown New Braunfels, Texas. Should you be called to the restaurants office, you'd find yourself in the theater's projection booth! The New Braunfels location continues to be a resounding success. Bill and Jo Annas daughter, Jenny, and husband Steve, have taken over the reins managing the New Braunfels restaurant. Patrons enjoy the restaurants intimate booths, ornately stamped tin ceilings, and perfect lighting. In 2011, the Beens decided to make it easier for folks in San Antonio to partake in their wares by opening a second location in Alon Town Centre at the corner of NW Military Highway and Wurzbach Parkway. The new locations more modern atmosphere is decidedly different as compared to the New Braunfels location featuring a very large bar with outside seating, a dedicated wine room, and overall Texas Modern decor (you'll have to see it to understand). However, while the Beens restaurants both have tasteful, inviting ambiance, they are more famous for their steaks, wine and service.
Recent accolades include: Best Steakhouse 2016 San Antonio Magazine, Diners Choice Winner 2016 OpenTable and Wine Spectators 2016 Award of Excellence.