It's hot. Not just here in Florida, but around the entire country. I know that YOU'RE HOT TOO. Being bathing suit season, I'm also on a diet, so right now sugary soft drinks and all of those great cold treats that I use to cool me down are OUT and drinking refreshing iced tea is IN. Living in one of the PGA properties I bet that you can GUESS what one of the favorite drinks at the mansion is….that's right an Arnold Palmer.
Oh, I don't like buying the pre-mixed versions. NOPE! I actually use the semi-homemade version. We love our lemonade and I always keep simple syrup that I've made on hand so that I can whip up a batch of nice TART lemonade. When I'm on a diet, I substitute stevia for sugar…but not TOO MUCH.  You see, I don't like my lemonade too sweet, which is why I make it myself. But when it comes to making an Arnold Palmer, I use Pure Leaf iced tea, because it doesn't just taste like pure tea – it is pure tea. So, in essence I have a homemade Arnold Palmer (or half 'n half) that is better than ANY you can buy in a can or bottle.
Here's the deal – Pure Leaf is made from all-natural ingredients with no preservatives, Pure Leaf's fresh brewed taste makes for an easy and refreshing addition to any summer drink. With tea leaves hand-picked from China, India, Africa and South America, Pure Leaf comes in seven flavors, appealing to every palate. With new, eco-friendly packaging, Pure Leaf is a beverage that you can feel good about purchasing.
Once I laid my eyes on THIS RECIPE for a Green Tea Cosmo that was created by created by Top Chef judge Gail Simmons I knew that I had to try it. You'll be seeing these being made at the bar at the NEXT party we have at the mansion.
GREEN TEA COSMO
Servings: 1
Prep Time: 5 minutes
Ingredients
3 ounces Pure Leaf Green Tea with Honey
1 ounce orange juice
1/2 ounce fresh lime juice
1/2 ounce cranberry juice cocktail
In shaker filled with ice, combine all ingredients. Shake well, then strain into chilled martini glass. Garnish, if desired, with lime peel.
Tip: For a special twist, substitute 1 ounce vodka for 1 ounce orange juice.
As you can see by the picture inside my fridge – I've stocked it with unsweetened (for my recipe), lemon (for me), and sweet tea (for Mr. S). I love the fact that I can just grab a bottle before heading out the door. Oh, I don't feel guilty about using a plastic bottle, because Lipton has make these lightweight and 100% recyclable (PET plastic – look on the bottom for the PET code). Of course if you'd rather have a bottle that serves the entire family, it also comes in a 59 oz. size. PLUS – they're RAINFOREST CERTIFIED. 
Pure Leaf has become my little oasis from the heat.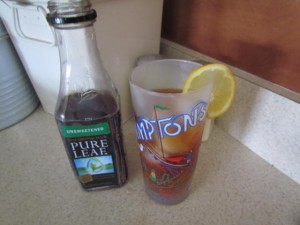 Do you have any recipes that include tea? I'd love to learn some NEW ones from YOU. Oh, and if you need a little tea-inspiration, check out the recipe tab on Pure Leaf's facebook page!
I participated in a campaign on behalf of Mom Central Consulting for Lipton Pure Leaf. I received product samples and a promotional item to thank me for participating