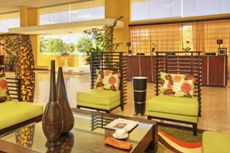 Mr. S and I occasionally go away for the holidays. This year we may stay put, because B and his fiancé S will be staying with us. Of course I'm thinking that a quick trip to Puerto Rico might be LOADS of fun, and since the flight is quick from here in South Florida and there are some FUN events going on at hotels like The Verdanza in San Juan….I may have to rethink.
For example – if you want to get the ENTIRE family together for a vacation, The Verdanza will organize a traditional pig roast at only $47 per person. They did the same thing last year and it was a HUGE success. So much so, that they decided to repeat it again this year. Here are the details:
Puerto Rican hors d'oeuvres

Traditional Holiday Buffet Dinner

One roasted pig on the pit *

One hour of live music entertainment

One of the mobile flipbook studio, Flipéate…the latest trend in interactive, personalized party favors at events and parties (not only a custom keepsake of your event, but a party entertainment as well

Special fixed parking rate of $5.00 per car (for guests driving to hotel)

Special overnight room rate

A gift certificate for a three day/two night stay at Verdanza Hotel (which you can raffle off or give away as a special prize!)
At just $47 per person, plus sales tax and gratuity this would be a great holiday family reunion. For more information and date availability, please email feelthevibe@verdanzahotel.com or call 787.625.9045 / 9043 / 9038.  *
The traditional roasted pig on a pit is an added value, courtesy of Verdanza Hotel, for parties of 100+ persons, with contract signed by October 31, 2011.
Looking for something a bit more elegant to do on your stay? Why not take a wine tour around the world?
Seven Distinctive Wine Tastings at Di Vino Wine & Tapas

Di Vino Wine & Tapas at Verdanza Hotel has become San Juan's 'it' place for connoisseurs and novices to explore the world of wines. Verdanza Hotel guests exclusively enjoy a 15% discount on Sommelier Dario Iovannone's daily "Wine Flights." Ranging from $13 to $18 per 'flight,' guests can choose from:
Made in the USA – A trip inside four California reds and a great Syrah from Oregon
Exploring Spain – Discover five great Spanish wines, from Syrah to Tempranillo…a trip to remember
Traveling Big – A round trip around the world of wine, from white to red
Bubbly, Isn't It? – From Spain to France, passing through Italy, try four different sparkling wines
Discover Whites – Two fresh Italian wines, one American, and a treat of two great French wines
A Trip into the Sweet – Taste five different sweet wines, from California to Italy, with a little stop in France
Around Italy – Drive with us from North to South of Italy with five different regional denominations.
Sounds like a Champagne Living experience to me!
Remember if you're heading that way for the holidays to email feelthevibe@verdanzahotel.com or call 787.625.9045 / 9043 / 9038.