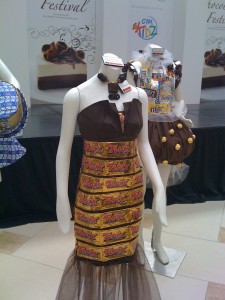 Those of you lucky enough to live in South Florida like I do will have the opportunity to take part in an incredibly rich experience at the Aventura Mall on October 9th from noon to 4pm in the mall's center court.
This event is sure to be any chocoholic's dream! With displays of amazing chocolate creations and deliciousness that will be prepared by some of South Florida's most popular restaurants.
A celebration of all things chocolate, you'll have the opportunity to purchase tickets for $1.00 a piece that can be traded for your favorites (I'll take that one and that one and…).
There sill be a fashion show starting at 2 p.m., that will feature chocolate-inspired fashions designed by students from Ai Miami International University of Art & Design.
The Chocolate Festival also includes a kids' chocolate station and raffles for fabulous prizes will be held throughout the event. Proceeds benefit the Children's Craniofacial Association.
Restaurants and businesses that are taking part in this smooth celebration include:
Grand Lux Café
Porto Vita
Turnberry Isle Miami
Turnberry Ocean Colony
Alisa's Painted Bistro
Florida International University School of Hospitality
Nordstrom Café Bistro
Miami International University of Art & Design
We Take the Cake
Godiva
Woodfield Country Club
Coffee Bean & Tea Leaf
and more.
If you're thinking of going – Aventura Mall is located at 19501 Biscayne Boulevard in Aventura, FL. For more information call (305) 935-1110, visit online, join their Facebook page at or follow us on Twitter.
Remember…calories don't count when the money is going to charity. Just sayin….