"First we eat, then we do everything else." -M.F.K. Fisher
I just got home from the Canadian Rockies, where the chill was gone and there were crocuses pushing up through the ground. I packed for winter, and the temperature never got below the 60's. Back home in Florida, we've been experiencing 90 degree days.
That means only ONE THING!
Summer is on it's way and I find that I stock  my fridge and pantry a LOT differently than I do the rest of the year. Just as in winter, where you need heartier foods, I find summer calls for treats to cool me down and foods that are either easily cooked on the grill, or microwaved to keep the mansion's kitchen from over-heating.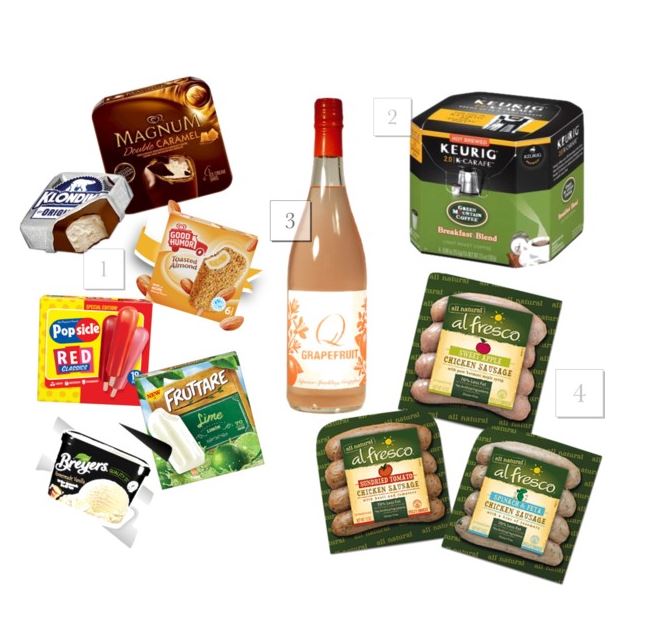 Because here in Florida, it's already summer, I'm staying ONE step ahead of the game.
1. ICE CREAM 
I've stocked up on my favorites, and have the freezer full of treats. My guilty pleasure are the new Magnum Double Caramel Bars, while Mr. S loves his Klondike and Good Humor Toasted Almond. Milkshakes & smoothies made with Breyer's vanilla are de rigueur, and there's NOTHING like my favorite RED Popsicles (love that you can buy the red collection – no need wasting that way). Of course Fruttare's collection of REAL FRUIT bars (from sustainable sources) are a staple when grabbing a frozen treat and dipping my toes in the wading pool with Clem.
2. ICED COFFEE
I'm still waiting for my Keurig 2.0 to arrive with a pot large enough to make a pitcher full of iced coffee. Whether it's in the morning, or for my afternoon pick-me-up, I love an ICED cold glass of coffee, and with the new 2.0 K-Carafes I can brew up to FOUR CUPS at once. I just toss in some ice cubes and chill in a pitcher (sometimes I get lazy and add the sweetener and dairy in for a quick pour).
3. Just add vodka?
Silly me, but at the end of a hot day there's nothing like a vodka and grapefruit juice….well, maybe a vodka and Q Sparkling Grapefruit (because you know how much I LOVE my bubbles). With a REAL grapefruit taste this makes an easy cocktail…no muss, no fuss.
4. Dinner is served
Call me lazy (again), but if I can just toss dinner in the microwave or on the grill, I'm happy. Because al fresco all natural has FULLY COOKED chicken sausages, it's a quick 30 seconds in the microwave and done. Do you remember when cooking took longer than eating?  They are gluten free, and even more important…DELISH! My new cheat…heating over left veggies & potatoes and adding some al fresco Spinach and Feta chicken sausage (with a hint of rosemary) for an easy dinner that feels like I actually COOKED.
I received SOME of these products to try, others I purchased myself. Only my faves made this post.