A New Way to Make Better Informed Decisions and Gain Information for Your Business and Yourself as a Business Person – ProOpinion
I am always on the hunt for new and exciting, on the cutting edge websites, as a businesswoman. When I came across ProOpinion I was impressed – and informed!
How often do you need data and/or research information about business trends BEFORE you make that big decision for your company or for yourself? Research to me is a given…without information we are not making a good decision that might have enormous repercussions. Since I cannot afford my own marketing team, I signed up FOR FREE on www.proopinion.com, a site that offers research provided by business professionals through surveys offered to members to collect and compile data on current trends, products and services in the business world.
What is ProOpinion?
ProOpinion is an online team of business professionals that offers research and information content unavailable elsewhere as the research is provided through members like yourself. Information is gathered through online surveys where members, business professionals like yourself, gather information on pertinent topics in today's business world. Sign up for free and as a member, you can access important trending business topics and up to the hour information based on solid research.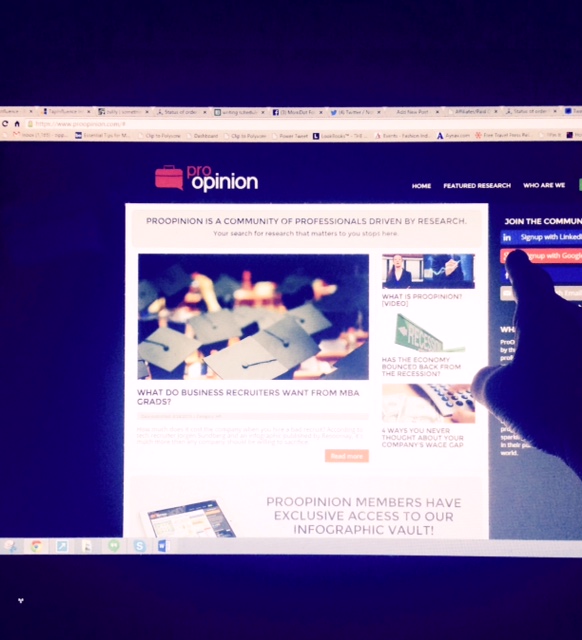 What's the Deal?
Members of ProOpinion are interested in business motivators and trends. They are dedicated to seeking the most current information on one site where it can be easily accessed.
ProOpinion provides companies feedback from people using their products and services and is therefore extremely relevant to their own success. As a member of ProOpinion you can influence the future of products and services by providing your opinion through online surveys.
AND as a member, you can earn "rewards" by participating in these surveys in three ways:
iTune gift cards
Amazon.com gift cards
You can donate your rewards to the American Red Cross
And the Process is?
Survey invites are emailed to members or they can login to their account at ProOpinion to participate in online surveys.
Get in on Helping Make the Trends in Your Business Community
Stay in the know – Whatever is going on in the business world today will be on ProOpinion. More importantly, how companies are going to leverage the latest research is as well. Stay ahead of your competition.
Current Topics on ProOpinion include
Has the Economy Bounced Back from the Recession?
Four Ways You Never Thought about your Company's Wage Gap
What do Business Recruiters Want from MBA Grads?
Join now and access the latest research and data from business professionals like yourself!
DETAILS
Amazon.com is not a sponsor of this promotion. Except as required by law, Amazon.com Gift Cards ("GCs") cannot be transferred for value or redeemed for cash. GCs may be used only for purchases of eligible goods at Amazon.com or certain of its affiliated websites. For complete terms and conditions, see www.amazon.com/gc-legal. GCs are issued by ACI Gift Cards, Inc., a Washington corporation. All Amazon ®, ™ & © are IP of Amazon.com, Inc. or its affiliates. No expiration date or service fees.
iTunes® is a registered trademark of Apple Inc., All rights reserved. Apple is not a participant in or sponsor of this promotion
Your search for research that matters to you stops here – join ProOpinion today.
This is a sponsored conversation written by me on behalf of ProOpinion. The opinions and text are all mine.