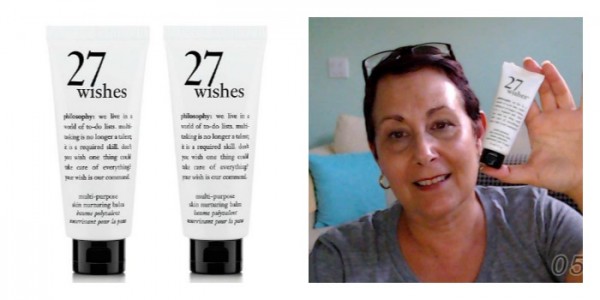 I'm embarrassed to say that as I looked through my old posts that I've never reviewed a Philosophy product. I'm even MORE embarrassed that I haven't even TRIED one. Yes, I see them all the time on QVC, and I keep thinking "I've got to try that" but for some reason I just never took the leap.
Thanks to QVC UK, who sent me my VERY first Philosophy product to review.
This is one of those "How did I ever live without it?" products that become as important as always having an emery board, a tube of lipstick, and some breath mints in your handbag – JUST IN CASE! The difference is that you won't be using Philosophy 27 only for those JUST IN CASE moments, you'll find yourself pulling it out constantly for everything from
Chapped skin from sitting outside by the ski lodge
Preparing your cuticles for a beautiful mani/pedi
Fixing fly-away hairs
Taming your brows
Getting that ring that was TOO tight that you tried on at the jewelry counter off without having to PAY for it
Scrapes & boo-boos that the kids get
Blending those makeup mistakes that you catch once you look in the rear-view mirror and think "oh no, I left my XXX at home"
Soothing windburn and sunburn
and MANY, MANY more
My only question is?
Why did I wait so long to try Philosophy?
For more information go to