Last week my UPS man rang the bell and stood at the door holding a BIG BOX. Curious as to what was inside (I saw the return address was from SheSpeaks) I ran inside, opened the box and dumped it on the guest bed….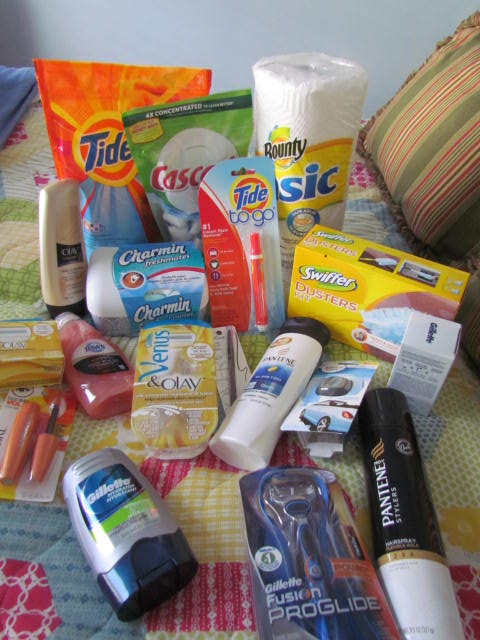 What was this array of products? I immediately recognized the Covergirl mascara that I use as well as a bag of Tide Pods similar to those that are sitting on top of my dryer, but there seemed to be no real rhyme nor reason for this assortment of beauty, cleaning, mens, women's, and even personal cleansing products. Yes, I recognized most of them as being the paper towel (Bounty) and dish detergent (Dawn) that always seem to make my shopping list, but what about the others?
I must have hit the P&G jackpot as I received products from:
CoverGirl®
 Olay®
Pantene®
Venus®
Gillette®
Bounty®
Cascade®
Charmin®
Dawn®
Febreze®
Swiffer®
Tide®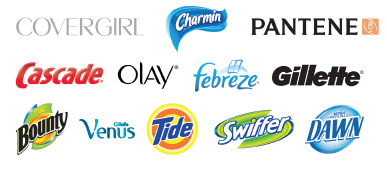 Then it hit me. This was a package of P&G's "Most Loved" products. As I rummaged through I realized just how many of Procter & Gamble's standards that I rely on for:
Beauty
You KNOW that I love "nice" cosmetics, but if you look into my make-up back you'll find a tube of CoverGirl's lash blast volume next to my Chantecaille lipstick that I can't live without. Why? I have dark circles under my eyes and I find that most mascara's flake and leave  me looking like a raccoon who's just gotten some BAD news. While lashblast's leave my eyes with thick, bold lashes, I find that it doesn't leave behind those black raccoon circles.
Household
In my fantasies I have a full staff waiting on me hand & foot, cooking, cleaning and doing the dishes….like THAT'S going to happen. Yes, I do get help now & then, but I still have to wash those wine glasses after dinner, and because I never, EVER put my good crystal into the dishwasher, I wash by hand with Dawn products. P&G has combined two of their most loved brands together for a product that is revolutionary. Olay beauty PLUS Dawn dishwashing!!!! This new dishwashing liquid promises to improve the look and feel of your hands in as little as five uses. While I can't tell you that this product has made me love doing dishes, I no longer have to be concerned about dishpan hands.
Ben & Mr. S
Sometimes I feel like I get all of the perks, although if Mr. S actually washed dishes – his hands would be soft. I wonder if that's a selling point? P&G hasn't left out my boys either. Before I run to the store I always ask "Do you need anything?" Mr. S usually asks for his Gillette Fusion ProGlide razor blades and Ben always seems to need body wash. This time I've got a big surprise for them, for not only will Mr. S still be shaving with a Fusion ProGlide – but this one's got POWER! Ben can stop stealing my Olay body wash (he likes that it helps his dry skin), because he now has some Gillette hydrating body wash with DRY SKIN RELIEF after just ONE WASH.
I LOVE
That P&G offers brandSAVER® coupon booklets for savings on some of P&G's "Most Loved" products, and I look forward to clippiing the coupons from my Sunday newspaper.
They SENT me this box
of products from SheSpeaks & P&G so that I'd tell you about P&G's Most Loved products, but YOU can  join @SheSpeaksUp and @PGeveryday on Twitter for TWO rocking Twitter Parties. where you'll have lots of opportunities to win some of P&G's award-winning products just like the ones that I got!
Join the Twitter Party!
Join me on April 18 at 9 p.m. for the #PGmostloved Twitter Party! You'll have the chance to win P&G's award-winning products from some of your favorite beauty, grooming and household care brands.
When: Thursday, April 18 at 9 p.m. ET
Where: Twitter – follow hashtag #PGmostloved
Custom TweetGrid: http://bit.ly/XXeAIX
Brand: @PGeveryday
Party Panelists: @LisaSamples, @StacieInAtlanta, @Zipporahs, @AlyWalansky, @MommaDJane, @SavvyMommy
RSVP: bit.ly/pgml
For more about P&G products
Website: http://www.pgeveryday.com
Facebook: http://apps.facebook.com/PGmostloved
Twitter: @PGeveryday
Program Hashtag: #PGmostloved  #spon