CK Mondavi sent me a couple of bottles of wine to use to entertain and document the evening for a review. I chose to take a night for myself. Either way, all opinions are my own.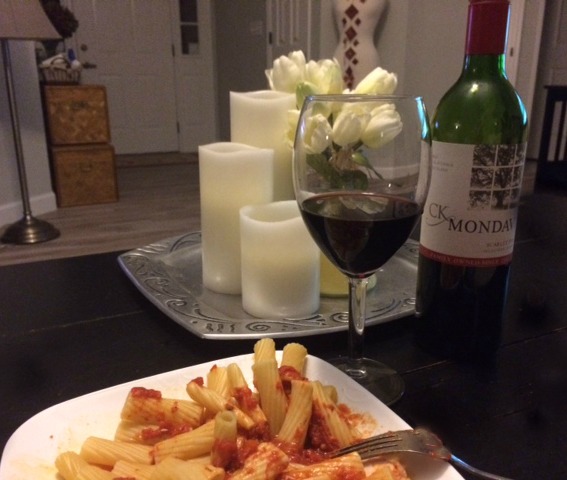 Would I be a horrible wife if I told you that I LOVE it when Mr. S doesn't join me for dinner? Is it selfish of me to think to myself…I can have my favorite meal, a great wine, and just relax with some music playing throughout the house?
The Scenario
It's golf night, and he says "I'll just have a salad or make a sandwich when I get in" and I IMMEDIATELY make certain that the ingredients for a simple Italian dinner with a complementary dinner wine, like the Mondavi Scarlet Five I hadon hand. I love treating myself to my favorite things, and a relaxed dinner experience with everything from appetizers to what's in the glass can make the evening perfect.
If it sounds like a date….it is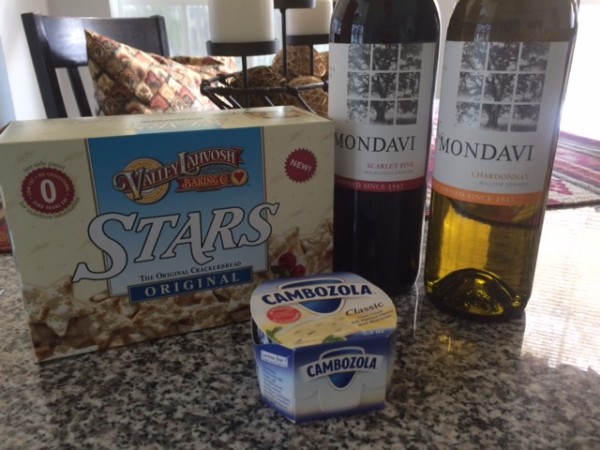 It's a date with MYSELF. Everyone needs a little time to just do the things that they love.  Mondavi sent me two bottles of wine, some Simply Gourmet bleu cheese, and these adorable Valley Lahvosh Star Crackers (which, by the way are dangerous as I just kept picking at them straight out of the box). I'm sure that they wanted me to invite over some friends and have a get together, or serve them at our holiday party and document everyone drinking and talking and having a fabulous time.
But I'm selfish
I like treating myself right, and between moving, traveling, the holidays, etc. I just needed a little ME TIME. At under $7 a bottle, a box of pasta and some left over sauce, I can send Mr. S off to play golf and have a party of one any time I feel like it.
CK Mondavi proves
That you don't have to spend a fortune to get a great wine. Last night might have been pasta with Scarlet Five, a wine that's got an incredible depth and a bit of tannin that pairs perfectly with pasta, and tomorrow might just be swordfish on the grill with CK Mondavi Chardonnay. A dry wine with a touch of fruitiness, for me this is a drink and munch wine. It's one that you should always have in your refrigerator, JUST IN CASE a friend shows up unexpectedly. A 100% Chardonnay (also priced at under $7), I love it with a simple dinner from the grill.
Take a hint from me
Send hubby and the kids to see a movie
Make your favorite dinner (you know, the one HE DOESN'T LIKE that you never get to have).
Open a bottle of either CK Mondavi Scarlet Five or CK Mondavi Chardonnay
Kick back and enjoy the evening…YOU DESERVE IT.