NOTE: I am a NETGEAR Ambassador and I received this product in exchange for my honest, unbiased opinion. I've been a Sprint customer for over 15 years, so it was a great fit. I am also a Netgear Ambassador.  All opinions are my own.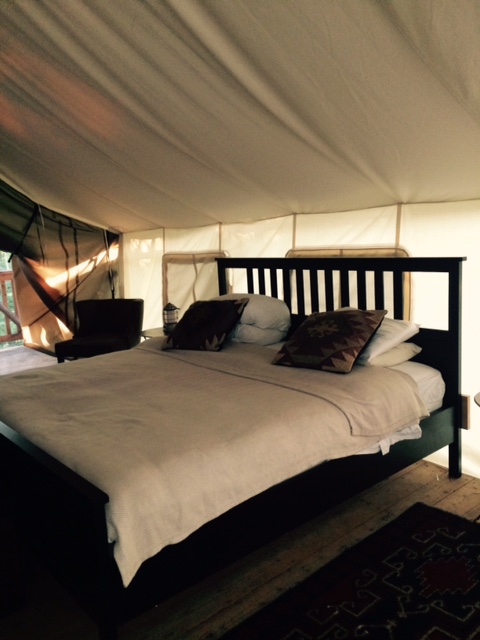 GLAMPING
That's right. Last week I was glamping at a FABULOUS glamp-ground. When I say FABULOUS, I mean there was great food, wines and yes, even a spa. No, this doesn't look like camping (it's quite luxurious). Not only was there a king size bed with featherbed in my African Safari styled tent, but the corner featured an antique desk for working, and that's just what I had PLANNED on doing in between my events.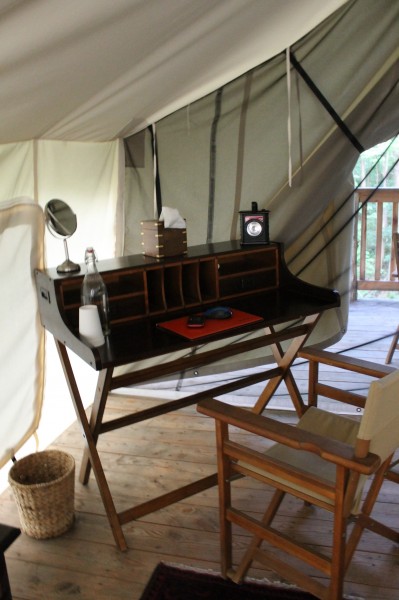 While I was told there was WiFi, unfortunately MY tent was tucked way back into the woods – far, far away from the main building. That meant that if I was LUCKY, I could get online for about 2-3 minutes at a time before getting knocked off. LUCKILY, I HAD BROUGHT my Sprint Around Town Mobile Internet by Netgear along for the hike!
OUT IN THE WOODS
I've used hotspots before – in crowded cities, at home at the mansion (when my internet was down), and in hotel rooms who's WiFi sharing left me dangling. But, I had NEVER used it out in the middle of the woods before. Not that I'd actually BEEN out in the woods before, but I assumed that getting a signal might be difficult.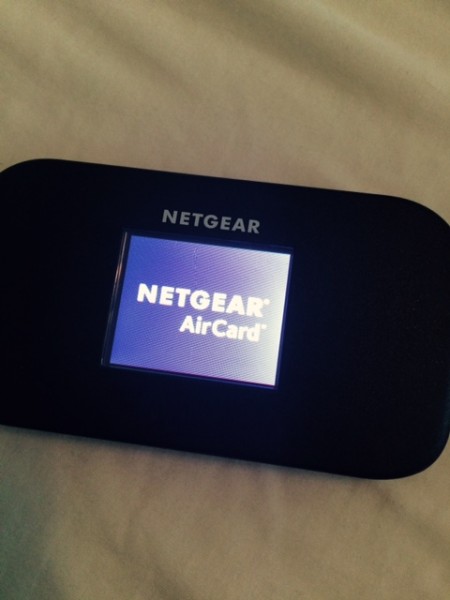 NOT SO
Even though I had NO sockets in my tent. I had arrived with a fully charged computer and Sprint Around Town Mobile Internet. I had turned it on only ONCE before to set up and test it (I didn't want to get there and have a surprise…or rather NO surprise).
SETUP was quick and easy
As I said, I was already a Sprint customer. The hotspot is quite simply a plug and play device. I signed into Sprint, registered the unit, and was immediately given 1 GB FREE to use.
BUY what I need
I have used other hotspots before. What sets this one apart from the rest is Sprint's pre-paid service. While I had NO contract before, I did have to pay monthly in order to keep the service from being turned off. NOT WITH SPRINT. With this little beauty, I simply load what I need, and reload it when I need more. If I'm traveling one month and know that I'll need a hotspot – I just load up. If I'm taking a break at home, I don't pay for what I don't need.
FAST
Since the Around Town Mobile Internet utilizes Sprints 4G LTE service, I didn't have to put up with the hiccups and lags of attempting to connect to the camp's WiFi.  The service was what I'd expect from Sprint – inexpensive, quick, and easy to use.
COMPACT
I love the portability of the Around Town Internet. I simply slipped mine right into my small handbag (it's only 4.3 in x 2.4 in x 0.67 in). The 1.77″ LCD display has a color screen that's easy to read.
KEEP TRACK
You can manage your usage on the device or on your smartphone by downloading the AirCard App, including
Monitor your mobile hotspot connection and battery life in real-time
View connected Wi-Fi devices
Track data usage by month and session
Turn off your hotspot
Enable Dual-Band WiFi (applicable models only)
Beep your hotspot (applicable models only)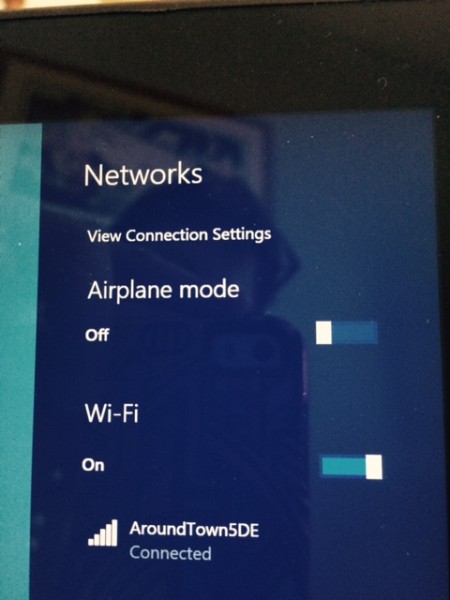 WHILE I DIDN'T HAVE TO SHARE
The device DOES allow up to 10 devices to share the internet all at the same time.
ONE CHARGE – 10 HOURS
I was away for 3 days. I only needed the internet for an hour or so each day, and I found that my charge before leaving home lasted me the entire time. According to the box, the Sprint Around Town Mobile Internet device by Netgear can be used actively for up to 10 hours (with 210 hours of standby).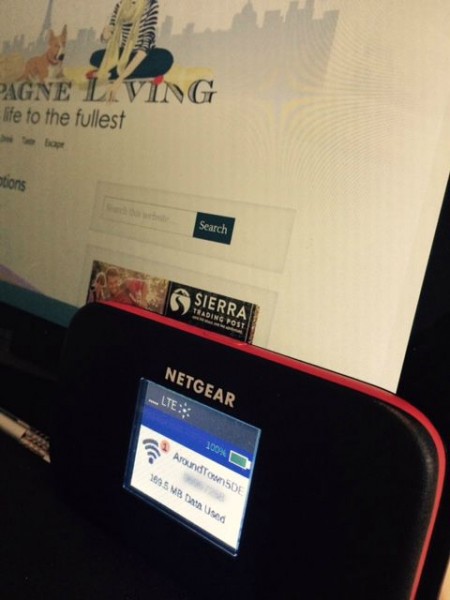 MY FAVORITE WAY TO USE IT
As you know, I HATE road trips. I prefer flying or even taking the train. Mr. S on the other hands loves to hit the road. I find just sitting in the passenger seat mind numbing. NOT ANY MORE!  I simply turn on my Sprint Around Town Mobile Internet by Netgear IN THE CAR and I can WORK, chat with my friends on Skype, play on social media – all while he's driving! TRULY AROUND TOWN!
Details
For more information  or to purchase one for yourself visit: Netgear.com